Articles by John W. Dean
We found 2 results.
---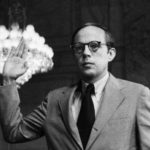 John Dean: I Testified Against Nixon. Here's My Advice for Michael Cohen.
John W. Dean – The New York Times, 11 Mar 2019
1 Mar 2019 – My appearance before Congress helped take down a president. Will the same thing happen to Trump? Michael Cohen told the legislators, "Given my experience working for Mr. Trump, I fear that if he loses the election in 2020 that there will never be a peaceful transition of power, and this is why I agreed to appear before you today." This was the most troubling — actually, chilling — thing he said in his five hours before the committee.
→ read full article
---
LEGAL JEOPARDY FOR AMERICAN TORTURERS HERE AND ABROAD?
John W. Dean, 28 Jan 2009
Remarkably, the confirmation of President Obama's Attorney General nominee, Eric Holder, is being held up by Texas Republican Senator John Cornyn, who apparently is unhappy that Holder might actually investigate and prosecute Bush Administration officials who engaged in torture. Aside from this repugnant new Republican embrace of torture (which might be a winning issue for […]
→ read full article
---