Articles by Joshua Carroll
We found 1 results.
---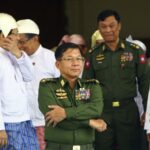 UN Calls for Sanctions, Arms Embargo against Myanmar Army
Joshua Carroll – Al Jazeera News, 12 Aug 2019
6 Aug 2019 – A week after his soldiers began storming villages in Myanmar's Rakhine state, slaughtering thousands as they burned people alive in their homes and raped women and children, the country's military chief invited local businesses to a donation ceremony to support the bloody campaign. UN panel calls for international community to sever all ties with country's military.
→ read full article
---