Articles by Kate Yoder
We found 2 results.
---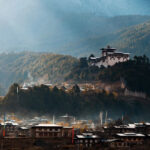 How One Tiny Country Is Beating the Pandemic and Climate Change
Kate Yoder | Grist - TRANSCEND Media Service, 22 Feb 2021
12 Feb 2021 – The small Himalayan country of Bhutan, mainly known for measuring national happiness instead of GDP, is the only carbon-negative country on the planet. Believe it or not, it has only had one single death from COVID-19. Is that a coincidence?
→ read full article
---
Indescribable Feeling: We Just Hit 410 ppm of CO2 – Welcome to a Whole New World
Kate Yoder | Grist – TRANSCEND Media Service, 24 Apr 2017
21 Apr 2017 – This is not normal: We're on track to witness a climate unseen in 50 million years by mid-century. We first hit 400 parts per million back in 2013, and that became the new norm just four years later. And on April 18 this year, as predicted, we crossed the 410 ppm threshold for the first time at the Mauna Loa Observatory in Hawaii.
→ read full article
---