Articles by Kim Petersen
We found 7 results.
---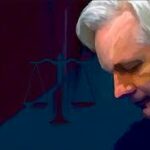 The Slow-motion Assassination of Julian Assange
Kim Petersen | Global Research - TRANSCEND Media Service, 7 Dec 2020
1 Dec 2020 – There is an attempt to use the machinery of the state to beat down a man in the darkness of Belmarsh prison and a British kangaroo court in London. Big media, however, has marginalized coverage of the Assange case even though the outcome is bound to have an enormous impact on journalism. The WikiLeaks publisher was targeted for exposing the war crimes of the US government.
→ read full article
---
A Telling Comparison: Israel versus North Korea
Kim Petersen – Global Research, 20 Nov 2017
13 Nov 2017 – A comparison with how the UN deals with North Korea vis-à-vis another member state, Israel, is instructive.
→ read full article
---
Who to Believe: The CIA and Corporate Media or WikiLeaks?
Kim Petersen | Dissident Voice – TRANSCEND Media Service, 23 Jan 2017
Without Substantiation, Media Integrity Suffers – We are being assaulted by mass media "news" of alleged hacks by alleged actors, allegations of politicians compromised by financial dealings, and sexual hijinks.
→ read full article
---
THE NEW CANADIAN PARADIGM: EMBRACING APARTHEID
Kim Petersen – Dissident Voice, 4 Mar 2010
Yves Engler on Canada's Complicity in Israeli Apartheid.A recent headline for the Toronto Star reads: "New face of Canada isn't pretty." The national affairs columnist, James Travers, writes, "The confluence of domestic politics, Christian fundamentalism and foreign policy is now so strong that Israel's tail is wagging Canada's dog." Yves Engler's latest book, Canada and […]
→ read full article
---
APARTHEID AND ETHNIC CLEANSING AS DIVERSION
Kim Petersen – Dissident Voice, 2 Mar 2010
Apartheid Although apartheid must be opposed by social justice activists, does the focus on apartheid serve the exigencies of social justice? First, it must be stated that, given its obviousness, a discussion of whether apartheid is practiced by Israel is nugatory. Still, why the focus on Israel as an apartheid state? Others target Israel for […]
→ read full article
---
REPUDIATING THE UNIVERSAL DECLARATION OF HUMAN RIGHTS
Kim Petersen – Dissident Voice, 31 Jan 2010
The extreme poverty in Haiti is widely acknowledged in the corporate media commentary, but for the most part, it is blamed on some flaw intrinsic to Haitians as a nation. When Haitians did gain a semblance of control over their fate, with the election of their first president, regimes in France, the United States, and […]
→ read full article
---
FREEDOM FROM WAGE SLAVERY
Kim Petersen, 19 Jul 2009
Waking Up: Freeing Ourselves from Work By Pamela SatterwhitePublisher: Humming Words Press (2009)ISBN: 978-0-9649465-1-4 Every effort under compulsion demands a sacrifice of life energy. – Nikola Tesla, quoted in Waking Up: Freeing Ourselves from Work Tesla's quotation captures the reality of the working world for many people. People trudge off to work, do work, return […]
→ read full article
---