Articles by Mark P. Fancher
We found 2 results.
---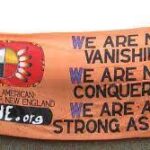 Indigenous Peoples' Lands: Stolen Fair and Square
Mark P. Fancher | Black Agenda Report - TRANSCEND Media Service, 29 Nov 2021
23 Nov 2021 – Thanksgiving is the quintessential American holiday, in which exceptionalism and selective amnesia are celebrated. The sick fairy tale obscures the violent foundations of a settler colonial nation.
→ read full article
---
Bad News for Africa: 3,000 More U.S. Soldiers Are on the Way
Mark P. Fancher, World Mathaba – TRANSCEND Media Servivce, 12 Nov 2012
The Obvious Mission Is to Lock Down the Entire Continent – 31 Oct 2012-The United States plans to permanently station a U.S. Army brigade on African soil, beginning next year [2013]. Is this the start of something big – and ominous – or "only a benign creeping U.S. military presence in Africa?"
→ read full article
---