Articles by Matt Stieb
We found 1 results.
---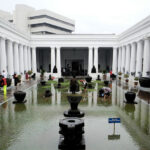 As Jakarta Sinks, Indonesia Announces Location of New Capital City
Matt Stieb | Intelligencer – New York Magazine, 2 Sep 2019
26 Aug 2019 – Jakarta, the soon-to-be-former capital of Indonesia, is an imperfect city to point to as an early mark of climate change. The megalopolis of 10 million people is sinking, yes, but most of that descension can be traced back to human activity.
→ read full article
---