Articles by Nafeez Ahmed
We found 29 results.
---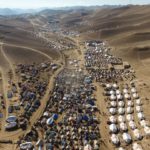 Escaping Extinction through Paradigm Shift
Nafeez Ahmed | INSURGE Intelligence – TRANSCEND Media Service, 20 May 2019
10 May 2019 – The driving motor of this destruction is the 'endless growth' paradigm of our current global economy, a paradigm that has seen human populations and cities grow exponentially across the world, in turn driving the exponential growth in consumption of resources, raw materials, food and energy. That accelerating expansion of industrial civilization-as-we-know-it has ravaged natural ecosystems, leading to the decline of numerous species that are critical for the continued healthy functioning of natural services providing food, pollination and clean water that are essential to sustain our own civilization.
→ read full article
---
Pentagon Study Declares American Empire Is 'Collapsing'
Nafeez Ahmed | INSURGE Intelligence – TRANSCEND Media Service, 24 Jul 2017
17 Jul 2017 – The solution proposed to protect U.S. power in this new "post-primacy" environment is more of the same: more surveillance, more propaganda ("strategic manipulation of perceptions") and more military expansionism. The Pentagon study's recommendations call for an intensification of the very imperial policies that futurist Professor Johan Galtung, who accurately forecasted the demise of the USSR, predicts will accelerate the "collapse of the U.S. empire" by around 2020.
→ read full article
---
US Power Will Decline under Trump Says Johan Galtung, Futurist Who Predicted Soviet Collapse
Nafeez Ahmed | Vice Motherboard – TRANSCEND Media Service, 12 Dec 2016
The Norwegian professor at the University of Hawaii and Transcend Peace University is recognized as the 'founding father' of peace and conflict studies as a scientific discipline. He has made numerous accurate predictions of major world events, most notably the collapse of the Soviet Empire.
→ read full article
---
Terror, Climate Chaos, Financial Crisis Are the Costs of 'Doing Business'
Nafeez Ahmed – Middle East Eye, 28 Dec 2015
The techno-narcissism of predatory neoliberal capitalism is locked into an endless war with the bastard monster of its own creation – Islamic State.
→ read full article
---
NATO Is Harbouring the Islamic State
Nafeez Ahmed – INSURGE Intelligence, 23 Nov 2015
Why is the UNSC ignoring NATO partner Turkey's brazen sponsorship of the Islamic State? France's brave new war on ISIS is a sick joke and an insult to the victims of the Paris attacks.
→ read full article
---
(Italiano) Arabia Saudita: L'Inevitabile Collasso
Nafeez Ahmed, Middle East Eye - Come Don Chisciotte, 19 Oct 2015
In una lettera diffusa tra i principi sauditi, il suo autore, un nipote del defunto re Abdulaziz Ibn Saud, ha accusato l'attuale re Salman di provocare seri problemi che mettono in grave pericolo la sopravvivenza della monarchia.
→ read full article
---
War on Islamic State: A New Cold War Fiction
Nafeez Ahmed – Middle East Eye, 12 Oct 2015
The Islamic State group is little more than the proxy bastard child of a New Cold War that looks set to escalate.
→ read full article
---
UN Plan to Save Earth Is "Fig Leaf" for Big Business: Insiders
Nafeez Ahmed, Insurge Intelligence - TRANSCEND Media Service, 14 Sep 2015
Why the new Sustainable Development agenda is "fundamentally compromised" by corporate interests. UN records reveal that the intergovernmental body has already marginalised the very groups it claims to be rescuing from poverty, hunger and climate disaster.
→ read full article
---
Officials: Islamic State Arose from US Support for Al-Qaeda in Iraq
Nafeez Ahmed – Insurge Intelligence, 17 Aug 2015
A former Pentagon intelligence chief, Iraqi government sources, and a retired career US diplomat reveal US complicity in the rise of ISIS.
→ read full article
---
Pentagon Prepares for Century of Climate Emergencies and Oil Wars
Nafeez Ahmed – Middle East Eye, 10 Aug 2015
US Army research reveals the military's latest strategies to safeguard the global fossil fuel system from threat of scarcity and climate disruption.
→ read full article
---
UK, US Turn Blind Eye to Islamic State Oil Sales
Nafeez Ahmed – Middle East Eye, 3 Aug 2015
Amid the scramble for Kurdistan's oil and gas wealth, the US and UK are tied to Kurdish and Turkish institutions heavily invested in the murky geopolitical triangle sustaining IS' black market oil sales.
→ read full article
---
The Pentagon Plan to 'Divide and Rule' the Muslim World
Nafeez Ahmed, Ph.D. – Middle East Eye, 13 Apr 2015
Yemen is the latest casualty of a neoconservative strategy commissioned by the US Army to 'capitalise on Sunni-Shia conflict' in the Middle East – the goal is nothing short of 'Western dominance'.
→ read full article
---
Unworthy Victims: Western Wars Have Killed Four Million Muslims Since 1990
Nafeez Ahmed – Middle East Eye, 13 Apr 2015
Landmark research proves that the US-led 'war on terror' has killed as many as 2 million people, but this is a fraction of Western responsibility for deaths in Iraq and Afghanistan over the last two decades.
→ read full article
---
Patriarchy Is Killing Our Planet – Women Alone Can Save Her
Nafeez Ahmed – The Ecologist, 23 Mar 2015
The systemic marginalization and repression of women is not an accidental feature of our civilizational crisis. It is inherently bound up with our male-dominated system of violence toward the natural world as a whole.
→ read full article
---
The Circus: How British Intelligence Primed Both Sides of the 'Terror War'
Nafeez Ahmed – Middle East Eye, 2 Mar 2015
'Jihadi John' was able to join IS for one simple reason: from Quilliam to al-Muhajiroun, Britain's loudest extremists have been groomed by the security services.
→ read full article
---
Saudi's New King of Terror
Nafeez Ahmed, Ph.D. – Middle East Eye, 16 Feb 2015
In a flurry of virtually falling over themselves to praise Saudi Arabia's new ruler, the press has overlooked his disturbing track record.
→ read full article
---
No Piers Morgan. This Is How to Destroy the Islamic State
Nafeez Ahmed – Middle East Eye, 9 Feb 2015
So, yes, not in my name. If we want to destroy IS, we must transform the system that incubated it. Fellow citizens of Planet Earth: Let's get started.
→ read full article
---
Blowback in Paris
Nafeez Ahmed – Middle East Eye, 12 Jan 2015
Recognising that the Paris atrocity is predictable blowback does not absolve the perpetrators of responsibility for their terrible crimes; but it might help us find a path to safety based on co-existence, renunciation of violence, and unity in adversity.
→ read full article
---
'Palestine Is Not an Environment Story'
Nafeez Ahmed – TRANSCEND Media Service, 8 Dec 2014
3 Dec 2014 – After writing for The Guardian for over a year, my contract was unilaterally terminated because I wrote a piece on Gaza that was beyond the pale. In doing so, The Guardian breached the very editorial freedom the paper was obligated to protect under my contract. The article now has 68,000 social media shares, and is by far the single most popular article on the Gaza conflict to date.
→ read full article
---
How the Pentagon's Skynet Would Automate War
Nafeez Ahmed, Vice – TRANSCEND Media Service, 1 Dec 2014
Pentagon officials are worried that the US military is losing its edge compared to competitors like China, and are willing to explore almost anything to stay on top—including creating watered-down versions of the Terminator.
→ read full article
---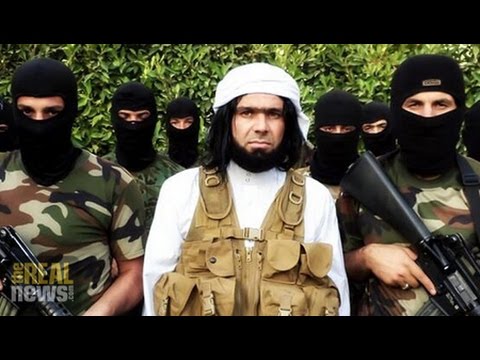 The Powers behind the Islamic State
Nafeez Ahmed – The Real News Network, 25 Aug 2014
August 24, 2014 – Investigative journalist, TRANSCEND member Nafeez Ahmed gives specific examples of how Saudi, Qatari, and American interests have supported the group known as ISIS and what the global community can do now to rein them in.
→ read full article
---
Pentagon Preparing for Mass Civil Breakdown
Nafeez Ahmed – The Guardian, 30 Jun 2014
Social science is being militarised to develop 'operational tools' to target peaceful activists and protest movements.
→ read full article
---
The Age of Climate Warfare Is Here. The Military-Industrial Complex Is Ready. Are You?
Nafeez Ahmed – The Guardian, 9 Jun 2014
30 May 2014 – During his speech at West Point Military Academy earlier this week, President Barack Obama described climate change as a "creeping national security crisis" that will require the armed forces to "respond to refugee flows, natural disasters, and conflicts over water and food."
→ read full article
---
NASA-Funded Study: Industrial Civilisation Headed For 'Irreversible Collapse'?
Nafeez Ahmed – The Guardian, 17 Mar 2014
A new study sponsored by Nasa has highlighted the prospect that global industrial civilisation could collapse in coming decades due to unsustainable resource exploitation and increasingly unequal wealth distribution. Noting that warnings of 'collapse' are often seen to be fringe or controversial, the study attempts to make sense of compelling historical data showing that "the process of rise-and-collapse is actually a recurrent cycle found throughout history."
→ read full article
---
Are You Opposed to Fracking? Then You Might Just Be a Terrorist
Nafeez Ahmed – The Guardian, 27 Jan 2014
Over the last year, a mass of shocking evidence has emerged on the close ties between Western government spy agencies and giant energy companies, and their mutual interests in criminalising anti-fracking activists.
→ read full article
---
The War on Democracy
Nafeez Ahmed – The Guardian, 2 Dec 2013
A stunning new report compiles extensive evidence showing how some of the world's largest corporations have partnered with private intelligence firms and government intelligence agencies to spy on activist and nonprofit groups. Environmental activism is a prominent though not exclusive focus of these activities.
→ read full article
---
How the World Health Organisation Covered Up Iraq's Nuclear Nightmare
Nafeez Ahmed – The Guardian, 21 Oct 2013
13 Oct 2013 – Last month, the World Health Organisation (WHO) published a long awaited document summarising the findings of an in-depth investigation into the prevalence of congenital birth defects (CBD) in Iraq, which many experts believe is linked to the use of depleted uranium (DU) munitions by Allied forces. According to the 'summary report'.
→ read full article
---
Pentagon Bracing For Public Dissent over Climate and Energy Shocks
Nafeez Ahmed – The Guardian, 24 Jun 2013
Top secret US National Security Agency (NSA) documents disclosed by the Guardian have shocked the world with revelations of a comprehensive US-based surveillance system with direct access to Facebook, Apple, Google, Microsoft and other tech giants. New Zealand court records suggest that data harvested by the NSA's Prism system has been fed into the Five Eyes intelligence alliance whose members also include the UK, Canada, Australia and New Zealand.
→ read full article
---
Water, Oil and Demographics: The Arab World's Triple Crisis
Nafeez Ahmed – Europe's World, 21 Feb 2011
Unless Arab governments invest much more in health, education and citizens' rights, warns Nafeez Mosaddeq Ahmed, the pressures of water scarcity, oil depletion and population growth will spell their downfalls.
→ read full article
---