Articles by Nebojsa Malic
We found 3 results.
---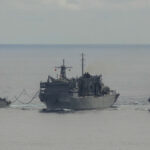 What Pandemic? US & Royal Navy Launch Cold War-Style Provocation in Russia's Arctic Backyard
Nebojsa Malic | RT - TRANSCEND Media Service, 11 May 2020
5 May 2020 – Millions of Americans and Britons losing their livelihoods under Covid-19 lockdowns can rejoice that their navies are open for business, staging a show of force on Russia's doorstep for the first time since the Cold War. Three guided missile destroyers and a Royal Navy frigate sailed into the Barents Sea yesterday, to "assert freedom of navigation and demonstrate seamless integration among allies."
→ read full article
---
Kosovo Led to Catalonia. But West Won't Admit It
Nebojsa Malic – Russia Today, 6 Nov 2017
30 Oct 2017 – The same countries that cheered when Yugoslavia and the Soviet Union broke up and insisted on 'independent Kosovo' now say Catalonia's declaration of independence is unacceptable. But they wrote the rules the Catalans are now following.
→ read full article
---
The Dayton Miracle: Bosnia Armistice, still Alive at 20
Nebojsa Malic – Russia Today, 23 Nov 2015
21 Nov 2015 – Twenty years after it stopped the bloodshed, the historic agreement reached in Dayton, Ohio still survives in Bosnia. More of an armistice than a peace treaty, it is under attack by the very powers sworn to uphold it.
→ read full article
---