Articles by Nia Imara
We found 7 results.
---

Solidarity with Haiti Will Strengthen the Struggle for Racial Justice Everywhere
Nia Imara | The Progressive - TRANSCEND Media Service, 2 Aug 2021
26 Jul 2021 – While reports on the assassination of Haitian President Jovenel Moïse are silent on the history of the United States' harmful relations with the island nation, solidarity with Haiti is as important as ever.
→ read full article
---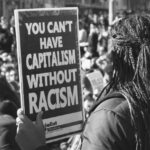 The Commodification of Black Death
Nia Imara | The Progressive - TRANSCEND Media Service, 3 Aug 2020
27 Jul 2020 – As corporations and large universities attempt to profit off of the movement against racial violence, it's apparent that racism and capitalism are as intertwined as ever. History is rich with Black intellectuals who have brilliantly expounded on this point, from W.E.B. Du Bois, to Fannie Lou Hamer, to Malcolm X, to Angela Davis.
→ read full article
---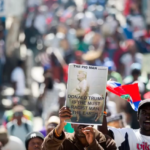 Trump's Racism toward Haiti Is Not an Aberration
Nia Imara – The Progressive, 29 Jan 2018
24 Jan 2018 – Trump's racist comments about Haiti and African countries—made January 11 on the eve of the eighth anniversary of the terrible earthquake in Haiti—were vulgar and unacceptable, but they are not an aberration. Trump's particularly crude brand of racism is only the most recent manifestation of timeworn, bipartisan discrimination against black and brown people.
→ read full article
---
Haiti Rises: A Time for Solidarity
Nia Imara and Robert Roth – Haiti Action Committee, 22 Feb 2016
We say NO, WE WILL NOT OBEY ILLEGITIMATE OFFICIALS. Self-defense is a legitimate universal law. Civil-Disobedience is an accepted universal right when a people confronts an illegal regime. The right to elect a government is universally accepted as a way for people to protect its existence. Today, confronted by the danger presented by local and international colonialists, the Haitian people have started a RESISTANCE FOR EXISTENCE movement.
→ read full article
---
The Debt Owed to Haiti
Nia Imara – Pambazuka News, 28 Jan 2013
Three years after the unprecedented earthquake in Haiti that extinguished at least 300,000 lives and upended millions more, the world is asking the same questions.Today the question ought not be how much debt the world superpowers condescend to forgive Haiti, nor even how many millions they promise for earthquake relief. Genuine rebuilding must take as its premise that the Haitian people are due a justice at least 200-years-old. Their claims for justice are both legally and morally sound and have been ignored for far too long.
→ read full article
---
Signs of the Times in Haiti
Nia Imara – Pambazuka News, 9 Jul 2012
The Military, Money, and the Meaning of an Occupation – There are periods in a country's history when the signs and warnings that that history will soon enter into a dramatically different phase are clear as day. Such is the period today in Haiti, where daily events portend an inauspicious development for the future: the Haitian Army may soon be returning.
→ read full article
---
A History of US-Sponsored Violence in Haiti
Nia Imara – Pambazuka News, 21 Nov 2011
The US has once again succeeded in imposing an illegal and repressive puppet government in Haiti in blatant disregard of the will of the people. But there is still hope that, with collective struggle and a vision, change can occur.
→ read full article
---