Articles by Sarit Michaeli
We found 1 results.
---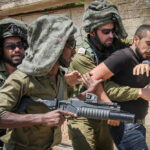 The Dehumanization Is the Point
Sarit Michaeli | +972 Magazine - TRANSCEND Media Service, 14 Sep 2020
4 Sep 2020 – Israeli soldiers placed IEDs at the entrance to a Palestinian village. If only we'll kill, maim, arrest or demolish enough of their homes, so the logic goes, we'll finally deter them and make them stop demanding basic rights we take for granted: the right to freedom, livelihood, and dignity.
→ read full article
---