Articles by Tariq Ali
We found 20 results.
---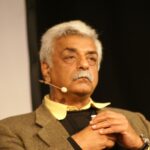 Debacle in Afghanistan
Tariq Ali | New Left Review - TRANSCEND Media Service, 30 Aug 2021
16 Aug 2021 – The fall of Kabul to the Taliban on 15 August 2021 is a major political and ideological defeat for the American Empire. The crowded helicopters carrying US Embassy staff to Kabul airport were startlingly reminiscent of the scenes in Saigon – now Ho Chi Minh City – in April 1975. The speed with which Taliban forces stormed the country was astonishing; their strategic acumen remarkable. A week-long offensive ended triumphantly in Kabul.
→ read full article
---
After Ankara: Why Erdogan and NATO's Strategy Is in Ruins
Tariq Ali – CounterPunch, 19 Oct 2015
Tariq Ali: Turkey (leaving aside the Gulf States for the moment) was the principal promoter of ISIS as a new force to bring down Assad. Without this support ISIS could not have proceeded so far, so fast. A stalemate was finally broken by Putin's recent demarche.
→ read full article
---
The New World Disorder
Tariq Ali – London Review of Books, 20 Apr 2015
There is ongoing debate around the world on the question of whether the American empire is in decline. And there is a vast literature of declinism, all arguing that this decline has begun and is irreversible. I see this as wishful thinking.
→ read full article
---
"Power to the People" – The Lost John Lennon Interview
Tariq Ali and Robin Blackburn - CounterPunch, 8 Dec 2014
It was twenty-five years ago today that John Lennon was murdered. We doubt many have read the following 1971 interview with Lennon done by Tariq Ali and Robin Blackburn. The interview ran in The Red Mole, a Trotskyist sheet put out by the British arm of the Fourth International.
→ read full article
---
Pakistan's Future Is Tied to the Taliban
Tariq Ali – The Guardian, 10 Feb 2014
With the impending withdrawal of US troops from Afghanistan, the time has come to talk – despite the horrific wave of bombings.
→ read full article
---
Capitalism and Socialism in the Twenty-First Century
Tariq Ali – International Socialist Review, 29 Jul 2013
The following is a speech given by Tariq Ali at the New York City launch of his book, The Stalinist Legacy: Its Impact on Twentieth Century World Politics.
→ read full article
---
America's Selective Vigilantism Will Make as Many Enemies as Friends
Tariq Ali - The Guardian, 12 Sep 2011
A decade after the attentats of 9/11, the US and its European allies are trapped in a quagmire. The events of that year were simply used as a pretext to remake the world and to punish those states that did not comply. And today while the majority of Euro-American citizens flounder in a moral desert, now unhappy with the wars, now resigned, now propagandised into differentiating what is, in effect, an overarching imperial strategy into good/bad wars.
→ read full article
---
Who Will Reshape the Arab World: Its People, or the US?
Tariq Ali – The Guardian, 9 May 2011
Phase one of the Arab spring is over. Phase two – the attempt to crush or contain genuine popular movements – has begun. Here one has to say that whatever the final outcome, the Libyan people have lost. The country will either be partitioned into a Gaddafi state and a squalid pro-west protectorate led by selected businessmen, or the west will take out Gaddafi and control the whole of Libya and its huge oil reserves. This display of affection for "democracy" does not extend elsewhere in the region. In Bahrain,
→ read full article
---
Libya is another Case of Selective Vigilantism by the West
Tariq Ali – The Guardian, 4 Apr 2011
The US-Nato intervention in Libya, with United Nations security council cover, is part of an orchestrated response to show support for the movement against one dictator in particular and by so doing to bring the Arab rebellions to an end by asserting western control, confiscating their impetus and spontaneity and trying to restore the status quo ante.
→ read full article
---
This Is an Arab 1848. But US Hegemony Is Only Dented
Tariq Ali – The Guardian, 28 Feb 2011
With western-backed despots being turfed out politics has changed forever. So just how far can the revolution spread?
→ read full article
---
Egypt's Joy as Mubarak Quits
Tariq Ali – The Guardian, 14 Feb 2011
With Hosni Mubarak's departure, the age of political reason is returning to Egypt and the wider Arab world. A joyous night in Cairo. What bliss to be alive, to be an Egyptian and an Arab. In Tahrir Square they're chanting, "Egypt is free" and "We won!"
→ read full article
---
The Nobel War Prize
Tariq Ali, London Review of Books – TRANSCEND Media Service, 20 Dec 2010
For the record, Liu Xiaobo has stated publicly that in his view: (a) China's tragedy is that it wasn't colonised for at least 300 years by a Western power or Japan. This would apparently have civilised it forever; (b) The Korean and Vietnam wars fought by the US were wars against totalitarianism and enhanced Washington's 'moral credibility'; (c) Bush was right to go to war in Iraq and Senator Kerry's criticisms were 'slander-mongering'; (d) Afghanistan? No surprises here: Full support for NATO's war. He has a right to these opinions, but should they get a peace prize?
→ read full article
---
(Portuguese) O Prémio Nobel da Guerra
Tariq Ali – TRANSCEND MEDIA SERVICE, 20 Dec 2010
Liu Xiaobo não deveria nunca ter sido detido, mas o Comité quis dar uma lição à China, ignorando os pontos de vista do seu herói.
→ read full article
---
A Wave of Anger From Below
Tariq Ali – Socialist Worker, 5 Jul 2010
PEOPLE ARE now beginning to realize, all over the world, what the Israeli state is and what it is capable of. It has taken a long time.
→ read full article
---
"The People of Greece Are Fighting for the Whole of Europe"
Democracy Now! - Tariq Ali and Mark Weisbrot, 17 May 2010
The European Union and the International Monetary Fund have approved a nearly $1 trillion package to stop Greece's debt crisis from spilling beyond its borders into the rest of the eurozone. Stocks surged in Europe, Asia and the United States Monday after EU leaders agreed to a $960 billion package to contain Greece's financial troubles. Meanwhile, the austerity measures demanded by the IMF and the European Union as a condition of their loan are continuing to exact their toll. Greece's two main unions have continued to hold protests against the reforms. In a statement, one of the unions said, "The crisis should be paid by…all those who looted public finances." Last week nearly 100,000 people participated in a mass demonstration and a twenty-four-hour general strike against the austerity measures.
→ read full article
---
OBAMA IS ONLY MAKING IT WORSE
Tariq Ali, 21 Oct 2009
Farce in Kabul, Tragedy in Pakistan A few weeks ago the UN headman in Kabul, a woodenheaded Norwegian, decided that the recent Presidential elections were fine and Karzai was a legitimate ruler. His deputy, Peter Galbraith, the unofficial representative of the State Department, was enraged (since the US are unhappy with Karzai who is their […]
→ read full article
---
FROM THE ASHES OF GAZA
Tariq Ali, 1 Jan 2009
In the face of Israel's latest onslaught, the only option for Palestinian nationalism is to embrace a one-state solution The assault on Gaza, planned over six months and executed with perfect timing, was designed largely, as Neve Gordon has rightly observed, to help the incumbent parties triumph in the forthcoming Israeli elections. The dead Palestinians […]
→ read full article
---
INDIA'S LEADERS NEED TO LOOK CLOSER TO HOME
Tariq Ali, 28 Nov 2008
The Assault on Mumbai The terrorist assault on Mumbai's five-star hotels was well planned, but did not require a great deal of logistic intelligence: all the targets were soft. The aim was to create mayhem by shining the spotlight on India and its problems and in that the terrorists were successful. The identity of the […]
→ read full article
---
OPERATION ENDURING DISASTER – BREAKING WITH AFGHAN POLICY
Tariq Ali, 17 Nov 2008
Afghanistan has been almost continuously at war for 30 years, longer than both World Wars and the American war in Vietnam combined. Each occupation of the country has mimicked its predecessor. A tiny interval between wars saw the imposition of a malignant social order, the Taliban, with the help of the Pakistani military and the […]
→ read full article
---
The Deadly Blast in Islamabad
Tariq Ali, 29 Sep 2008
Why Was the Marriott Targeted? The deadly blast in Islamabad was a revenge attack for what has been going on over the past few weeks in the badlands of the North-West Frontier. It highlighted the crisis confronting the new government in the wake of intensified US strikes in the tribal areas on the Afghan border. […]
→ read full article
---