Articles by Tomasz Pierscionek
We found 2 results.
---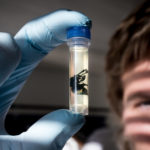 Genetically Engineered Viruses May Become the Next Generation of Warfare
Tomasz Pierscionek – RT, 5 Nov 2018
1 Nov 2018 – Many technologies have dual use potential and can be applied to either civilian or defense projects, depending on the intent of those in charge. The urge to use a biogenetic weapon to incapacitate a rising competitor may one day prove too much of a temptation to ignore.
→ read full article
---
GM Products: 'Frankenstein Foods' or Miracle Solution for a Hungry Planet?
Tomasz Pierscionek – Russia Today, 1 May 2017
25 Apr 2017 – The manufacture of Genetically Modified Organisms is a controversial subject. Should GMO be feared or embraced? Are they the answer to solving world hunger or could their creation have consequences?
→ read full article
---