Articles by Tortilla Con Sal
We found 1 results.
---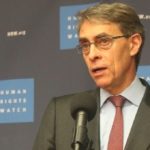 From the End of History to the End of Truth
Tortilla Con Sal – teleSUR, 19 Mar 2018
11 Mar 2018 – Big Lie repetition is the modus operandi of the Western elites who fund outfits like Global Witness, Amnesty International, and other influential NGOs like International Crisis Group, Transparency International, Purpose, Open Society Institute, Human Rights Watch, and many others. This sinister reality is intimately related to the politicization of legal and administrative processes in the national life of countries.
→ read full article
---