Articles by Usaid Siddiqui
We found 3 results.
---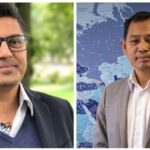 Rohingya Campaigners Say Won't Be 'Silenced' by Online Threats
Usaid Siddiqui – Al Jazeera, 30 Dec 2019
Ro Nay San Lwin and Maung Zarni tell Al Jazeera they fear for their lives but will not be 'silenced' by online abuse.
→ read full article
---
While Rohingya Muslims Are Ethnically Cleansed, Obama Quietly Lifts Sanctions on Burma
Usaid Siddiqui - AlterNet, 9 Jan 2017
As a "campaign of rape, killings and arson" proceeds, anti-Rohingya forces hail the election of Trump.
→ read full article
---
Myanmar's [Burma's] Buddhist Terrorism Problem
Usaid Siddiqui – Al Jazeera America, 23 Feb 2015
18 Feb 2015 – The country's Rohingya minority is one of the most persecuted groups in the world. Burmese activists and leaders such as Suu Kyi must stand up for the human rights of the Rohingya community.
→ read full article
---