Articles by Victor Grossman
We found 2 results.
---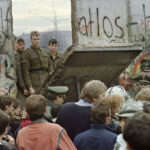 The Berlin Wall and General Pyrrhus
Victor Grossman | Berlin Bulletin, Monthly Review – TRANSCEND Media Service, 18 Nov 2019
9 Nov 2019 – East Germans soon learned that freedom of the press was for those who owned the presses, that freedom of speech helped most those who ruled over studios and cable connections. Most tellingly, they learned very quickly that those 100 West-marks were soon spent and new ones, for all those glistening commodities and travels, had somehow to be earned, while over 95 % of the industry they had built up was taken over by Westerners.
→ read full article
---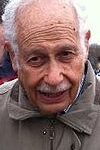 Playing the Trump Card
Victor Grossman | Berlin Bulletin – TRANSCEND Media Service, 7 Oct 2019
29 Sep 2019 – Analysis of the current Trump impeachment investigation in the context of repeated US bullying of other leaders and ruining of other countries' economies for the personal gain of the ruling class. The whole bloody Ukrainian mess blew up with the well-financed involvement of the Democratic administration, including Joe Biden. Donald Trump is only a late-comer. Of course, such entries fill the annals of both parties.
→ read full article
---