Articles by Yanghee Lee and Georgia Drake
We found 1 results.
---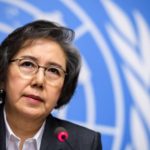 There Can Be No Peace for Myanmar without Justice
Yanghee Lee and Georgia Drake – TIME, 1 Oct 2018
26 Sep 2018 – Justice has many meanings; it is a concept that is far broader than mere naming and shaming, or barefaced retribution. At its most base level, justice involves acknowledgment of responsibility. Justice processes can be holistic and encompass restoration of damaged relationships, recognition of suffering and forgiveness by sufferers, and rehabilitation and reintegration of both victims and perpetrators.
→ read full article
---