Articles by Yanis Varoufakis and David Adler
We found 1 results.
---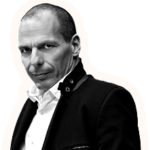 We Shouldn't Rush to Save the Liberal Order – We Should Remake It
Yanis Varoufakis and David Adler – The Guardian, 3 Dec 2018
1 Dec 2018 – From Viktor Orbán in the north to Jair Bolsonaro in the south, Rodrigo Duterte in the east to Donald Trump in the west, a coalition of nationalist strongmen are cracking down on civil rights, scapegoating minorities and facilitating widespread corruption for their family and friends. The UN Security Council, the IMF, the World Bank and the ILO were conceived as agencies of change – they can be again.
→ read full article
---