(Italiano) USA-Asia dell'Est: uno sguardo nell'abisso – ?
WEAPONS OF MASS DESTRUCTION, ANGLO AMERICA, ASIA--PACIFIC, ORIGINAL LANGUAGES, 29 Apr 2013
Johan Galtung – TRANSCEND Media Service
(Traduzione di Miky Lanza per il Centro Sereno Regis
Da Kyoto, Giappone
La situazione non è mai stata così brutta dalla guerra di Corea del 1950-53.
Viene in mente l'ottobre 1962, la crisi Cuba-URSS-USA. Ci furono visioni orride di funghi atomici. A una Cuba orgogliosa, con una forte dirigenza dittatoriale, una rivoluzione sociale nel recente passato, fu negato un posto normale nel sistema statuale, fu messa in isolamento con sanzioni e boicottaggi dai bulli USA e alcuni alleati, ormai da oltre 50 anni.
L'Unione Sovietica vi spedì missili a testata nucleare da schierare a ridosso degli USA tanto quanto i missili USA schierati in Turchia contro l'Unione Sovietica. E in quella mossa ci fu la soluzione, colpo su colpo (tit for tat, strategia elabrata da Anatol Rapoport nel 1980, durante la guerra fredda, NdT), una minaccia nucleare contro un'altra, in negoziati mantenuti segreti, in ultimo rivelati da McNamara.
Tre paesi erano coinvolti nel 1962; nell'attuale crisi cinque paesi, un pentagono, e non due ma tre potenze nucleari (in neretto):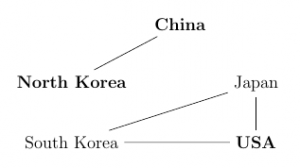 con le alleanze USA-Giappone e USA-Corea del Sud posizionate contro l'alleanza tacita Cina-Corea del Nord. Con i traumi non riconciliati, del Giappone che ha colonizzato la Corea dal 1910 al '45, attaccato la Cina e gli USA durante la guerra del Pacifico dal 1931 al '45; gli USA che hanno usato bombe nucleari contro il Giappone nel 1945, occupato il Giappone e la Corea del Sud; la Corea del Nord che ha attaccato la Corea del Sud; col contrattacco ONU-USA compresa la Cina (MacArthur), finito nel 1953 con un armistizio; poi 60 anni di tentativi immensamente frustranti di unificazione con le esercitazioni annue USA-Corea del Sud + Team Spirit [Spirito di squadra] a ridosso della Corea del Nord. E, più recentemente, la competizione USA-Cina per l'egemonia economica mondiale, lo sforzo USA di costruire alleanze economiche con l'UE e con l'area del Pacifico nella Partnership Trans-Pacifica, e poi il conflitto Giappone-Cina per le isole Daiyou-Senkaku. Per completare il tutto: la minaccia della Corea del Nord con armi nucleari, fascista come chiunque minacci di ridurre altri in cenere, ma per ora solo violenza verbale.
Cionondimeno, anche con una situazione come questa, c'è qualche possibilità di disinnescare questo pentagono di Tre contro Due.
Il professor Dae-Hwa Chung all'Università Nazionale Pusan nella Corea del Sud (dchung@pnu.ac.kr) ha mandato un Oped(opposite the editorial page, articolo di opinionista esterno al giornale, non in linea con la posizione del giornale stesso, NdT) al New York Times sul conflitto di 60 anni, con gli USA che fanno i bulli con la Corea del Nord non procedendo a un trattato di pace e a una normalizzazione. I suoi argomenti basilari: l'Unione Sovietica si è ritirata dalla Corea del Nord, ma non gli USA dalla quella del Sud per accerchiare la Cina; l'Unione Sovietica e la Cina hanno riconosciuto la Corea del Sud, le Nazioni Unite hanno riconosciuto entrambe, USA e Giappone hanno mancato di rispettare l'accordo di riconoscimento incrociato, mai riconoscendo la Corea del Nord ma facendo la pace e un'alleanza di fatto con quella del Sud.
Ci si può chiedere perché. Le due Coree erano entrambe dittature; la Corea del Sud acquisì caratteristiche democratiche solo negli anni 1990. Gli USA avevano un odio viscerale per la Corea del Nord per aver interrotto, non capitolando, la serie continua di vittorie belliche USA dalla Guerra d' Indipendenza nel 1812, hanno sperato col Giappone e la Corea del Sud nel suo collasso, tanto più dopo il crollo del 1989-90 della DDR-Deutsche Demokratische Republik e il suo assorbimento nella Germania.
Ci sono congetture cupe. Sia il Giappone che gli USA hanno una storia di sconfitte belliche nella penisola coreana; il Giappone negli anni 1590 con lo shogun Hideyoshi, e poi nel 1945 con gli USA e l'URSS; gli USA nel 1953 non riuscendo a vincere. I falchi di ambo i paesi potrebbero mantenere la polarizzazione e nutrire i propri traumi per alimentare una guerra o rivalsa, vincendo, non perdendo questa volta; non come la Baia dei Porci a Cuba nel 1961. Per i falchi giapponesi, alcuni dei quali al potere con Abe, l'attuale crisi è un'opportunità d'oro per "normalizzare" il proprio paese, liberandosi dell'articolo 9 della Costituzione che priva il Giappone del diritto di entrare in guerra, facendola finita con ogni riconciliazione con le Coree e la Cina ammettendo i torti giapponesi del 1910-1931-1945; al contrario, rendendo i giovani giapponesi fieri del loro paese.
Con motivazioni forti, addirittura esistenziali, come queste ad alimentare l'intransigenza nord-coreana, USA e giapponese, le prospettive sono fosche.
E tuttavia cerchiamo qualche barlume di speranza, per quanto distante.
Un accordo bilaterale come Cuba nel 1962 è difficile perché l'uso USA della Turchia e l'uso URSS di Cuba erano simmetrici, invitavano a un "colpo su colpo". Che cosa potrebbe dare la Corea del Nord in cambio di un indispensabile trattato di pace – normalizzazione? Un controllo credibile IAEA (International Atomic Energy Agency) soleva essere la risposta, ma la Corea del Nord ha oltrepassato la linea rossa diventando una potenza nucleare.
Essa potrebbe rinunciare alle sue minacce verbali e fisiche, sperando in cambio in un trattato di pace e una normalizzazione. Come nel 1962, non si tratterebbe di un bene per un altro, bensì di un torto per un altro. Sarebbero d'accordo gli USA, soliti a dettare gli esiti senza dare alcunché in cambio? Come nel 1962 mantenendolo segreto, con una narrativa "profilo di coraggio"? Si spera, ma non è molto verosimile, che sia in corso qualche trattativa segreta.
Una trattativa multilaterale che coinvolga tutto il pentagono, dando beni contro beni a vantaggio della convivialità internazionale, il kokusai kyosei (coesistenza internazionale, NdT)giapponese, sarebbe il vero Team Spirit. Concretamente questo si tradurrebbe in una Comunità dell'Asia del Nord Est con la Cina, Taiwan, Hong Kong-Macao, il Giappone, la penisola coreana; e la Mongolia, l'Estremo oriente russo, forse altro ancora.
La Comunità si rapporterebbe equamente con gli USA e l'area del Pacifico estendendo il TPP (Trans-Pacific Partnership) per includere la Cina e una Corea del Nord pienamente riconosciuta. Okinawa potrebbe ospitare il TPP della Commissione dell'Asia del Nord Est e delle Hawai'i. Le isole Daiyou/Senkaku con le loro rispettive zone economiche esclusive apparterebbero alla Comunità dell'Asia del Nord Est. Cina e Giappone le possederebbero congiuntamente; condividendo i proventi, con una porzione per sostenere la comunità. Ci sarebbero benefici reciproci e uguali; ci guadagnerebbero tutti.
E questo è un problema per menti ostaggio di giochi a somma zero e ossessionate dal vincere; elementi attualmente presenti in tutti e cinque, che usano il patriottismo per alimentare tali giochi. C'è bisogno di un cambiamento di mentalità, come in Europa nel 1950. Possono volerci secoli, ma può anche avvenire in breve con una dirigenza statale illuminata. Nessuno dei cinque ha queste qualità, al momento. Ma insieme, in un incontro di vertice, sorretto da ONG e media?
Titolo originale: USA-East Asia Looking Into the Abyss – TRANSCEND Media Service-TMS
Go to Original – serenoregis.org
DISCLAIMER: The statements, views and opinions expressed in pieces republished here are solely those of the authors and do not necessarily represent those of TMS. In accordance with title 17 U.S.C. section 107, this material is distributed without profit to those who have expressed a prior interest in receiving the included information for research and educational purposes. TMS has no affiliation whatsoever with the originator of this article nor is TMS endorsed or sponsored by the originator. "GO TO ORIGINAL" links are provided as a convenience to our readers and allow for verification of authenticity. However, as originating pages are often updated by their originating host sites, the versions posted may not match the versions our readers view when clicking the "GO TO ORIGINAL" links. This site contains copyrighted material the use of which has not always been specifically authorized by the copyright owner. We are making such material available in our efforts to advance understanding of environmental, political, human rights, economic, democracy, scientific, and social justice issues, etc. We believe this constitutes a 'fair use' of any such copyrighted material as provided for in section 107 of the US Copyright Law. In accordance with Title 17 U.S.C. Section 107, the material on this site is distributed without profit to those who have expressed a prior interest in receiving the included information for research and educational purposes. For more information go to: http://www.law.cornell.edu/uscode/17/107.shtml. If you wish to use copyrighted material from this site for purposes of your own that go beyond 'fair use', you must obtain permission from the copyright owner.