30th Anniversary! Hilo Bay Nuclear Warship Blockade (Hawai'i)
TRANSCEND MEMBERS, 21 Jul 2014
Jim Albertini – TRANSCEND Media Service
PRESS RELEASE – Malu 'Aina Center for Nonviolent Education & Action
July 18, 2014 marks the 30th anniversary of an historic protest in Hilo Bay to uphold the spirit, if not the letter, of Hawaii County's Nuclear-Free law (ordinance #665) passed unanimously in 1981.
On July 18, 1984 hundreds of people gathered on the Hilo docks in protest of a Pearl Harbor based visiting U.S. nuclear armed warship, USS Ouellet. The ship was coming to Hilo at the invitation of the Hawaii Japanese Chamber of Commerce for its "Let's Sell Hawaii" Festival of the Pacific.
For three years, despite numerous requests to respect our law, the Navy repeatedly violated the law. In June of 1984 peace activists announced a nonviolent blockade of the next nuclear ship visiting Hilo. In response, the Navy got federal authorities to establish a martial law situation in Hilo Bay.
On July 18 two Coast Guard cutters escorted the warship. Military speed boats, zodiacs, helicopters and Navy Seal teams were also in the harbor. Federal authorities declared that anyone entering Hilo Bay to peacefully protest the nuclear warship would be subject to a felony criminal violation with a federal prison term up to three years and a $50,000 fine.
Three people entered the water from the point of pier 2 and 3 swimming toward the arriving warship in the harbor channel. They held their hands up in a symbolic message to the ship –"STOP."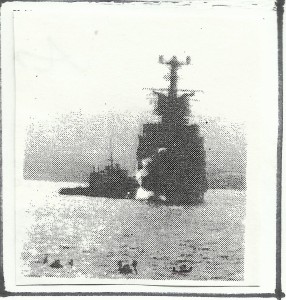 Jim Snyder, Warren Wineman and Jim Albertini were imprisoned and/or fined for their nonviolent protest. Jim Albertini was released from federal prison after a little more than a year of his 3-year sentence mainly due to international protest. For nearly 10 consecutive years, because of his nonviolent protests, Jim had to obtain a federal court order to travel from Hawai'i Island.
********************
The Ballad of Pearl Harbor
By Jim Albertini, composed in 12 December, 1983
Below are the lyrics to the song:  Jim and Bernard Punikaia of Hale Mohalu recorded the song together in 1985.  Link for the audio:
http://malu-aina.org/wp-content/uploads/2014/07/Taro-Patch-03-Ballad-of-Pearl-Harbor-Folk.wma">
"Do not give what is holy to dogs or toss your pearls before swine. They will trample them under foot at best, and perhaps even tear you to shreds." (Matthew 7:6)
 Chorus: Take back the Pearl for the people. Let Mother Pearl shine again, and give life back to the land, and welcome all of her rainbow children that bridge the ocean of peace.
1. We showered you with our pearls, but you wanted even more. You took away our Mother Pearl –raped, plundered, and trampled her.
2. We were blinded by your breath of fire. You made us very proud. We worshiped you not knowing, we were losing our souls.
 Chorus
 3. You poisoned the waters and destroyed the fish ponds. You killed the fish and the oysters and desecrated holy lands. You put up fences and iron gates. You brought in disease and waves of death.
 Chorus
 4. We have been fools. But our eyes are now opening. No longer will we worship you or follow in your ways. Depart from us with your poison quills and deadly unhatched eggs.
Chorus
*********************
Free Hawai'i & the World from the Curse of Militarism!
Ground the Drones!  Say No to War!
Mourn all victims of violence.
Reject war as a solution.
Defend civil liberties.
Oppose all discrimination, anti-Islamic, anti-Semitic, anti-Hawaiian, etc.
Seek peace by peaceful means through justice in Hawai`i and around the world.
Hilo Peace Vigil leaflet (July 25, 2014 – 670th week) – Friday 3:30-5PM downtown Post Office
_____________________________________
James Albertini is a member of the TRANSCEND Network for Peace, Development and Environment and director of Malu 'Aina Center for Non-violent Education & Action – P.O. Box AB Kurtistown, Hawai'i, 96760, USA. Phone 001 808 966 762 email: ja@malu-aina.org   http://www.malu-aina.org.
This article originally appeared on Transcend Media Service (TMS) on 21 Jul 2014.
Anticopyright: Editorials and articles originated on TMS may be freely reprinted, disseminated, translated and used as background material, provided an acknowledgement and link to the source, TMS: 30th Anniversary! Hilo Bay Nuclear Warship Blockade (Hawai'i), is included. Thank you.
If you enjoyed this article, please donate to TMS to join the growing list of TMS Supporters.


This work is licensed under a CC BY-NC 4.0 License.