While the Arctic Superheats, Pipeline Wars Continue
TRANSCEND MEMBERS, 28 Mar 2016
John Scales Avery – TRANSCEND Media Service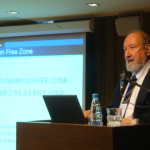 It is disturbing to see how little effect the earth's present critical climate emergency has on the behaviour of politicians and the mass media. Recent data show that the earth is heating much faster than expected, and that this is most pronounced in the Arctic and Antarctic regions. An extremely dangerous methane hydrate feedback loop could be initiated by melting permafrost and by the warming Arctic seas. This feedback loop could lead to uncontrollable and catastrophic climate change. But although the use of fossil fuels must stop within one or two decades if a planetary disaster is to be avoided, pipeline wars continue as usual.
Here are some links to articles reporting the drastic jump in average planetary temperature measured in February 2016.
http://www.commondreams.org/news/2016/03/14/nasa-drops-major-bomb-march-toward-ever-warmer-planet
http://www.theguardian.com/environment/2016/mar/15/record-breaking-temperatures-have-robbed-the-arctic-of-its-winter
http://www.truth-out.org/news/item/35283-arctic-sea-ice-volume-nears-record-low
http://dissidentvoice.org/2016/03/does-methane-threaten-life/
https://theconversation.com/meltdown-earth-the-shocking-reality-of-climate-change-kicks-in-but-who-is-listening-56255
http://www.countercurrents.org/bardi150316.htm
http://www.informationclearinghouse.info/article44427.htm
http://www.truth-out.org/news/item/35202-antarctica-on-the-brink-nasa-emeritus-scientist-warns-of-dramatic-loss-of-glaciers
http://ecowatch.com/2016/03/02/february-record-hot/
http://nsidc.org/arcticseaicenews/charctic-interactive-sea-ice-graph/
http://nsidc.org/arcticseaicenews/
http://thinkprogress.org/climate/2016/03/01/3754891/arctic-sea-ice-growth/
http://thinkprogress.org/climate/2016/02/16/3749815/carbon-pollution-hottest-12-months-january/
In the Arctic and Antarctic regions, this superheating is magnified by an order of magnitude. Meanwhile pipeline wars continue in the Middle East, producing floods of refugees, and perpetuating our global addiction to oil.
http://www.commondreams.org/news/2016/03/18/what-would-thoreau-do-community-builds-replica-walden-pond-cabin-block-pipeline
http://www.countercurrents.org/zuesse200316.htm
http://ecowatch.com/2016/02/25/robert-kennedy-jr-syria-pipeline-war/
Both our mass media and our entertainment industry have failed completely in their duty to warn us that the climate emergency calls for a drastic change in lifestyle. Television programs and films show us totally unchanged patterns of life: huge, luxurious cars crowded bumper-to-bumper on six-lane highways, while heroes and heroines jet off to holidays in the tropics.
When it became clear that smoking is a serious danger to health, films and television dramas rose to their responsibility and stopped showing people with cigarettes drooping from their lips. Can we not have similar responsibility today, when the future of the biosphere depends on everyone rapidly adopting an oil-free lifestyle?
http://www.countercurrents.org/avery080914.htm
http://human-wrongs-watch.net/2016/03/15/peace/#utm_sguid=155260,0adb92da-1648-9cf2-dc86-398f57b49ffb
__________________________________________
John Scales Avery, Ph.D., who was part of a group that shared the 1995 Nobel Peace Prize for their work in organizing the Pugwash Conferences on Science and World Affairs, is a member of the TRANSCEND Network and Associate Professor Emeritus at the H.C. Ørsted Institute, University of Copenhagen, Denmark. He is chairman of both the Danish National Pugwash Group and the Danish Peace Academy and received his training in theoretical physics and theoretical chemistry at M.I.T., the University of Chicago and the University of London. He is the author of numerous books and articles both on scientific topics and on broader social questions. His most recent book is Civilization's Crisis in the 21st Century (pdf).
This article originally appeared on Transcend Media Service (TMS) on 28 Mar 2016.
Anticopyright: Editorials and articles originated on TMS may be freely reprinted, disseminated, translated and used as background material, provided an acknowledgement and link to the source, TMS: While the Arctic Superheats, Pipeline Wars Continue, is included. Thank you.
If you enjoyed this article, please donate to TMS to join the growing list of TMS Supporters.


This work is licensed under a CC BY-NC 4.0 License.