Climate Doomsday – Another Step Closer
ENVIRONMENT, 31 Oct 2016
Baher Kamal – Inter Press Service-IPS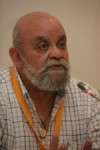 27 Oct 2016 – Almost inadvertently, humankind is getting closer everyday to the point of no-return towards what could be called the 'climate doomsday'.
Now, globally averaged concentration of carbon dioxide (CO2) in the atmosphere has surged again to new records in 2016… and will not dip below pre-2015 levels for many generations.
The warning comes from the United Nations weather agency–the World Meteorological Organization (WMO) and further confirms the alarm of climate experts and world specialised organisations.
On the one hand, the WMO secretary-general, Petteri Taalas said that 2015 ushered in a new era of optimism and climate action with the Paris climate change agreement. "But it will also make history as marking a new era of climate change reality with record high greenhouse gas concentrations."
"Without tackling carbon dioxide emissions, we cannot tackle climate change and keep temperature increases to below 2 degrees Celcius above the pre-industrial era… It is therefore of the utmost importance that the Paris Agreement does indeed enter into force well ahead of schedule on 4 November and that we fast-track its implementation," Taalas on 24 October 2016 stressed.
The weather agency had warned earlier this year that the Earth is already one degree Celsius hotter than at the start of the 20th century, halfway to the critical two-degree threshold, and that national climate change plans adopted so far may not be enough to avoid a three-degree temperature rise.
CO2 levels had previously reached the 400 parts per million barrier for certain months of the year and in certain locations "but never before on a global average basis for the entire year." According to WMO, the growth spurt in carbon dioxide was fuelled by the El Niño event, which started in 2015 and had a strong impact well into 2016.
"The 400 parts per million threshold is of great symbolic importance," said the previous WMO secretary-general Michel Jarraud in 2014. "It should serve as yet another wakeup call about the constantly rising levels of greenhouse gases which are driving climate change and acidifying our oceans."
This triggered droughts in tropical regions and reduced the capacity of "sinks" like forests, vegetation and the oceans to absorb CO2.
These sinks currently absorb about half of CO2 emissions but there is a risk that they may become saturated, which would increase the fraction of emitted carbon dioxide which stays in the atmosphere, according to the Greenhouse Gas Bulletin.
Carbon Dioxide Remains For Thousands of Years
The danger is clear: for thousands of year's carbon dioxide remains in the atmosphere, trapping heat and causing the earth to warm further. The lifespan of carbon dioxide in the oceans is even longer. It is also the single most important greenhouse gas emitted by human activities.
"For thousands of year's carbon dioxide remains in the atmosphere, trapping heat and causing the earth to warm further. The lifespan of carbon dioxide in the oceans is even longer. It is also the single most important greenhouse gas emitted by human activities." – WMO
According to the WMO it is responsible for 85 per cent of the warming effect on our climate over the past decade.
On the other hand, the United Nations Convention to Combat Desertification (UNCCD) says that the droughts and floods beating down on communities in many parts of the world are linked to the current El Niño, which was expected to affect up 60 million people already by last July.
"In some areas, including in North Eastern Brazil, Somali, Ethiopia, Kenya and Namibia, the El Niño effects are coming on the back of years of severe and recurrent droughts. It is impossible for households that rely on the land for food and farm labour to recover, especially when the land is degraded," says in this regards the UNCCD executive secretary, Monique Barbut.
What's more, Barbut adds, these conditions do not just devastate families and destabilise communities. When they are not attended to urgently, they can become a push factor for migration, and end with gross human rights abuses and long-term security threats.
"We have seen this before – in Darfur following four decades of droughts and desertification and, more recently, in Syria, following the long drought of 2007-2010."
It is "tragic to see a society breaking down when we can reduce the vulnerability of communities through simple and affordable acts such as restoring the degraded lands they live on, and helping countries to set up better systems for drought early warning and to prepare for and manage drought and floods," according to Barbut.
Agriculture Accounts for One-Fifth of Total Emissions
For its part, the Food and Agriculture Organization of the United Nations (FAO) alerted that the rapid change in the world's climate is translating into more extreme and frequent weather events, heat waves, droughts and sea-level rise.
The impacts of climate change on agriculture and the implications for food security are already alarming – they are the subjects of this report, according to FAO director general José Graziano da Silva.
A major finding is that there is an urgent need to support smallholders in adapting to climate change. Farmers, pastoralists, fisher-folk and community foresters depend on activities that are intimately and inextricably linked to climate – and these groups are also the most vulnerable to climate change.
"They will require far greater access to technologies, markets, information and credit for investment to adjust their production systems and practices to climate change."
Unless action is taken now to make agriculture more sustainable, productive and resilient, climate change impacts will seriously compromise food production in countries and regions that are already highly food-insecure, Graziano da Silva alerts.
"Through its impacts on agriculture, livelihoods and infrastructure, climate change threatens all dimensions of food security. It will expose both urban and rural poor to higher and more volatile food prices."
According to FAO's director general, it will also affect food availability by reducing the productivity of crops, livestock and fisheries, and hinder access to food by disrupting the livelihoods of millions of rural people who depend on agriculture for their incomes.
The FAO report–The State of Food and Agriculture 2016, describes ways of adapting smallholder production to climate change and making the livelihoods of rural populations more resilient.
"Diversify or Die"?
Diversification and better integration of food production systems into complex ecological processes create synergies with the natural habitat instead of depleting natural resources, says the report.
Agro-ecology and sustainable intensification are examples of approaches that improve yields and build resilience through practices such as green manuring, nitrogen-fixing cover crops and sustainable soil management, and integration with agro-forestry and animal production.
"In order to keep the increase in global temperature below the crucial ceiling of 2 °C, emissions will have to be reduced by as much as 70 per cent by 2050.
"Keeping climate change within manageable levels can only be achieved with the contribution of the agriculture sectors," which account for at least one-fifth of total emissions, mainly from the conversion of forests to farmland as well as from livestock and crop production.
_______________________________________
Baher Kamal, Egyptian-born, Spanish national secular journalist. He is founder and publisher of Human Wrongs Watch. Kamal is a pro-peace, non-violence, human rights, harmonious coexistence defender among human beings and with Nature, with more than 43 years of professional experience. With these issues in sight, he covered practically all professional posts, from correspondent to chief editor of dailies and international news agencies.
DISCLAIMER: The statements, views and opinions expressed in pieces republished here are solely those of the authors and do not necessarily represent those of TMS. In accordance with title 17 U.S.C. section 107, this material is distributed without profit to those who have expressed a prior interest in receiving the included information for research and educational purposes. TMS has no affiliation whatsoever with the originator of this article nor is TMS endorsed or sponsored by the originator. "GO TO ORIGINAL" links are provided as a convenience to our readers and allow for verification of authenticity. However, as originating pages are often updated by their originating host sites, the versions posted may not match the versions our readers view when clicking the "GO TO ORIGINAL" links. This site contains copyrighted material the use of which has not always been specifically authorized by the copyright owner. We are making such material available in our efforts to advance understanding of environmental, political, human rights, economic, democracy, scientific, and social justice issues, etc. We believe this constitutes a 'fair use' of any such copyrighted material as provided for in section 107 of the US Copyright Law. In accordance with Title 17 U.S.C. Section 107, the material on this site is distributed without profit to those who have expressed a prior interest in receiving the included information for research and educational purposes. For more information go to: http://www.law.cornell.edu/uscode/17/107.shtml. If you wish to use copyrighted material from this site for purposes of your own that go beyond 'fair use', you must obtain permission from the copyright owner.