Rest in Peace Prof. Glenn Paige (1929 – 2017): Pioneer of Nonkilling and Peace Researcher
OBITUARIES, 30 Jan 2017
Mairead Maguire, Nobel Peace laureate – TRANSCEND Media Service
I am very sorry to hear of the death of my good friend Prof. Glenn Paige, who passed away on Sunday 22 January, 2017.  Glenn was 87 years of age and he died at the end of a struggling illness during which he was nursed by his wonderful partner, and co peacemaker, Glenda Paige.  Glenn died in Honolulu, Hawai'i, where he lived and worked as founder and chair of the centre for global nonkilling. (www.nonkilling.org/)
I want to express to Glenda and the family my condolences on the passing of her beloved Glenn.  She will, I know, be deeply sad at his passing, but I know too she will be consoled knowing Glenn's spirit will be with her always giving her strength to carry on.
I had the pleasure of meeting Glenn at a peace conference in India many years ago and I was struck by his joy and enthusiasm for his peace work.  He believed passionately in the possibility of a world without killing, a world of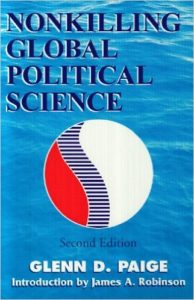 peace.  When he spoke he inspired all those listening to believe in themselves and inspired a vision of a human family built on reverence for life and refusing to kill.  He coined the word 'nonkilling' and later set up his centre for global nonkilling in Honolulu.  I again met Glenn in November 2007, when he invited me to attend the first forum proceedings of 'Global Nonkilling Leadership' held at his centre in Honolulu.  As an American soldier in the Korean War who travelled the road from violence to nonviolence, Glenn knew the cost of violence and war and I believe from here came his great passion for peace.
Glenn's book, Nonkilling Global Political Science (1985), has now been translated into 30 languages and is a must read for all those who take serious our greatest challenge in today's world, "How do we use nonkilling social and global transformation to  move from a violent to a nonviolent culture in the 2lst century?"
We are indebted to our beloved Glenn, who gave the world a vision of nonkilling and lived a life of nonviolence based on love and compassion.  His peaceful spirit and beautiful smile remains to give us the courage and commitment to continue building a nonkilling, peaceful world.
________________________________________
Glenn Durland Paige was an American political scientist, member of the TRANSCEND Network for Peace, Development and Environment, Professor Emeritus of political science at the University of Hawai'i, and Chair of the Governing Council of the Center for Global Nonkilling. Paige was known for developing the concept of nonkilling, his studies on political leadership, and the study of international politics from the decision-making perspective with a case study of President Harry S. Truman's decision to involve the United States in the Korean War.
Mairead Corrigan Maguire, co-founder of Peace People, is a member of the TRANSCEND Network for Peace, Development and Environment. She won the 1976 Nobel Peace Prize for her work for peace in Northern Ireland. Her book The Vision of Peace (edited by John Dear, with a foreword by Desmond Tutu and a preface by the Dalai Lama) is available from www.wipfandstock.com. She lives in Belfast, Northern Ireland. See: www.peacepeople.com.
This article originally appeared on Transcend Media Service (TMS) on 30 Jan 2017.
Anticopyright: Editorials and articles originated on TMS may be freely reprinted, disseminated, translated and used as background material, provided an acknowledgement and link to the source, TMS: Rest in Peace Prof. Glenn Paige (1929 – 2017): Pioneer of Nonkilling and Peace Researcher, is included. Thank you.
If you enjoyed this article, please donate to TMS to join the growing list of TMS Supporters.


This work is licensed under a CC BY-NC 4.0 License.