Holding Officials Accountable
INSPIRATIONAL, 17 Jul 2017
Prof. Dietrich Fischer – TRANSCEND Media Service
I met Bona Malwal Madut Ring from Bahr El Ghazal in South Sudan when we were both students and lived at International House in New York.
One day in 1969, he received a long phone call from London, and went there a few days later. He explained to me that since he had studied in Khartoum, he knew people from both the Northern and Southern Sudan, and they both trusted him. A civil war raged in the Sudan that began when the mostly Arabic Muslim North tried to extend its language and laws on the African South, where Christianity or local religions predominated. After more than a decade of fighting and suffering, the two sides were tired of war and were seeking to arrange a cease‑fire.
Delegations from the North and the South were in different hotels in London, but could not agree where to meet. So they invited Bona to London, and he shuttled back and forth between the two hotels with messages. This led to an agreement that the two sides would meet a year later in Addis Ababa, Ethiopia, and there they agreed on a cease‑fire and a new government. President Nimeiry invited Bona to become Minister of Culture and Information in the new government, the only minister from the South. The three Southern provinces were granted autonomy.
This brought a period of peace that lasted ten years. During that time, Bona requested that government officials regularly pay visits to every village in the South every three months, to ask the people what they needed from the government. He frequently went along on such trips. During one of these trips, he wanted to visit the next village on the map. The local official explained that because of the rainy season, the roads were flooded and their jeeps could not go there; they would have to skip that village and go to the next one. Bona said, "Let's go as far as we can, and if we cannot drive further, we will walk, I want to visit that village." So they went there, and actually were able to drive there without problem.
But when they arrived, the village was empty. Later they found out that the village had never been visited by a government official in over three years. The people thought that the civil war was still going on, and that the jeeps were an army patrol. So Bona played some local music on a tape recorder. Slowly, some of the children could no longer suppress their curiosity, came closer and watched from behind trees what was going on. Bona explained to them that they had come to help them, and would not harm them.
Finally, the grownups also assembled around the visitors. Bona asked how things were going for them. They explained that they were mostly doing alright, they had enough food. The only problem was that the fountain, which the government had installed in the village some years ago, had stopped working three years ago, and so they spent much time fetching water every day from a river. Bona asked the local official responsible for looking after people's well‑being to check the fountain. It turned out that a rubber ring, which was needed to pump the water out of the ground, was broken. The official had dozens of those rings in his bag, and replaced it.
Suddenly, they could pump fresh and clean water out of the ground again. The villagers burst into joy, and prepared a big feast and entertainment for the visitors, and asked them to spend the night with them. In front of the villagers, Bona demoted the negligent official, who had failed to visit that village in many years, to a low ranking desk job.
That period of relative peace came to an end in 1983, when President Nimeiry gave in to pressure from the Muslim Brotherhood and revoked the South's autonomy, and began to impose Sharia, the cruel Islamic law that punishes adultery with stoning and petty theft with amputation of the hand. Bone resigned as minister and went into exile in England, from where he published Sudanow, a magazine about Sudanese affairs. Not surprisingly, the civil war resumed.
______________________________________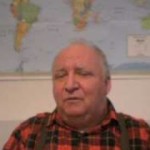 Dietrich Fischer (1941-2015) from Münsingen, Switzerland, got a Licentiate in Mathematics from the University of Bern 1968 and his Ph.D. in Computer Science from New York University 1976. 1986-88 he was a MacArthur Fellow in International Peace and Security at Princeton University. He has taught mathematics, computer science, economics and peace studies at various universities and been a consultant to the United Nations. He was co-founder, with Johan Galtung, of the TRANSCEND Network for Peace, Development and Environment in 1993.
Excerpted from Dietrich Fischer's Stories to Inspire You – TRANSCEND University Press-TUP.
This article originally appeared on Transcend Media Service (TMS) on 17 Jul 2017.
Anticopyright: Editorials and articles originated on TMS may be freely reprinted, disseminated, translated and used as background material, provided an acknowledgement and link to the source, TMS: Holding Officials Accountable, is included. Thank you.
If you enjoyed this article, please donate to TMS to join the growing list of TMS Supporters.


This work is licensed under a CC BY-NC 4.0 License.