In Elephant Country: Sharing Joy and Pleasure
TRANSCEND MEMBERS, 2 Oct 2017
Ravi P. Bhatia – TRANSCEND Media Service
27 Sep 2017 – Elephants are huge animals — perhaps the biggest animals surviving today. They are found in tropical countries of Africa and Asia– countries that are warm and provide large amounts of trees and greenery. They largely eat leaves and occasionally some grass and grains also. They will sometimes also use the trees to scratch their bodies.
They walk ponderously; their gait is slow but majestic. As a matter of fact the Maharaja of Mysore in South India had a large number of elephants in his kingdom and would parade them on certain occasions especially during the Dusshera festival (connected with Lord Ram's 14-year exile and victory over Ravana, the king of Lanka) that falls in the month of October. The elephants looked splendid luxuriously dressed in gaudy attire and ornaments. The procession is carried out even today and is a show stopper with thousands of spectators young and old savouring the grand spectacle.
Apart from the Rajas and Maharajas who owned large battalions of these grand animals, other elephants are located in some special sanctuaries such as in Guruvayur in Kerala, Elephant Valley in a hilly region of Tamil Nadu, in Assam on the eastern part of India, in Kaziranga and Bandipur National Parks etc. These majestic creatures are also part of cultural festivities and tourism in some parts of India including in the Amer Fort in Jaipur, Rajasthan where tourists can buy tickets to ride on these animals along with Mahouts (elephant handlers) with whom the elephants have a close association and are familiar.
Although elephants are taken proper care and are safe in these sanctuaries, they also face risk from poachers who try to capture them and sell elephant tusks for making ivory products that have a huge market worth billions of dollars. This trade is carried out especially in Africa and also to a lesser extent in Asia.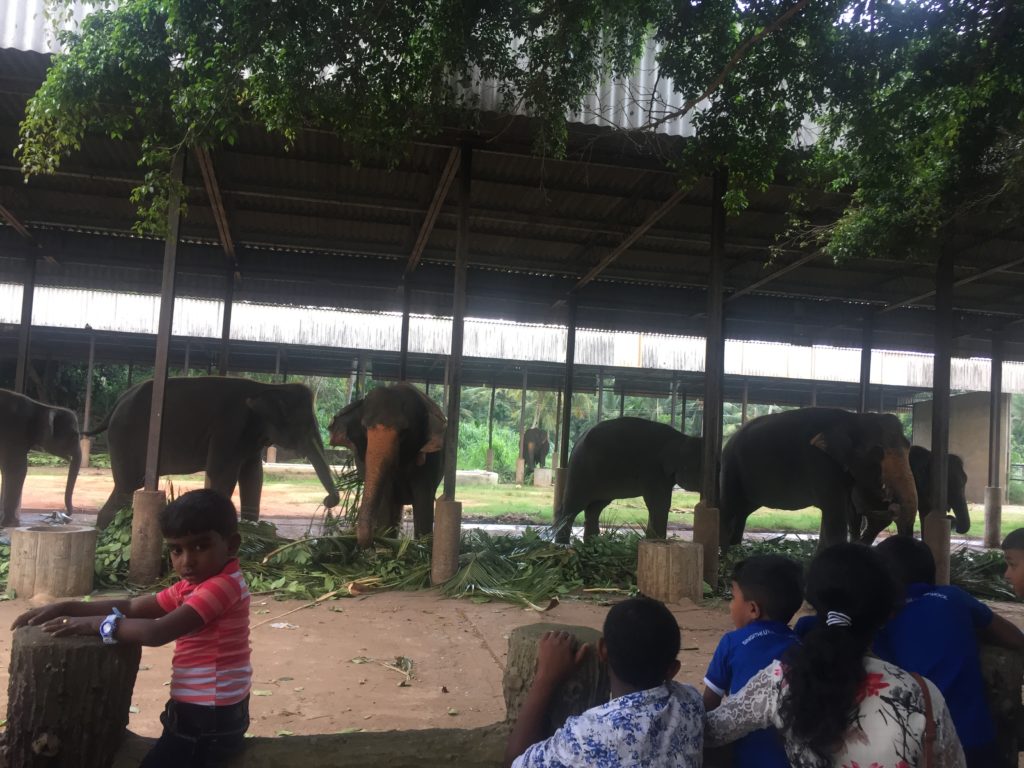 Sri Lanka located very close to the southern part of India, also is home to these wonderful animals in many parts of this island country especially in Pinnawala near Kandy which is a hill station in central part of the country.
I had the good fortune of going to this park recently to see these wonderful creatures. The park officials had advertised tourists to visit the Park to see the animals bathing and feeding. Like other visitors I was also attracted by these animal activities, but I had not bargained for the joy and harmony that this place provided. Most of the visitors were from Sri Lanka itself — a country that had proclaimed a few years back that their country was the happiest in the world.
That claim seemed to be justified when I talked to a few of the visitors to the Elephant Park.   There were a lot of children with their parents and grandparents, and they displayed their joy and wonder looking at these wonderful animals in obvious ways. Surprisingly I found that some people could speak and understand my language Hindi. With others we conversed in the universal English language.  Talking to strangers in this Park did not appear out of place — again the presence of these huge elephants helped in making conversation natural and easy.
But in any case there was not much need for conversation; looking at the animals pushing some grass and leaves into their mouths with the help of their trunks was a spectacle in itself. Some animals were adept at this activity, but others were clearly slow in fulfilling their hunger.
The elephant trunks — long and flexible, were also being used for drinking water. The trunks could pick up only a few drops of water from some wooden bowls and then push these drops into their large mouths. The process of drinking water appeared clumsy at best but again it added to the joy and pleasure of the visitors especially the children.
Normally people are silent in a foreign country partly because of the language differences and partly because of lack of familiarity with foreigners. People are reticent in an unfamiliar situation. But here conversation even if it was broken or pidgin, and gestures seemed to flow effortlessly. Why was this so?
Well the reason seemed strait forward– the presence of these huge elephants with their slow and ponderous gait was a catalyst for pleasure, joy and harmony.
_____________________________________________

Dr Ravi P Bhatia is a member of the TRANSCEND Network for Peace, Development and Environment, an educationist and peace researcher. Retired professor, Delhi University.  ravipbhatia@gmail.com
This article originally appeared on Transcend Media Service (TMS) on 2 Oct 2017.
Anticopyright: Editorials and articles originated on TMS may be freely reprinted, disseminated, translated and used as background material, provided an acknowledgement and link to the source, TMS: In Elephant Country: Sharing Joy and Pleasure, is included. Thank you.
If you enjoyed this article, please donate to TMS to join the growing list of TMS Supporters.


This work is licensed under a CC BY-NC 4.0 License.