(Italiano) Arrivederci, a… (chissà)!
ORIGINAL LANGUAGES, 2 Oct 2017
Johan Galtung | Centro Studi Sereno Regis – TRANSCEND Media Service
29 settembre 2017 – Ce l'abbiam fatta! Per cinquecento lunedì [dal 3 Marzo 2008] Antonio del Brasile-Portogallo ha pubblicato un mio editoriale dalla Norvegia e dal mondo – talora con un coautore. Con il valido sostegno degli altri membri del nostro comitato editoriale, Malvin Gattinger della Germania, Naakow Grant-Hayford del Ghana ed Erika Degortes dell'Italia. GRAZIE!
Per cinquecento volte ho colto la sfida di esplorare ciò che l'ONU saggiamente chiama una "situazione" – evitando, a differenza di me, la parola "crisi". Per cinquecento volte ho cercato di seguire quanto assorbito dall'età di 2 anni ascoltando a tavola mio padre medico e mia madre infermiera – figlia del direttore dell'assistenza sanitaria in Norvegia – il programma implicito nelle tre parole magiche diagnosi-prognosi-terapia, DPT.
Cinquecento analisi di qualcosa di problematico, per usare un eufemismo; cinquecento tentativi di valutare e prevedere quel che succederà se non facciamo nulla, e cinquecento sforzi di finire creativamente con una proposta.
Gli editoriali sembrano essere stati letti diffusamente, particolarmente nelle antiche superpotenze, USA e URSS, oggi perlopiù Russia. Dato che vertevano soprattutto su qualcosa di geopolitico, forse queste due avevano appunto la mentalità più geopolitica, cercando da tempo di gestire il mondo. Potrebbe anche darsi che siano semplicemente le più avvezze agli affari mondiali.
Comunque, mi sarebbe forse piaciuto vedere più lettori delle nuove superpotenze, Cina e India; non di media grandezza come le vecchie, ma ben il 37% dell'umanità. Spero più in pace che non. E una più grande ancora che la Cina: l'Islam, 1.650 milioni di musulmani.
È stata un'affascinante sfida settimanale. Scrutare il mondo cercandovi qualcosa di nuovo, proiettando una DPT [diagnosi-prognosi-terapia] sul muro, anzi sullo schermo. Ben sapendo che leggere ben 3 pagine – un buon formato, abbastanza lungo da essere ampio e profondo e abastanza corto da essere leggibile – è oltre portata per molti attualmente. Che colgono l'argomento, qualche parola chiave, e già stanno commentando precipitosamente.
Comunque, la mia profonda gratitudine a voi tutti per queste 500 sfide.
E ora abbiamo una "situazione". Ho appreso dal primo ministro del Regno Unito in Brexit il mantra che "adesso basta" (per esempio di lei). Ma, Johan, se te la godi tanto, perché non continuare? Buona domanda.
Ci saranno ancora editoriali di mia provenienza, particolarmente del tipo "Intanto, per il mondo…" con parecchio da scovare. Ma la sfida adesso dev'essere condivisa con un gruppo molto più grande, e per ora si è formato un nuovo comitato redazionale di 16 membri o giù di lì. Su ciascuno dei quali la sfida capiterà un paio di volte all'anno. Gli piacerà; e senza dubbio piacerà ai lettori: più varietà.
Ma c'è anche qualche motivo personale. E voi cari lettori avete diritto di sapere quali siano.
Non è affaticamento di sorta, con i miei prossimi 87 anni. Ma voglio usare i miei prossimi anni per qualcosa di ancor più stimolante e difficile: ricerca sulla macro-cultura, macro-storia, e le loro relazioni.
La Visione Grandiosa. La macro-cultura è giù in profondità, la macro-storia è la serie di sue manifestazioni. Le relazioni, vi prego! Un americano una volta definì la storia "un dannato avvenimento appresso all'altro". Empirico, puntuale, lineare nel tempo, cristallino. E sbagliato. Un tedesco, Ranke, molto tempo fa fece un appello per l'empirico, "wie es eigentlich gewesen", com'è stato effettivamente. Contrariamente alla memoria, individuale o collettiva trasmessa. Tenendo generazioni a ponderare la parola "effettivamente". Meglio. Affascinante.
Mi sento vocato a spostare il nostro orizzonte di pensiero sulla storia di un millimetro o due. Il che richiede un gran lavoro con nient'altro in agenda. Quindi, qualunque cosa regolare ed istituzionale – come la stesura di un editoriale settimanale, incontri mensili alfadeltapi nella mia amata L'Alfàz del Pi, lunghi convegni annuali nella mia amata Jondal – è stata quasi del tutto esclusa. A favore di ottime persone che ne stanno rilevando l'incombenza un po' ovunque.
Mi capiterà di collocare Alfàz in Spagna e Jondal in Norvegia [anziché nel mio contesto mentale], ma non regolarmente, bensì ad hoc. Grandi pensieri si sono pensati in piccoli luoghi – per grandi luoghi che pensano piccoli pensieri, se poi pensano del tutto.
Dopo i cinquecento [cimenti] non so trattenermi dall'offrire qualche riflessione "post-me" a finale quanto mai aperto.
Penso che il formato a 3 pagine vada bene, ma non sia vincolante per noi. Potrebbe essere più breve, ma non troppo; o più lungo, ma non troppo. Dipende dall'argomento, dall'autore. Siate flessibili, ma anche consci che i lettori si sono abituati a un certo formato.
Penso che l'agenda basata sulla sequenza DPT vada bene, ma non sia vincolante per noi. Un editoriale focalizzato solo sull'analisi, o solo sulla previsione, o solo sulle soluzioni, potrebbe essere anch'esso molto appropriato. O letteralmente un "flusso di consapevolezza". Siate flessibili, ma di nuovo consci che i lettori si sono abituati, che lo sappiano o meno, a quell'agenda DPT; e potrebbero sentirne la mancanza.
Siate inoltre consci di un'asimmetria. Chiunque abbia una formazione universitaria sa qualcosa di analisi; dati fattuali e la loro organizzazione. E chiunque in qualche modo coinvolto in politica ha dei valori-idee-ideali. Combinandoli con dati fattuali, si ottiene la base per una critica abbondante. Fatelo, ma consci che quella è la soluzione facile. Quando ci sono così poche proposte costruttive, creative, non è solo perché escluse da una "scienza a-valoriale" (ovviamente mai esistita), ma perché semplicemente è più difficile. Centinaia, migliaia di volte ho sentito: "E che farci? Nessuna idea". Producete quelle idee.
Che altro? La rigogliosa Jondal con sole e pioggia che cambiano più in fretta che l'umore delle donne. Persone magnifiche come Hans e Anett Bjelke, un pilastro, che vivono soli alle Spitsbergen settentrionali, insegnando in Groenlandia nordoccidentale e in Norvegia; e lavorando con le loro abili mani e abili menti. Musica, per quanto inaffidabile sia il canale FM. Letteratura. Proprio adesso, su Kindle, la collezione delle opere di Anton Chekhov. Invidio quasi quelli che non le hanno lette: su tutto quanto è umano, nel bene e nel male.
E al mio fianco la meravigliosa, splendida Fumi, con il meglio del Giappone.
Grazie, vita meravigliosa. Invecchiare non è nulla da temere se ci si mantiene in ragionevole forma, e ci si reinventa. Il più dipende da sé.
__________________________________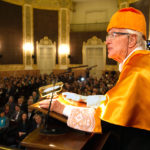 Johan Galtung, professore di studi sulla pace, Dr. hc mult, è il fondatore della Rete TRANSCEND per la Pace, Sviluppo e Ambiente e rettore della TRANSCEND Peace University-TPU. Prof. Galtung ha pubblicato 1.670 articoli e capitoli di libri, oltre 470 editoriali per TRANSCEND Media Service-TMS, e 167 libri su temi della pace e correlate, di cui 41 sono stati tradotti in 35 lingue, per un totale di 135 traduzioni di libri, tra cui 50 Years-100 Peace and Conflict Perspectives, 'pubblicati dalla TRANSCEND University Press-TUP.
#500 – Titolo originale: Good-Bye, See You Later – TRANSCEND Media Service
Traduzione di Miki Lanza per il Centro Studi Sereno Regis
Go to Original – serenoregis.org
Tags:
Challenges
,
Culture
,
DPT
,
Geopolitical
,
History
,
Personal
DISCLAIMER: The statements, views and opinions expressed in pieces republished here are solely those of the authors and do not necessarily represent those of TMS. In accordance with title 17 U.S.C. section 107, this material is distributed without profit to those who have expressed a prior interest in receiving the included information for research and educational purposes. TMS has no affiliation whatsoever with the originator of this article nor is TMS endorsed or sponsored by the originator. "GO TO ORIGINAL" links are provided as a convenience to our readers and allow for verification of authenticity. However, as originating pages are often updated by their originating host sites, the versions posted may not match the versions our readers view when clicking the "GO TO ORIGINAL" links. This site contains copyrighted material the use of which has not always been specifically authorized by the copyright owner. We are making such material available in our efforts to advance understanding of environmental, political, human rights, economic, democracy, scientific, and social justice issues, etc. We believe this constitutes a 'fair use' of any such copyrighted material as provided for in section 107 of the US Copyright Law. In accordance with Title 17 U.S.C. Section 107, the material on this site is distributed without profit to those who have expressed a prior interest in receiving the included information for research and educational purposes. For more information go to: http://www.law.cornell.edu/uscode/17/107.shtml. If you wish to use copyrighted material from this site for purposes of your own that go beyond 'fair use', you must obtain permission from the copyright owner.