Statues for Display of Power, Peace and Harmony
TRANSCEND MEMBERS, 13 Nov 2017
Dr Ravi P Bhatia – TRANSCEND Media Service
13 Nov 2017 – Many imposing statues have been built all over the world for various objectives – for display of power of a kingdom or that of a nation; for commemorating the memories of some kings or queens or some political personalities, for promoting  values of some messengers of peace and harmony and for various other reasons. Sometimes the statues of eminent musicians or other artists or scientists are also seen in prominent places of the concerned countries.
One of the important imposing and tall statues named the Statue of Liberty is erected in New York obviously to display the ideals of liberty and freedom of USA.  Eiffel Tower is not a statue but a symbol of French revival in the fields of culture and democracy that anyone going to Paris observes in wonder and awe.
Statues or memorials of all the US Presidents have been installed in Washington and in major towns. Mount Rushmore features grand sculptures of the heads of four United States presidents: George Washington (1732–1799), Thomas Jefferson (1743–1826), Theodore Roosevelt (1858–1919), and Abraham Lincoln (1809–1865). Their faces were carved on the rocks of the Mount Rushmore for the crucial role they played in the early history of USA. In addition to this Mount there are various memorials or Museums of all the US Presidents — Herbert Hoover, Dwight Eisenhower, John Kennedy, Harry Truman, George Bush and others.
Elsewhere, statues or busts of six famous American Presidents can be seen in various important sites of London in England – those of George Washington (in Trafalgar Square), Abraham Lincoln opposite the Parliament House, FD Roosevelt, Eisenhower, Ronald Reagan, John Kennedy in other prominent places of London. Other important political activists such as Martin Luther King are also displayed in various sites of USA.
Recently when I went to Toronto I saw the statue of Queen Victoria sitting majestically in a prominent public site which was installed to highlight the power of the British monarchy over Canada. Other such statues of British kings and queens including the longest surviving monarch Queen Elizabeth are displayed in Britain and many former British colonies as well as in India.
Nelson Mandela was a heroic figure in the history of contemporary South Africa. He struggled against apartheid for many years and was jailed for his protests and activities. Today his imposing statue in bronze has been erected in a site now named after him – Nelson Mandela Square in Johannesburg. Another well-known personality of S. Africa is Desmond Tutu who was an Anglican clergyman and theologian and worked in various capacities – against apartheid, against climate change, for promoting goodwill between peoples, etc. He was appointed chair of the TRC (Truth and Reconciliation Commission) by Nelson Mandela. In 1984 he was awarded the Nobel Peace Prize for his activities towards promotion of peace and harmony. Tutu's statues adorn different places including in Johannesburg and Cape Town.
It is no surprise that statues of Mahatma Gandhi are found in many countries of the world in addition to almost all important cities of India. One of the sites is The Parliament House in London along with Lincoln's and Mandela's statues. The British colonial power against whom he protested for long years and was jailed for his activities decided to honor him some years back. Another country, South Africa where he spent twenty years of his early life and protested against the racism that was prevalent in all facets of life, has also honored him by erection of imposing statues of Gandhi not only in Johannesburg but ironically also in Pietermaritzburg where he was thrown out of a train because he was travelling in a first class coach that was reserved for the whites.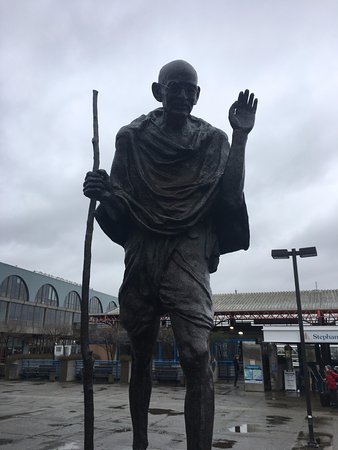 Other statues and monuments of Gandhi are found in Palais des Nations in Geneva, Union Square in New York, in Washington DC, in San Francisco, in Moscow in Russia, in Budapest in Hungary, in Tokyo and elsewhere.
Of course there are countless number of statues of Gandhi in India in Delhi and in all important cities of India. The statues usually show him walking determinedly with his walking stick or leading other co- protesters in his Dandi march in 1930 against the imposition of salt tax by the British colonial power. About three years back Gandhi's majestic statue was built and now dominates the main gate of Delhi University. The University is catholic in its taste and one can see several Indian icons — Jawaharlal Nehru, Swami Vivekananda, Buddha being celebrated by their statues or busts.
One can also see other icons – sometimes kings and sometimes military generals sitting or standing or on horseback of many capitals of various European countries including Portugal and Spain. A similar imposing statue of India's first Field Marshal Manekshaw has recently been erected in Delhi. Rani Lakshmibai  is well known for her struggles against British colonialism during the mid ninrteenth century. Her statue riding horseback is built in a prominent thoroughfare of New Delhi.
Other personalities are also honored in various museums or by erection of their busts or statues. One famous scientist Marie Curie, the first woman to receive a Nobel Prize and the first person to receive two Nobel prizes in different fields – Physics and Chemistry has been honored by a grand statue in Warsaw in Poland in the country of her birth in 1867. Her life is not only inspiring as a scientist but as a poor but brilliant student who fought against injustice and poverty to become a household name both in Poland and France where she did her scientific work with her husband
Of course there is the famous Madame Tussauds Museum in London with branches in many other cities that houses images of personalities and  in all fields of life – political, social, art, culture and films, etc.
India somehow believes in erection of grand imposing statues of various historical and religious figures. Lord Ram's grand statue is being constructed in the kingdom of his father in Ayodhya.  Krishna monuments also adorn many sites in India.  Similarly, a huge grand statue that is supposed to be higher than the Statue of Liberty of the Maratha King Shivaji is coming up off the coast of Mumbai. Another huge statue is being built of Sardar Patel who is credited for unifying the hundreds of independent principalities after the British gave independence to India in 1947. There are many other historical or political figures whose statues adorn different parts of India. Among these are Dr. B R Ambedkar who is credited for being the Father of Indian Constitution.  Another person is Kanshi Ram, who worked for the emancipation of Indian lower castes along with Ambedkar, as did Mahatma Phule earlier.
Why does the world believe in construction of statues and other memorials to honor their heroes or icons — political or social? Obviously this is done not only to honor heroes of yesteryear but also to inspire ordinary mortals to follow their path of peace, harmony and human values.
_______________________________________________

Dr Ravi P Bhatia is a member of the TRANSCEND Network for Peace, Development and Environment, an educationist and peace researcher. Retired professor, Delhi University.  ravipbhatia@gmail.com
This article originally appeared on Transcend Media Service (TMS) on 13 Nov 2017.
Anticopyright: Editorials and articles originated on TMS may be freely reprinted, disseminated, translated and used as background material, provided an acknowledgement and link to the source, TMS: Statues for Display of Power, Peace and Harmony, is included. Thank you.
If you enjoyed this article, please donate to TMS to join the growing list of TMS Supporters.


This work is licensed under a CC BY-NC 4.0 License.