The Tragic Farce in Myanmar
TRANSCEND MEMBERS, 16 Apr 2018
Maung Zarni – TRANSCEND Media Service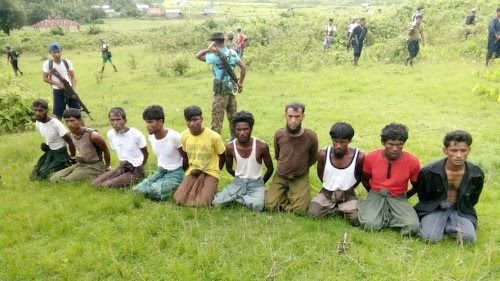 Belfast
12 Apr 2018 – Last night, Nobel Peace Laureate Mairead Maguire's Peace People activist house hosted a Burma talk.   I spoke on the urgent need to inform and mobilize grassroots communities about Myanmar genocide in order to build pressure on respective EU governments, as well as others to help end the genocide and support the Rohingyas' NEED–not simply RIGHT–to a protected homeland.
These survivors of Myanmar genocide have always had a historical and official homeland of Mayu Frontier region, pre-Burma Northern Arakan, from where they have been expelled in waves since 12 Feb 1978.
So the idea of the reclamation of Rohingyas' homeland – not as a new republic or a sovereign country but as an interim arrangement of self-rule under international protection while Myanmar – both the state and society at large are soaked in genocidal hatred towards this helpless Rohingya community.
In a world post-WWII inventions we call "UN member states" that are extremely reluctant to let go off ethnic nations from the clutches of internal colonial domination by racist majoritarian States.
The question of course is who will provide that protection in the face of the predictable opposition from the genocidal regime in Naypyidaw.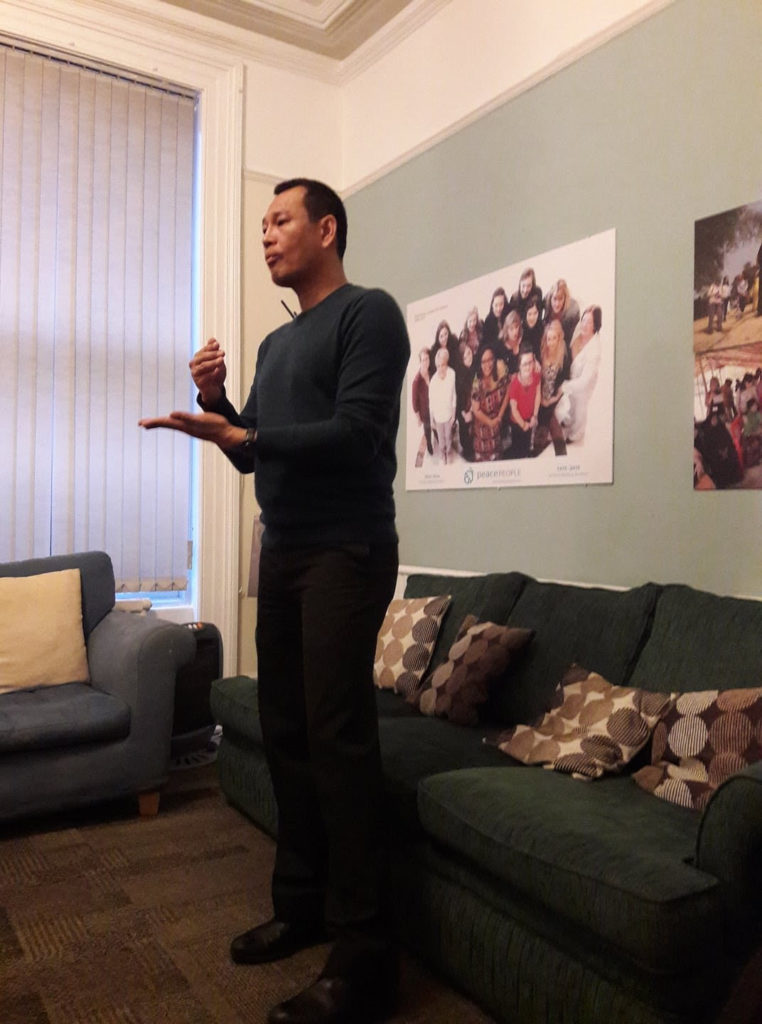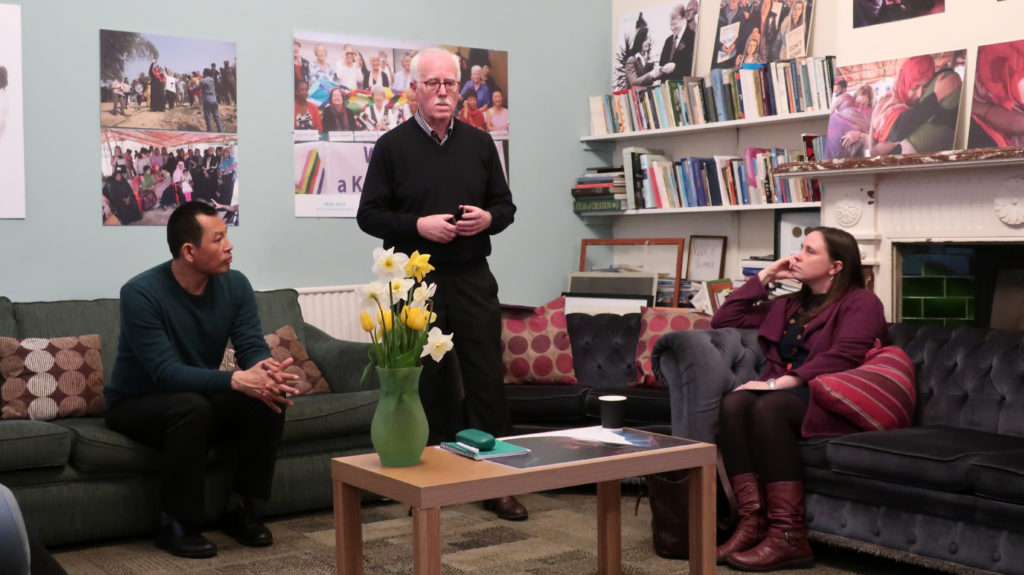 Mairead joined in the talk last night having shared with the audience of the horrendous tales of over 100 Rohingya survivors of mass rape and mass execution whom she and two other Nobel laureates visited earlier this year.
My wife and colleague Natalie also shared her observations about the poverty of legalese such as "stateless" – which the Rohingya themselves hate and reject bitterly.   They have a state where they know they belong.     The right of belonging is the issue that has been overlooked when everyone else is talking about 'document':   humans are reduced to a piece of paper, outrageously.
Meanwhile, Suu Kyi government has gone paranoid, as it should.   ICC Prosecutor's request for the court's ruling on its jurisdiction to go after Myanmar as a non-state party of the Rome Statue looks promising.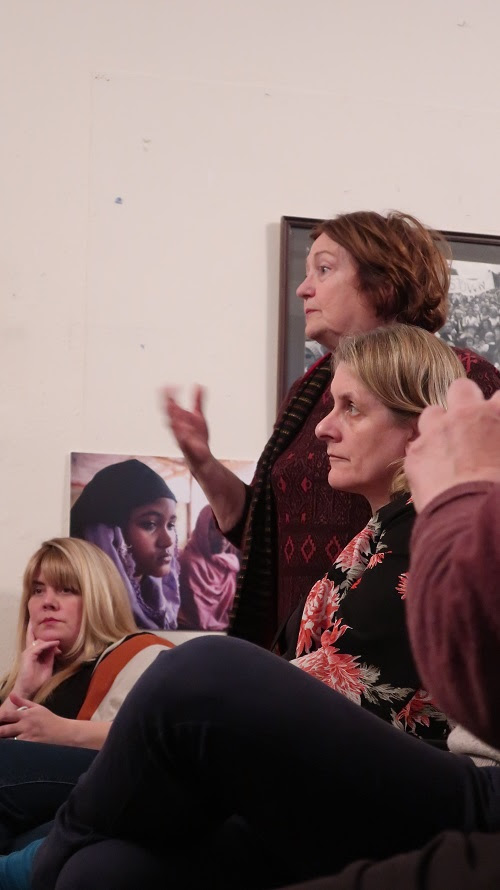 *************************
So Suu Kyi government issued this statement:
Government of the Republic of the Union of Myanmar, Ministry of the Office of the State Counsellor

PRESS RELEASE (13th April 2018)
The Government of Myanmar expresses serious concern on the news regarding the application by the International Criminal Court (ICC) Prosecutor to claim jurisdiction over the alleged deportation of the Muslims from Rakhine to Bangladesh.
Myanmar is not a party to the Rome Statute. The proposed claim for extension of jurisdiction may very well reap serious consequences and exceed the well enshrined principle that the ICC is a body which operates on behalf of, and with the consent of State Parties which have signed and ratified the Rome Statute. This consensual approach is underlined throughout the ICC Statute.
There is an important principle of law or legal maxim "Ubi lex voluit, dicit; ubi noluit, tacit" i.e. "if the law means something, it says it; if it does not mean something, it does not say it".
Nowhere in the ICC Charter does it say that the Court has jurisdiction over States which have not accepted that jurisdiction. Furthermore, the 1969 UN Vienna Convention on International Treaties states that no treaty can be imposed on a country that has not ratified it.
The extension of jurisdiction to non-parties may have a reverberating effect to all non-parties in the world and challenges long established legal principles such as legal certainty. What the Prosecutor is attempting to do is to override the principle of national sovereignty and non-interference in the internal affairs of other states, in contrary to the principle enshrined in the UN Charter and recalled in the ICC Charter's Preamble.
Myanmar reiterates that it has not deported any individuals in the areas of concern and in fact has worked hard in collaboration with Bangladesh to repatriate those displaced from their homes. Several bilateral agreements have been signed such as the "Arrangement on Return of Displaced Persons from Rakhine State" dated 23 November 2017 between the Governments of the Republic of the Union of Myanmar and the Government of the People's Republic of Bangladesh. All requirements for repatriation are in place.
Work is proceeding steadily on this front. The Union Minister for Social Welfare, Relief and Resettlement has just visited Bangladesh to meet IDPs and brief them on the development, resettlement process, food supply, housing projects, vocational training, easy access to education and healthcare in Rakhine State and that Myanmar is ready for repatriation.
**************************
But as the Saudi Gazette Editorial put it the farce of her hybrid regime is there for the world to witness.
Indeed.
Saudi Gazette | Editorial 12 Apr 2018
The world is clearly now supposed to believe that the wicked campaign of ethnic cleansing in Myanmar is not the policy of the government of the deeply-tarnished Nobel Peace Laureate Aung San Suu Kyi. A military court has just jailed seven soldiers, including four officers, for the murder of 10 Rohingya Muslims. The killers have each been given 10 years hard labor.
The trial has clearly been forced to take place in the face of overwhelming evidence that the police and military had been actively involved in murder, rape and robbery in Rakhine state. These were crimes that were calculated to spread terror amongst the local Muslim population. As a result some 700,000 Rohingya have fled to neighboring Bangladesh. There they barely survive in sprawling and overcrowded refugee camps where they are prey to disease because of insanitary conditions. But for all those who have deserted their houses, these awful surroundings are better than the mayhem and carnage that they left behind when they abandoned their livelihoods in their towns and villages back home in Myanmar.
There are two significant factors to this trial of the seven soldiers. The first is that there has been no sort of censure for their ultimate commanders. Just as importantly, there has been no prosecution of the Buddhist militants who were a key part of this hate-filled campaign. It must be wondered what sort of punishment these seven men will actually suffer in the military stockade to which they have been sent. Doubtless among the soldiers who guard them, they will be treated with the greatest sympathy, if not indeed indulgence. It is by no means unlikely that, after a decent period of time, they will quietly be allowed to return to their military duties. Therefore, this trial was, from the outset, a farce that should fool no one.
Clear evidence that Aung San Suu Kyi is in no way genuinely seeking to right even part of the terrible Islamophobic wrongs that have been committed on her watch is the fact that the two Reuters journalists whose investigation into massacres uncovered the crimes of the seven soldiers are still to stand trial. Shortly after the army killers were convicted, another court ruled that the two young reporters, Wa Lone, 32 and Kyaw Soe Oo, 27, would be tried for violating Myanmar's Official Secrets Act. They were arrested last December accused of possessing material relating to the security operations in Rakhine State.
Reuters has protested that the two journalists were only doing their job. There has been an international outcry at their detention and their defense team now includes leading international human rights lawyer Amal Clooney. It remains to be seen if the case against these men will be conducted in a fair and transparent manner. There have to be serious doubts that this will be so.
Given that it was the journalists' fearless reporting in the midst of the murderous chaos of the massacres that exposed the crimes of these seven soldiers, it might have been imagined that they would have been released with the thanks of Aung San Suu Kyi's regime. The fact that exactly the opposite has happened does not bode well.
Unstable regimes always seek to shoot the messenger because they do not want to hear the news that they bring, not least because they already know that it is true.
______________________________________________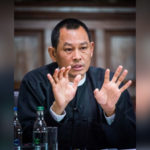 A Buddhist humanist from Burma, Maung Zarni is a member of the TRANSCEND Network for Peace Development Environment, former Visiting Lecturer with Harvard Medical School, specializing in racism and violence in Burma and Sri Lanka, and Non-resident Scholar in Genocide Studies with Documentation Center – Cambodia.  His analyses have appeared in leading newspapers including the New York Times, The Guardian and the Times. Among his academic publications on Rohingya genocide are The Slow-Burning Genocide of Myanmar's Rohingyas (Pacific Rim Law and Policy Journal), An Evolution of Rohingya Persecution in Myanmar: From Strategic Embrace to Genocide, (Middle East Institute, American University), and Myanmar's State-directed Persecution of Rohingyas and Other Muslims (Brown World Affairs Journal, forthcoming). He holds a PhD (U Wisconsin at Madison) and a MA (U California), and has held various teaching, research and visiting fellowships at the universities in Asia, Europe and USA including Oxford, LSE, UCL Institute of Education) , National-Louis, Malaya, and Brunei. He is the recipient of the "Cultivation of Harmony" award from the Parliament of the World's Religions (2015).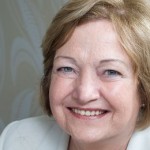 Mairead Corrigan Maguire, co-founder of Peace People, is a member of the TRANSCEND Network for Peace Development Environment. She won the 1976 Nobel Peace Prize for her work for peace in Northern Ireland. Her book The Vision of Peace (edited by John Dear, with a foreword by Desmond Tutu and a preface by the Dalai Lama) is available from www.wipfandstock.com. She lives in Belfast, Northern Ireland. See: www.peacepeople.com.
The Peace People began in 1976 as a protest movement against the ongoing violence in Northern Ireland. Its three founders were Mairead Maguire, Betty Williams and Ciaran McKeown. Over 100,000 people were involved in the initial movement and two of the founders, Mairead and Betty, received the Nobel Peace Prize for that year. Since its inception, the organization has been committed to building a just, peaceful society through nonviolent means – a society based on respect for each individual, and that has at its core the highest standards of human and civil rights. www.peacepeople.com
This article originally appeared on Transcend Media Service (TMS) on 16 Apr 2018.
Anticopyright: Editorials and articles originated on TMS may be freely reprinted, disseminated, translated and used as background material, provided an acknowledgement and link to the source, TMS: The Tragic Farce in Myanmar, is included. Thank you.
If you enjoyed this article, please donate to TMS to join the growing list of TMS Supporters.


This work is licensed under a CC BY-NC 4.0 License.