Ushering in a New Era of Peace and Feminist Future
NOBEL LAUREATES, 28 May 2018
Mairead Maguire, Nobel Peace Laureate – TRANSCEND Media Service
Seoul International Women's Peace Symposium, South Korea National Assembly
23 May 2018 – Good Morning, Jo-eun-achim-imnida,
I am very happy to be back in Korea and would like to thank the Organizers for their kind invitation.  I have very happy memories when, three years ago (2015) I participated in the visit of Women Cross the DMZ. We visited Pyongyang and Kaesong and then crossed the DMZ to participate in peace events in Seoul.  I was very moved by the great kindness shown to us all by our North Korean hosts and by all the women when we marched in Pyongyang and Kaesong with 7,000 of our Korean Sisters.  They had a passion for peace and Korean reunification and called for a Peace Treaty, reunification of divided families and women's leadership in Peacebuilding.  Three years later we are now on the verge of a Peace Treaty!
Today,  I am deeply moved to be here in Seoul and to stand in solidarity with you all,   at this Conference as you gather to discuss how to support the Peace Process and ensure that a peace agreement is signed that reflects your interests in a postwar Korean Peninsula.   As we participate in this Symposium we celebrate that it is International Women's Day for Peace and Disarmament, and as we participate in a DMZ peace walk on Saturday 26th May, it will be an opportunity to demonstrate International women's solidarity with Koreans and in support for the peace process and to join our voices with our Korean brothers and Sisters proclaiming to the World ' 'the War in the Korean Peninsula is over.'   This vision of peace is not wishful thinking, it is do-able – Peace is possible!   However, I believe, to get peace, we must reject violence and war in all its forms, and believe passionately that Peace is possible.  Peace also is not only a vision and a right for the people of Korea; it is a vision and a right for people wherever they live to be able to live in peace in their homes, in their societies.   However, in order to have Peace, we are each challenged to take up our responsibility, be brave and courageous, and work with all, men and women, boys and girls, to build peace, and to reject fear and violence.
When people get caught up in the cycle of fear and violence, it takes courageous leadership to take risks for peace and break the cycle of violence.    When such courageous leadership occurs, the world rejoices and the sun comes out from behind the dark clouds of fear, despair and growing pessimism that things will never change.   Such bravery pushes us all into a new space, a place of new possibilities for peace.   It renews our hope and waters our souls with belief in ourselves and others that ''yes'  things can change, we can each be brave, be leaders, and do something for peace!    Many of us around the world who watched the Inter-Korean Summit on April 27th, 2018 in Panmunjom were deeply moved by the inspirational scenes when President Moon Jae-in,  and Chairman Kim, shook hands  and stepped together across the DMZ thus taking brave steps into a new future  full of great new personal, political and economic possibilities for the Korean people. This was truly an emotional and magnificent  moment, and it will  go down in history as a great unifying  act of peace and reconciliation of Korean brothers and sisters in the Korean Peninsula.   To listen to their speeches, and hear North/South Korean Leaders tell the world that War in the Korean Peninsula is over, and it is over on the Korean peoples terms as  it has been done by the Korean people themselves.  Also to  give Korean leadership on a programme for a Peace Settlement , denuclearism, disarmament and building the peace was truly inspirational for many of us.  As political leaders   they have lead by example and put their differences aside for the good of Korea and its people.   They have both put a lot on the line and need all our support for their peace efforts.  But the Korean people, must be vigilant as I am sure they are well aware, as we all are, there are those Geo/political forces, who do not want peace and as they have done in the past and will continue to do, and keep the Korean people divided and separated, for their own selfish and greedy Geo/political interests.
In l976 in our own situation in Northern Ireland, we were trapped in a cycle of violence and it seems we were spiralling into all out ethnic/political civil war.  However, when three young Maguire children, died as a result of  the violence, thousands of people, mostly women, took to the streets demanding an end to violence, by state and no-state actors,  and a nonviolent peaceful settlement to the problems with which we were faced.    Their message was clear and they said 'there will not be a paramilitary, or a military solution to our problems, we have to solve these differences, through dialogue, negotiation, compromise, and reaching a win/win solution for all the Northern Irish people.   We started at the grassroots encouraging people to start listening to each other, respecting the other person and not 'demonizing the other, or using rhetoric which was disrespectful of others, simply because they had different religious/political/cultural/sexual beliefs.  Accepting diversity  and plurality and learning to live with each other in a multi-cultural/multi-ethnic world, is the challenge before us all wherever we live.  Forgiveness too is an important element in peacemaking and is a key to peace.  We have all hurt each other, both individually and collectively but saying 'sorry will help the healing process for both people and countries, and its a small price to pay to lay the foundations of friendship and harmony so necessary for our own and our families mental and spiritual wellbeing.
In moving from a culture of violence to a culture of peace, we need to study the Science of Peace, both in theory and practise and teach nonkilling, nonviolence and conflict resolution at every level of our societies.  We join with others in working for a demilitarized disarmed world, as we believe it is only by abolishing militarism, weapons, nuclear weapons and wars we can truly all together build a healthy environment and a safe future for our children.   In our peace movement, we are working with many others to change government policies to policies which enrich and safeguard human security, i.e. education, health, environment, etc.,    during our Peace process women played a critical and decision making role at the negotiating table insisting on all inclusive, unconditional talks, and respect for all across the genders.  We have been blessed to see an end to Northern Ireland's violent conflict but acknowledge too that post conflict peacebuilding is a work in progress.
In conclusion I wish the Korean people every success as they build a unified peaceful Korean Peninsula.  I encourage the International community of peacemakers to support the Korean Leaders and people in their long hard struggle for peace.  Peace does not come easily but with dedication, hard work and courage, which the Korean people have in abundance! It will come!   I believe that each and every Korean has a duty and the power to guarantee the success of this momentous moment in  history of ending war in the Korean Peninsula.
Thank you (gamsa-hamnida)  Peace and happiness to you all (pyongwha-rul-derimnida)
_______________________________________________________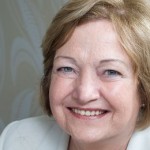 Mairead Corrigan Maguire, co-founder of Peace People, is a member of the TRANSCEND Network for Peace Development Environment. She won the 1976 Nobel Peace Prize for her work for peace in Northern Ireland. Her book The Vision of Peace (edited by John Dear, with a foreword by Desmond Tutu and a preface by the Dalai Lama) is available from www.wipfandstock.com. She lives in Belfast, Northern Ireland. See: www.peacepeople.com.
This article originally appeared on Transcend Media Service (TMS) on 28 May 2018.
Anticopyright: Editorials and articles originated on TMS may be freely reprinted, disseminated, translated and used as background material, provided an acknowledgement and link to the source, TMS: Ushering in a New Era of Peace and Feminist Future, is included. Thank you.
If you enjoyed this article, please donate to TMS to join the growing list of TMS Supporters.


This work is licensed under a CC BY-NC 4.0 License.