India's First Urban Women Collective's Long Road to Empowerment
TRANSCEND MEMBERS, 20 Jun 2018
Moin Qazi – TRANSCEND Media Service
I vividly remember my moment of epiphany. It was a balmy afternoon in early 1996 in Warora, a small township in northern Maharashtra. I was posted as a manager of the local branch of my bank, the State Bank of India.
Like any other day, there was a crowd of unruly people queuing outside and creating a commotion. I was busy doing my daily tasks when I was interrupted by my assistant who told me that a group of women was waiting to meet me. Peering through the glass, I gestured them in.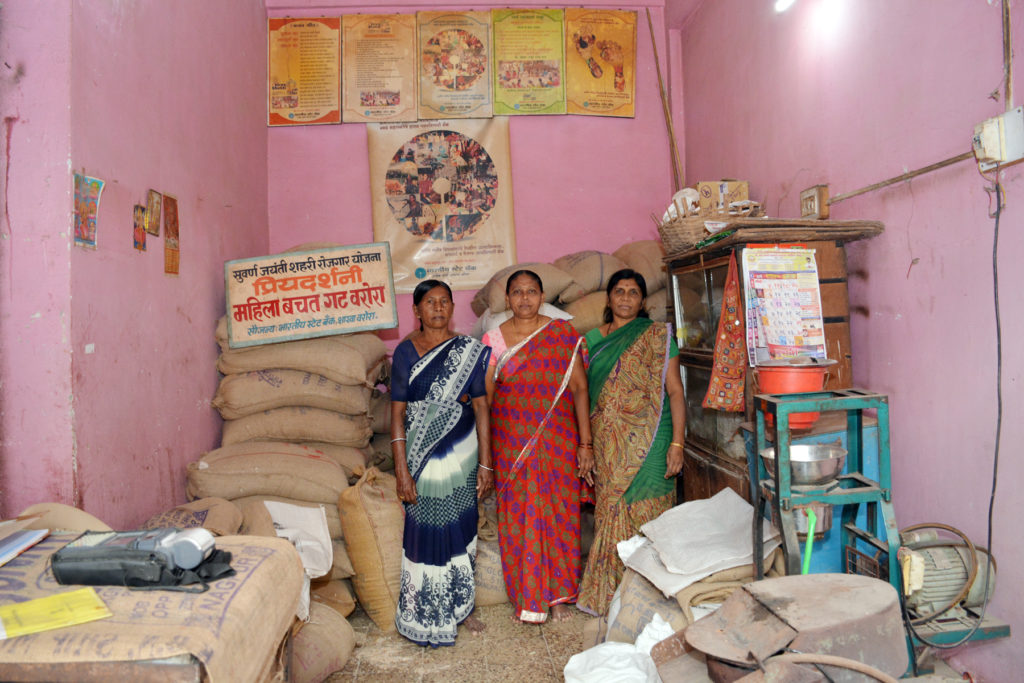 Though dressed in discoloured flimsy saris, the women appeared relaxed and confident as they walked in nonchalantly. I beckoned them to sit. Without beating about the bush, their leader struck an immediate chord. She boldly announced they had come to take a loan to set up a small business. Although it was the early office hour, and not the right time for too much discussion, I decided to hear them out. I lobbed a few soft questions at them .They answered them confidently. Finally, I fired a fast one, "How will you repay the money? It is not a government dole. Every pie has to be returned. What can you offer as security in lieu of this loan?" The women turned to each other, for answers. The chirpiest in the group was the demure and petite Veena Raut, a commerce graduate, who later assumed the stewardship of the group.
The content of their pitch was that if I trusted them and gave them a chance, they would live up to my expectations. These women represented the aspiring generation of low income communities that was trying its luck with innovative development programmes that were being aggressively promoted, both by the government and the banking sector.
It had become clear to our generation of develop0ment practitioners that one crucial piece of economic empowerment  of women was access to financial services.This was also the time when, if you asked somebody about the most promising innovation for women's development, the answer would invariably be 'microcredit'.
Microcredit had emerged as a powerful tool for harnessing the entrepreneurial impulses of the impoverished–particularly women. It was based on the extension of small loans (microloans) to a group of people-more particularly omen -who typically lacked collateral, steady employment and verifiable credit history; yet they could ensure hundred percent repayments by using peer pressure.
Group loans to women were highly popular, and we had received good results in rural areas. They had already given us a hint of their potential. The idea had excited me a great deal, and I was thus keen to try it with the women in Warora.  Although I was apprehensive, I decided to follow my instincts and decided to take a chance to do business with urban slums. WI visited these women in their homes and was impressed by their determination and solidarity. Their cautious approach could be mistaken as a lack of confidence, but with time, I understood them better.
After a few meetings, in which I addressed all their queries, the group was formally launched. It was christened Priyadarshini Mahila Udyog, with Veena as its head
With the help of the district administration, I secured a grant for a two-week Entrepreneurship Development Programme (EDP) for development of relevant business and managerial skills; business planning; technical training related to the production of goods; book-keeping and inventory management; preparation of business plans for loans; and storage and warehousing. This incubation helped them refine their overall confidence and interaction skills.
I decided to devote each Sunday for a month, to help the group establish its business. From this moment onwards, it was about creating a brand and standing out from the rest. The group decided to not focus on one single product but create a range of products under a single brand. The capital which the loan afforded was enough to purchase adequate machines.
The nearest industrial township was in Nagpur from where we got the gadgets and machines designed. We would travel to Nagpur by jeep in the morning and return to Warora in the evening. A few visits helped crystallise our plans.
We decided to purchase scaled-down versions of the equipment used for manufacturing food items for school children. One of the industrial units supplied a modified popcorn-manufacturing machine suitable for local needs. It could be operated on petroleum gas. To spread the word about their brand, a local printer agreed to supply polythene packets in bulk with the group's logo branded on them .A candle manufacturer had just one standard mould. He later helped them acquire several moulds from Mumbai, for fancy candles which won the unit a strong brand in the district. The Municipal Council of Warora solved the marketing issue with bulk orders for chalk sticks, candles and broomsticks. The local grocers offered to serve as retail outlets for the unit.
The Hindustan Petroleum Corporation provided priority connection for LPG, and the Municipal Council provided a shop in its commercial complex at a fair discount. The State Electricity Board provided a priority electric connection.
Veena later graduated to become an assistant in the government's development administration and is now a Village Officer heading the administration of a large village in Yavatmal district.
The group has since been shepherded by Minakshi Wankhede, who also doubles as a home guard with the local police authorities. Her association with the local police has boosted the business in various ways. Minakshi's leadership augured well for the group. She lacked Veena's capabilities, but the consolidation of business took place during her leadership.
As the group's capital increased, it became capable to diversify its services. It acquired machines for manufacturing vermicelli and camphor balls and in their spare time, the women would engage in tailoring works.
Soon, a flood of accolades followed, with Priyadarshini Mahila Udyog even being felicitated by the prime minister.
The group also bid and won the tender for supplying mid-day meals to school children. Earlier these contracts were being influenced by local political leaders, but repeated complaints of insipid food and unhealthy cooking conditions forced those involved in it to take a step back. The women-led group seized this opportunity and it now supplies mid-day meals to over 1,000 children, ensuring dignified employment for a dozen women at the same time.
Cooking begins at 9 am in the industrial kitchen, which is a tarp hung on four posts, jabbed into an empty patch. An all-female crew prepares giant vats of savoury rice and lentil porridge. Workers cook several kilograms of rice, curry and vegetables in giant steel pots. They stir curry with paddles the size of oars. Amidst the sounds of clanging metal, I often found the women hard at work.
During one of my visits to the schools where these ladies served the meals, the teachers complimented me for the excellent quality of food. Earlier, they had to throw away half the supply on account of its insipid taste, I was told. Now, there were no leftovers. Children also brought tiffins to take some food to their homes. When they ate nutritious food, their attendance also improved.
With its exponentially rising graph of success, it was just a matter of time before they were recognized. A flood of accolades followed, with the group even being felicitated by the prime minister.
The latest success is the sanction of an outlet of the Public Distribution System (PDS), the government programme that provides subsidised food grains to the poor. The honesty of the group members is reflected in the happiness of consumers; they get the full eligible ration on time and at fair rates. This has helped customers of other PDS outlets too. As in all spheres, benchmarking improves ethical practices.
Both men and women have the fear of rejection and the trepidation that their venture may not be successful in the long run. However, this group of women decided to take the leap despite not being familiar with the mechanics of the industry. But with their dedication to learn and adapt, they became business savvy and have made a livelihood for themselves and their successors, all by themselves.
Fast forward to 2018
Twenty years has been a long period for women from varying religious, linguistic and caste hues to remain under a common umbrella. Life for them has changed in other ways too. They recall those days when they were rag-pickers and made a scant living by segregating and selling papers, plastics, metal and other scraps. They suffered scorn for being in a contemptible profession, but even in today's better times, they face displeasure, the reason now is more modern–economic envy.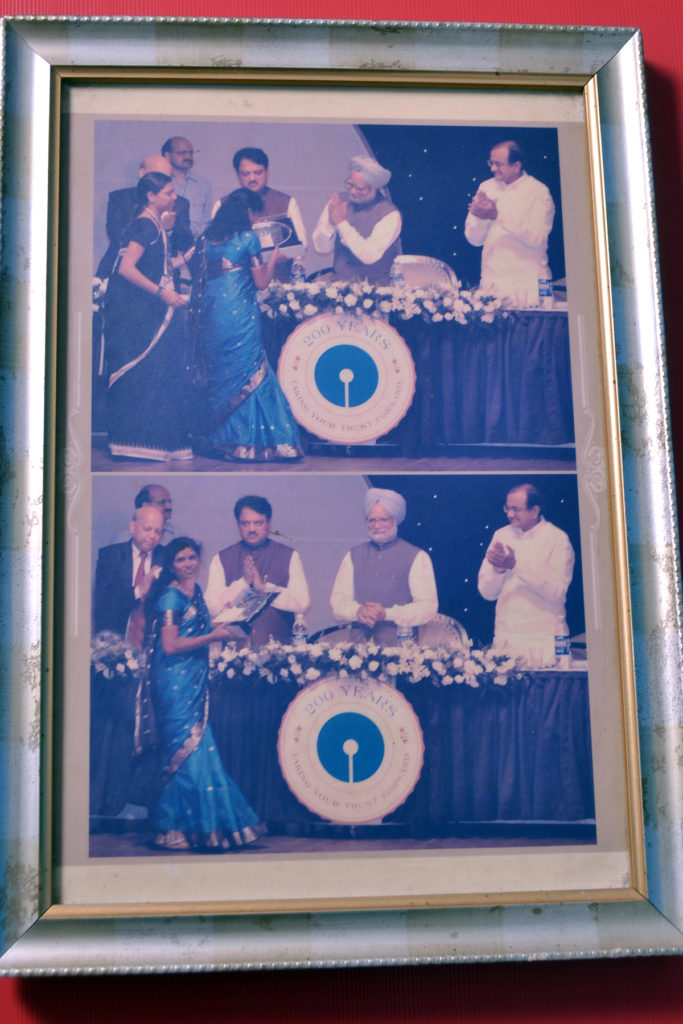 The younger members left the town after getting married, while some retired. Of the original group, only three members remain–Minakshi Wankhede, Shashi Narole and Zaibun Shaikh. Though age has mellowed them, the youthful glint is palpable. Their resilience is quite visible. "We have poured our entire energy into this enterprise ", muses Minakshi. The results have been rewarding. These women now have improved dwellings; their children lead better and healthier lives, and they have investments in the form of bank deposits and plots of land.
The group's journey has great lessons for me, as for the larger society. By tenaciously plotting the contours up the economic ladder and negotiating rigid social norms, the group has shaped a heroic trajectory. It is a compelling and inspiring story of resolute perseverance and dignity inspired by the struggle to escape the enduring grasp of poverty.
Putting the right supporting structures in place can make the ecosystem for female entrepreneurs more congenial, fostering a culture of equality. Entrepreneurship is a powerful path to reducing poverty and empowering women. It creates financial independence which is modern society's strongest currency.
In the words of Nobel Laureate Prof Mohammad Yunus, "Credit is one door through which people can escape poverty. Many more doors and windows can be created to facilitate an easy exit. It involves conceptualising about people differently; it involves designing a new institutional framework, consistent with this new conceptualisation."
___________________________________________________

Moin Qazi, PhD Economics, PhD English, is a member of the TRANSCEND Network for Peace Development Environment and author of the bestselling book, Village Diary of a Heretic Banker. He has worked in the development finance sector for almost four decades in India and can be reached at moinqazi123@gmail.com.
This article originally appeared on Transcend Media Service (TMS) on 20 Jun 2018.
Anticopyright: Editorials and articles originated on TMS may be freely reprinted, disseminated, translated and used as background material, provided an acknowledgement and link to the source, TMS: India's First Urban Women Collective's Long Road to Empowerment, is included. Thank you.
If you enjoyed this article, please donate to TMS to join the growing list of TMS Supporters.


This work is licensed under a CC BY-NC 4.0 License.