My Unadulterated Thoughts on Ahmed Tamimi: "During My Lifetime I Have Never Seen Peace"
TRANSCEND MEMBERS, 30 Jul 2018
Maung Zarni – TRANSCEND Media Service
30 Jul 2018 – Here is my unadulterated thought on the systematic and decades-old oppression of the residents of Palestine, whose group identity Israel has refused to respect, just like my own genocidal Myanmar refuses to recognize Rohingyas' right to identity and historical and official group identity.
Whatever one feels about Israel's policies towards Palestine "conflicts" occupation" "genocide" "crimes against humanity" "vast open prison" and so on – I can't see intellectual, moral, spiritual, ideological reasons to keep our mouths shut – when peaceful Palestinians are being killed, with international and national impunity, by the State of Israel.
My heart goes out to this 17- years' old girl who was jailed for 8 months for slapping an IDF soldier, an act of utter defiance and complete rejection of a state that is one of the world's most heavily armed states.
I have felt deep pain as I walked through the aisles in the barracks at Auschwitz (the largest death camp in recorded history) outside Krakow, Sachsenhausen (the first-ever purpose-built concentration camp outside Berlin), and Ravensbruick.   Reading, watching and hearing how Israel have de-humanised, ghettoised, terrorised and otherwise destroyed this Arab community since its creation some 70 years ago pains me as much learning about Shoah.
Humans, in the final analysis, are incapable of applying the lessons of history, to make themselves better, more caring, more conscience-anchored societies, rendering History, be it the academic discipline, or oral history, utterly useless, ethically or intellectually.
Israel is no exception:  the persecuted and the oppressed have more often than not morphed into monstrous executioners and oppressors themselves in mere span of 50 years, 100 years, etc. The United States, Canada, Australia–all settler colonies (genocidal colonies, that is)–as well as former colonized nations of non-Europe spring to mind.
My own birthplace is another despicable human community – once colonized, exploited and abused; now it is the colonizer, exploiter, and a bloody mass murderer as a nation.
Alas, how incredibly fitting – if utterly repugnant, in all sense of the word  – that Israel and Myanmar government ministries of education signed an agreement to ensure that the countries' true records of ethnic cleansing, genocide, crimes against humanity and war crimes do NOT get taught in other peoples' curricula.
There is absolutely not a single country to which I feel affection, loyalty, or allegiance.  Human wellbeing comes first, second and third, to me. My country of Burma, wrong is wrong.
I know that my note will surely upset many Jewish friends of mine, who support Rohingyas' right to belonging.
You can't have selective application and selective faith in human rights.  You either both believe in human rights and live them universally and unconditionally or you simply don't.
I don't write these words lightly.
___________________________________________________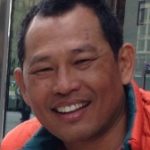 A Buddhist humanist from Burma, Maung Zarni is a member of the TRANSCEND Network for Peace Development Environment, former Visiting Lecturer with Harvard Medical School, specializing in racism and violence in Burma and Sri Lanka, and Non-resident Scholar in Genocide Studies with Documentation Center – Cambodia.  His analyses have appeared in leading newspapers including the New York Times, The Guardian and the Times. Among his academic publications on Rohingya genocide are The Slow-Burning Genocide of Myanmar's Rohingyas (Pacific Rim Law and Policy Journal), An Evolution of Rohingya Persecution in Myanmar: From Strategic Embrace to Genocide, (Middle East Institute, American University), and Myanmar's State-directed Persecution of Rohingyas and Other Muslims (Brown World Affairs Journal, forthcoming). He holds a PhD (U Wisconsin at Madison) and a MA (U California), and has held various teaching, research and visiting fellowships at the universities in Asia, Europe and USA including Oxford, LSE, UCL Institute of Education) , National-Louis, Malaya, and Brunei. He is the recipient of the "Cultivation of Harmony" award from the Parliament of the World's Religions (2015).
This article originally appeared on Transcend Media Service (TMS) on 30 Jul 2018.
Anticopyright: Editorials and articles originated on TMS may be freely reprinted, disseminated, translated and used as background material, provided an acknowledgement and link to the source, TMS: My Unadulterated Thoughts on Ahmed Tamimi: "During My Lifetime I Have Never Seen Peace", is included. Thank you.
If you enjoyed this article, please donate to TMS to join the growing list of TMS Supporters.


This work is licensed under a CC BY-NC 4.0 License.