Declaration of Solidarity with Rohingya and Call for Myanmar Government to Be Investigated by the ICC
NOBEL LAUREATES, 27 Aug 2018
Mairead Maguire, Nobel Peace Laureate | Peace People – TRANSCEND Media Service
Rohingya Genocide Day 25 Aug 2018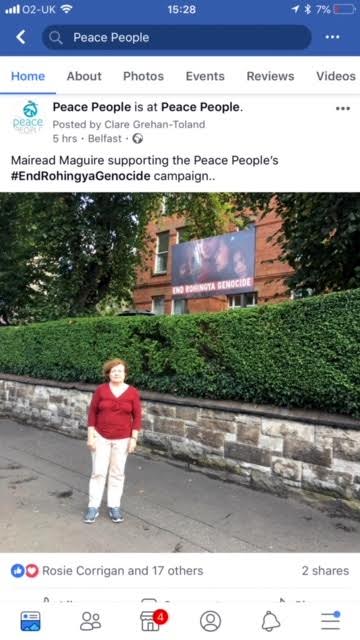 In February 2018 I participated in a Nobel Women's Initiative delegation to Bangladesh. The purpose of our delegation was to visit Cox's Bazar, Chittagong, Bangladesh where over 1 million Rohingya Muslim refugees were living in makeshift camps having fled persecution by Myanmar soldiers. On the delegation was Nobel Peace laureates Shirin Ebadi, Tawakkol Karmen and myself. We met with over 100 Rohingya women who told us their stories of rape and murder of many of their families by Myanmar soldiers.
One young woman, Fatima (20), told us how Myanmar soldiers entered their village and came into her home. They shot her husband, made her carry her six month- old baby girl down to the lake where they threw the child into the pond and drowned her. They took Fatima back to her home; several soldiers held her down and constantly raped her until she became unconscious. They carried her outside to the field where they left her for dead. She was saved by an elderly Rohingya woman who helped her get across the border into Bangladesh.
Our delegation also visited no-man's land on the border between Myanmar and Bangladesh. 6000 Rohingya refugees were trapped on the single strip of land as they tried to get into Bangladesh. In August 2017, over 700.000 Rohingyas arrived from Myanmar to the Bangladeshi refugee camps and they were still coming in at time of our visit.
The Myanmar border and military guards had planted land mines to prevent the return of the refugees to their homes. The day before we arrived, a young man had stepped on a mine and lost his leg. The refugee women told us about the rapes and sexual violence, seeing young women being burnt alive in their huts and Rohingya men being lined up and shot by the soldiers. We saw horrible mutilations of children and men cut by machetes from Myanmar soldiers. Since this, over 400 Rohingya villages have been burnt to the ground by the Myanmar government in an attempt to destroy evidence of their crimes.
The UN High Commissioner for Human Rights has labeled these atrocities as a "textbook example of ethnic cleansing". This displaced population includes an estimated 81.000 pregnant women and girls, according to the Bangladeshi Health Ministry while the UN puts the number at around 40.000. Thousands of pregnant Rohingya women, many of whom believed to be victims of rape, have since given birth in refugee camps in Bangladesh.
The Nobel Women, after hearing the testimonies of Rohingya women said this is genocide of the Rohingya people by Myanmar's armed forces and we call for those responsible to be made accountable before the International Criminal Court (ICC). I am convinced that the attempted annihilation of the Rohingya people should be officially declared an act of genocide.  I appeal to governments to call on the ICC to take urgent action in this matter. Upon our visit, we have also called on Nobel Peace laureate Aung San Suu Kyi to acknowledge the genocide against Rohingya people and to take action to stop such barbarity and cruelty by soldiers, supported by extreme nationalist Buddhist groups.
The Rohingya are a native precolonial ethnic minority group of Rakhine state of Western Myanmar. The Myanmar government has denied their citizenship, as has Nobel Peace laureate Aung San Suu Kyi. Many of the displaced and deported refugees in Bangladesh told us they wish to return to Rakhine and live as Myanmar citizens. They however need guarantees of safety, restoration of full and equal citizenship rights while being allowed to retain their own ethnic identity and culture. After 40 years of periodically violent persecution and systematic destruction of their identity group existence and history, surely it is time for their basic human rights to be fulfilled.
These atrocities by Myanmar soldiers are not new. In 1993 I visited with Bishop Tutu a refugee camp on the Thai- Myanmar border. This was a camp of the Karen (Christian) ethnic Burmese who fled persecution inside Myanmar. Many of the young women refugees were pregnant. They explained to us how they had been raped and used as slaves by Myanmar soldiers when they were captured trying to escape to Thailand. They were used by soldiers to carry their heavy guns and by night often gang raped and beaten. This violent culture prevalent amongst Myanmar military supported by extreme Buddhist nationalism is not new and is well documented. But as long as soldiers act with impunity and the government not only denies but permits and trains this culture, it will continue.
On 25th of August 2017, on that fateful day, combined Myanmar armed forces, Navy and Army, launched a large-scale premeditated attack against the Rohingya population in northern most part of Myanmar. Having used the pretext that the Rohingya Salvation Army (ARSA) a year-old group of largely illiterate, barefooted young Rohingya village men armed with farm tools etc. launched an attack on "30 military outposts in North Rakhine". The Myanmar government's and Aung San Suu Kyi's "official" story has never been independently verified.
The existential needs of the estimated 1 million Rohingyas violently deported by Myanmar troops across the borders into Bangladesh must now be protected and the refugees not forced to return to Myanmar but allowed to do so when they feel safe and their Myanmar citizenship and all their human rights restored.

__________________________________________________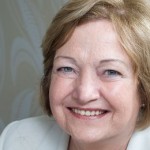 Mairead Corrigan Maguire, co-founder of Peace People, is a member of the TRANSCEND Network for Peace Development Environment. She won the 1976 Nobel Peace Prize for her work for peace in Northern Ireland. Her book The Vision of Peace (edited by John Dear, with a foreword by Desmond Tutu and a preface by the Dalai Lama) is available from www.wipfandstock.com. She lives in Belfast, Northern Ireland. See: www.peacepeople.com.
The Peace People began in 1976 as a protest movement against the ongoing violence in Northern Ireland. Its three founders were Mairead Maguire, Betty Williams and Ciaran McKeown. Over 100,000 people were involved in the initial movement and two of the founders, Mairead and Betty, received the Nobel Peace Prize for that year. Since its inception, the organization has been committed to building a just, peaceful society through nonviolent means – a society based on respect for each individual, and that has at its core the highest standards of human and civil rights. www.peacepeople.com
This article originally appeared on Transcend Media Service (TMS) on 27 Aug 2018.
Anticopyright: Editorials and articles originated on TMS may be freely reprinted, disseminated, translated and used as background material, provided an acknowledgement and link to the source, TMS: Declaration of Solidarity with Rohingya and Call for Myanmar Government to Be Investigated by the ICC, is included. Thank you.
If you enjoyed this article, please donate to TMS to join the growing list of TMS Supporters.


This work is licensed under a CC BY-NC 4.0 License.
2 Responses to "Declaration of Solidarity with Rohingya and Call for Myanmar Government to Be Investigated by the ICC"