Johan Galtung, a Pioneer: Conceptualizing Peace Journalism
TMS PEACE JOURNALISM, 22 Oct 2018
Antonio C. S. Rosa, M.A. | Editor - TRANSCEND Media Service
TRANSCEND Media Service was founded by Johan Galtung, the visionary, and me, the editor, in 2008. It is a medium to present peace journalism-oriented views, news and analyses in written or video format, being both a service to other media and a medium in its own right. The section Peace Journalism Perspective is inspired by a solution orientation, trying to identify the conflicts underlying the violence–direct, cultural and/or structural–so rampant in the world. And to search for a way out, a solution, itself in search of agency. The basic point about peace journalism is multi-truth, multi-angle reporting, with an inspiring, positive solution-orientation.
Peace, like health, is not an event; it is a process. Thus the process of achieving peace resembles the process of achieving health; the "disease" being underlying unresolved conflicts and not merely the violence, a symptom. Like health, it involves diagnosis, prognosis and therapy. This insight was the basis on which Johan Galtung launched peace and conflict research/studies as an academic discipline in his native Norway back in 1959 and established the pioneering Peace Research Institute Oslo–PRIO, being its first director until 1969.
War studies has always reigned supreme and uncontested in a world culture of exaltation to war as the tool for resolving conflicts that elected—and still does– the military as standard for heroism, chivalry, gentlemanly, courage, patriotism. Every country had its Department of War, a War Secretary or Minister, or some related institution or position. These might have been renamed as Department or Ministry of Defense, for instance, but the underlying connotations remain in the deep culture and deep structures of the country.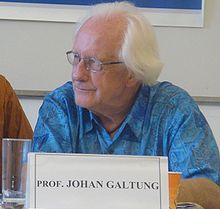 After the examples of Johan Galtung, Kenneth and Elise Boulding, and others in the field, peace research institutes started proliferating and spreading around the world–gradually becoming the new status quo–with nonviolent peacemakers as the new standard for heroism, chivalry, gentlemanly, courage, patriotism. Gandhi, Martin Luther King, Jr., Nelson Mandela and other nonviolent reformers led the way.
Johan Galtung is often asked to define peace journalism. In the most concise way, he says, it is to ask two questions (in addition to the cliché ones such as, 'how many bombs were dropped, how many buildings destroyed, how many casualties/wounded, who is winning', etc.):
"What is the conflict about? What could be the solutions?"
Before the 19th century, we had "disease journalists" who reported in detail how epidemics were spreading and how people suffered, but little was known about cures and little reported. Today we have "health journalists" who write about current research on new cures and therapies, and inform about healthy lifestyles, which not only help prevent diseases but actually improve and promote health as a value.
Similarly, the time has come for "peace journalists" to write not only about war, but also about its causes, prevention, and ways to restore peace by nonviolent means and promoting peace as a value. They need not invent themselves solutions to conflicts–in the same way that health journalists need not invent cures for diseases themselves; they ask specialists.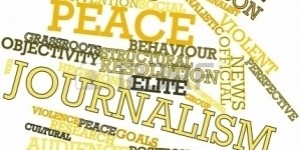 Peace journalists ought to ask various peace organizations and mediators about their ideas for preventing or ending a violent conflict, and report about it. Health pages in newspapers are very popular, and it can be anticipated that the same will be true for reporting about peace proposals, once they become available, disseminated, popularized, mainstreamed.
Mainstream media more often than not promote military solutions influenced by a war economy that thrives on the commerce and trade of armaments, weapons, war technologies, and so forth, to be used by Navies, Air Forces and Armies worldwide.
Conversely, the so-called Alternative Media tend to endorse more social justice, nonviolent conflict resolution, activism, and so on. Peace is too important a factor to be left exclusively to generals and news editors, however. As the best alternative, peace ought to be mainstreamed. And promoters of violence and destruction are to be outdone and die a natural death. Literally ostracized.
According to Jake Lynch, Professor of Peace Journalism at the University of Sydney and TMS advisor,
"Peace journalism is when editors and reporters make choices–about what to report, and how to report it–that create opportunities for society at large to consider and to value non-violent responses to conflict.

"Peace journalism has emerged, since the mid-1990s, as a new, trans-disciplinary field, of interest to professional journalists, in both developed and developing countries, and to civil society activists, university researchers and others interested in the conflict-media nexus. It offers both a set of practical plans and options for editors and reporters, and a basis for developing evaluative criteria for the critical analysis of war reporting – all derived from, or at least attentive to, propositions about conflict, violence and peace from Peace and Conflict Studies."
He adds that Peace Journalism:
Explores the backgrounds and contexts of conflict formation, presenting causes and options on every side (not just 'both sides');
Gives voice to the views of all rival parties, from all levels;
Offers creative ideas for conflict resolution, development, peacemaking and peacekeeping;
Exposes lies, cover-up attempts and culprits on all sides, and reveals excesses committed by, and suffering inflicted on, peoples of all parties;
Pays attention to peace stories and post-war developments.
Meah Mostafiz writes in "Peace Journalism – A Global Debate":
"Journalists control our access to news, by pitching stories from particular angles. Media set the agenda for public debate. In Reporting Conflict, Jake Lynch and Johan Galtung challenge reporters to tell the real story of conflicts around the world. The dominant kind of conflict reporting is what Lynch and Galtung call war journalism: conflicts are seen as good versus evil, and the score is kept with body counts. The media's handling of 9/11 and the wars in Afghanistan and Iraq highlight the one-sided reporting that war journalism creates. Peace journalism uses a wider lens: why not report what caused the conflict, and how it might be resolved? Lynch and Galtung show how journalists could have taken a broader approach to reporting conflicts like the Korean War and the NATO bombing of Kosovo to spark a more constructive public debate. (Lynch and Galtung 2010)

"Media as a third party to any conflict; the third party is the facilitator of communication, the mediator or the arbitrator between the two rival sides. It is our contention that Peace Journalism as a third side can best enhance prospects for resolution and reconciliation by changing the norms and habits of reporting conflicts. (Peleg 2006)"
*******************************
Video #1:
httpv://www.youtube.com/watch?v=s8eGqj6fpmY
Video #2:
httpv://www.youtube.com/watch?v=7h4dcCKWYN0
Video #3:
httpv://www.youtube.com/watch?v=M5H3gKsntYs&t=1s
________________________________________________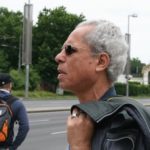 Antonio Carlos da Silva Rosa, born 1946, is founder-editor of the pioneering Peace Journalism website, TRANSCEND Media Service-TMS (from 2008), an assistant to Prof. Johan Galtung, Secretary of the International Board of the TRANSCEND Network for Peace Development Environment, and recipient of the Psychologists for Social Responsibility's 2017 Anthony J. Marsella Prize for the Psychology of Peace and Social Justice. He completed the required coursework for a Ph.D. in Political Science-Peace Studies (1994), has a Masters in Political Science-International Relations (1990), and a B.A. in Communication (1988) from the University of Hawai'i. Originally from Brazil, he lives presently in Porto, Portugal. Antonio was educated in the USA where he lived for 20 years; in Europe-India since 1994. Books: Transcender e Transformar: Uma Introdução ao Trabalho de Conflitos (from Johan Galtung, translation to Portuguese, 2004); Peace Journalism: 80 Galtung Editorials on War and Peace (2010, editor); Cobertura de Conflitos: Jornalismo para a Paz (from Johan Galtung, Jake Lynch & Annabel McGoldrick, translation to Portuguese, 2010). TMS articles by Antonio HERE and HERE.
This article originally appeared on Transcend Media Service (TMS) on 22 Oct 2018.
Anticopyright: Editorials and articles originated on TMS may be freely reprinted, disseminated, translated and used as background material, provided an acknowledgement and link to the source, TMS: Johan Galtung, a Pioneer: Conceptualizing Peace Journalism, is included. Thank you.
If you enjoyed this article, please donate to TMS to join the growing list of TMS Supporters.


This work is licensed under a CC BY-NC 4.0 License.