(Italiano) "Nessuno si mise davanti a quei camion" ricorda Liliana Segre
ORIGINAL LANGUAGES, 19 Nov 2018
Silvia Berruto – TRANSCEND Media Service
18 nov 2018
Da
La Memoria rende liberi
Incontro pubblico proposto dal festival Passepartout e incontro di formazione permanente per giornalisti dell'Ordine
Asti, sabato 9 giugno 2018
Extrait
Contributo per la promozione del Convegno 1938-2018 Ottant'anni dalla promulgazione delle leggi razziali. La difesa della razza e la costruzione del nemico.  Firenze  20 novembre 2018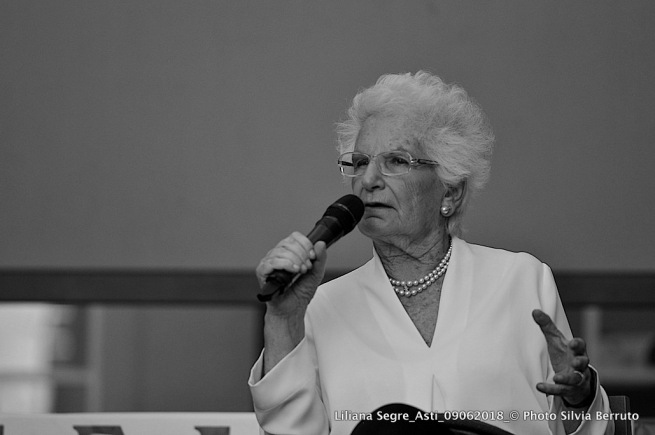 30 gennaio 1944.
Milano.
Carcere di San Vittore.
605 persone
(bambine e bambini, ragazze e ragazzi, donne e uomini, anziane e anziani)
incarcerate per la sola ragione d'essere nate
vengono spinte fuori dalle celle,
a calci e a pugni.
Caricate su appositi camion, coi teloni, "preparati per noi" precisa Liliana Segre, vengono portate sino alla stazione Centrale.
Poi
la partenza.
Dal Binario 21 sito nei sotterranei della stazione Centrale.
P e r   d o v e ?
P     e     r      c      h      é ?
Ricorda Liliana.
Sono tornati in 22.
Fra loro
Liliana Segre.
Dal 19 febbraio 2018 Liliana Segre è Senatrice a Vita del Senato della Repubblica Italiana.
Liliana Segre è stata una richiedente asilo, una clandestina, una carcerata: "manodopera schiava" – come lei stessa si definisce – nella fabbrica di munizioni Weichsel-Union-Metallwerke.
E' stata deportata nel campo di sterminio di Auschwitz-Birkenau per il solo fatto di essere nata: perché Ebrea.
Liliana Segre narra "l'indicibile" con un racconto per immagini.
La sua narrazione restituisce il ritmo del viaggio:  " E vai vai vai vai e poi arrivi arrivi arrivi …"
I silenzi.
" Non parlavamo più … io avevo paura delle parole!
Quando si sta per morire … non si parla.
Ci si stringe a chi si ama, finché si ha la forza.
E ci fu questo silenzio solenne. Il silenzio delle ultime ore."
I rumori.
"Poi
rumore,
fischi,
latrati,
comandi,
urli …
eravamo arrivati!
NESSUNO CAPIVA NIENTE, NESSUNO !
Poi la divisione delle persone fra donne e uomini.
"Vidi che mio padre era in una fila dove c'erano i giovani … … … infatti fu scelto qul giorno anche lui … però poi … non l'ho visto più, MAI PIU'.
Quel che successe a a mio papà io non lo so e non l'ho neanche mai voluto sapere perché il legame fra noi era grandissimo
quando sono entrata a Birkenau, l'ho cercato. quando sono andata a lavorare in fabbrica c'erano un Sorani di Firenze che è tornato, e un altro che è sopravvissuto, conosciuti a San Vittore, e chiedevo " ma mio papa ? …
i primi giorni chiedevo … e loro m'hanno detto che era stato trasferito in un altro campo, … dopo non l'ho chiesto più. Perché quando ho capito dove eravamo arrivati sapevo che mio papà non ce l'avrebbe potuta fare …
Nelle prime ore dopo l'arrivo, il tatuaggio sul braccio e "dopo quindici giorni mi rasarono come una rana d'inverno …"
Questi non sono particolari del viaggio o della detenzione in campo di sterminio: sono i dettagli della strategia dell'annientamento.
Elementi di tecnica di disconoscimento e di distruzione della persona.
Una tecnica, assurta a sistema, mediante la quale la persona è reificata.
Deportata in un altrove appositamente costruito.
Separata da tutte le dimensioni spazio-temporali e affettive della vita, LIBERA, antecedente.
Deprivata di tutto.
Della dignità.
Della personalità.
Deprivata del proprio nome proprio, sostituito con un numero, tatuato sul braccio sinistro: INDELEBILE.
Spogliata non solo dei propri abiti.
Rasata a zero in ogni parte del corpo.
"Cosificata".
La persona è "cosificata".
Fatta a pezzi.
Considerata nulla più che un pezzo: Ein Stück.
Cosificare è stato il modo per esercitare il dominio, potere arbitrario, di alcuni su altri.
Con il solo scopo, e per il solo scopo, di "nullificare", di annullare la persona.
Un metodo legittimato per costruzionismi.
I FASCINAZISTI furono i responsabili di questo genocidio che il mondo non intese fermare.
Se "dal basso" molti non sapevano, dall'alto i "grandi della terra" sapevano e non intervennero.
Il mondo sapeva.
E se nessuno si mise davanti a quei camion, a quei treni, a quelle leggi razzi(ali)ste un esempio è emblematico: solo 12 professori italiani su 1250 preferirono di NO, l' 8 ottobre 1931, quando Mussolini impose ai professori universitari il giuramento di fedeltà al regime fascista, e persero la cattedra e la libertà.
Erano Ernesto Buonaiuti, Mario Carrara, Gaetano De Sanctis, Giorgio Errera, Giorgio Levi Della Vida, Fabio Luzzatto, Piero Martinetti, Bartolo Nigrisoli, Francesco ed Edoardo Ruffini, Lionello Venturi, Vito Volterra.
Oggi molte e molti, appartenenti ad un noi separato e separazionista e non al Noi allargato dell'UMANITÀ', sembrano non aver ancora appreso la lezione della storia che si ripete sempre diversamente ma forse, talvolta, in modo diversamente uguale.
Ho ascoltato molte volte i TESTIMONI.
Ho ascoltato innumerevoli volte i deportati politici tra cui cito qui i due che hanno accompagnato la mia vita da vicino e ai quali devo tanto di ciò che sono: la maestra e amica Ida Desandré e il maestro e amico Italo Tibaldi.
Per comprendere dalle loro voci e dalle loro storie di vite distrutte persempre dal fascinazismo, il che fare o anche solo il che cosa non s'ha da fare.
Ho ascoltato molte volte Liliana Segre. Dal vivo a Torino e ad Asti e martedì prossimo, 20 novembre 2018, a Firenze in occasione del Convegno 1938-2018 Ottant'anni dalla promulgazione delle leggi razziali. La difesa della razza e la costruzione del nemico
Ci sarò.
Perché se ascoltare e scrivere non è, e non è mai stato, sufficiente, continuare ad imparare e a TESTIMONIARE – se è vero che chi ascolta un testimone diventa a sua volta testimone – che ora, come allora, si deve decidere da che parte stare.
PRENDRE PARTI, in francese.
Per agire.
Per lottare con lucidità contro circolari e leggi ingiuste, discriminatorie e razziste quali sono – non solo dal punto di vista della Costituzione della Repubblica Italiana e del diritto internazionale – le circolari Salvini e il decreto legge n. 113/2018 cosiddetto "decreto (IN) sicurezza".
Perché la democrazia svanisce piano piano, come ricorda Liliana Segre.
Primo intervento in Senato della Senatrice a vita Signora Liliana Segre
Transcend Media Service pubblica Liliana Segre è Senatrice a vita
Liliana Segre è Senatrice a vita
Liliana Segre, donna libera e donna di pace
29 gennaio 1945-29 gennaio 2018. Collettivamente memoria a Gavardo (2012-2018) per il settimo anno, a scuola, il 29 e il 30 gennaio 2018
________________________________________________

Silvia Berruto è membro della rete TRANSCEND per la Pace, Sviluppo e Ambiente, giornalista contro il razzismo, antifascista, amica e persuasa della nonviolenza.
® Riproduzione riservata
Go to Original – silviaberruto.wordpress.com
DISCLAIMER: The statements, views and opinions expressed in pieces republished here are solely those of the authors and do not necessarily represent those of TMS. In accordance with title 17 U.S.C. section 107, this material is distributed without profit to those who have expressed a prior interest in receiving the included information for research and educational purposes. TMS has no affiliation whatsoever with the originator of this article nor is TMS endorsed or sponsored by the originator. "GO TO ORIGINAL" links are provided as a convenience to our readers and allow for verification of authenticity. However, as originating pages are often updated by their originating host sites, the versions posted may not match the versions our readers view when clicking the "GO TO ORIGINAL" links. This site contains copyrighted material the use of which has not always been specifically authorized by the copyright owner. We are making such material available in our efforts to advance understanding of environmental, political, human rights, economic, democracy, scientific, and social justice issues, etc. We believe this constitutes a 'fair use' of any such copyrighted material as provided for in section 107 of the US Copyright Law. In accordance with Title 17 U.S.C. Section 107, the material on this site is distributed without profit to those who have expressed a prior interest in receiving the included information for research and educational purposes. For more information go to: http://www.law.cornell.edu/uscode/17/107.shtml. If you wish to use copyrighted material from this site for purposes of your own that go beyond 'fair use', you must obtain permission from the copyright owner.