Mahatma Gandhi and His Interest in the Stars
TRANSCEND MEMBERS, 26 Nov 2018
Dr. Ravi P Bhatia – TRANSCEND Media Service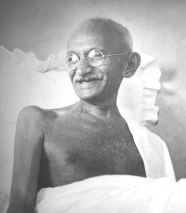 21 Nov 2018 – Mohandas Karamchand Gandhi (Mahatma Gandhi) or simply Gandhi is a well-known icon of twentieth century. Born in a small town Porbandar in the state of Gujarat on 1869, he studied law in England, went to South Africa where he stayed for 21 years and returned to India in 1915. After his return he was involved in several problems facing the country which was at that time under British rule. He struggled in a nonviolent manner against the British through a process that is called Satyagraha or passive resistance, participated in several movements — political, religious and in the uplift of the deprived sections of the peoples etc. The Dandi March in 1930 against the imposition of salt tax by the British rule, is a classic example of his determination and belief in the concepts of justice, truth and peace.
Of course, we are aware of his role as a freedom fighter against British rule along with several other Indian luminaries such as Jawaharlal Nehru, Vallabh Bhai Patel, Abdul Kalam Azad, Rajendra Prasad, and countless other men and women. India achieved independence in August 1947 that however resulted in the breakup of the country into two parts – India and Pakistan along with large number of killings and millions of migrations of people from one part of India to another. He went on fasts against the violence; he preached harmony between the Hindu and Muslim religions and helped restore a climate of living together peacefully and promoting a degree of normalcy in the country.
Gandhi not only struggled for peace, harmony and cleanliness but shared his belief with the several people who lived with him in the ashrams (simple and clean living spaces). He interacted with millions of people and children through his travels all over the country and through his writings in his native language Gujarati and also in English and Hindi languages. Gandhi was a prolific writer and these writings have now been published in several volumes; he has also written several articles and books including his autobiography that is called The Story of my Experiments with Truth and the fascinating Hind Swaraj, which he wrote on board a ship while he travelled from England to S. Africa in 1909.
These facets of Mahatma Gandhi are well-known and appreciated now; countless numbers of books have been written not only by Indians but also by foreign authors. In addition, he promoted a new form of education called Nai Talim, practiced simplicity and living close to Mother Earth without degrading or exploiting it so that its resources could be available for the future generations also.  His approach in today's perspective is for sustaining the environment and protection of all forms of life including human, flora and fauna. Gandhi also worked for the uplift of the marginalized sections of people and especially the rural populations so that they could live with dignity.
Thus Gandhi is considered a symbol of justice, nonviolence, truth, peace, religious harmony, and protection of nature. No wonder his actions and beliefs are appreciated and applauded by countless number of peoples all over the world and his statues adorn most parts of the world including one in Pietermaritzburg in South Africa where he was thrown out of a train because he dared to travel in a first class coach which was reserved only for the white passengers. As a result of his efforts at promotion of nonviolence and peace his birth anniversary 2nd October is now recognized as the International day of nonviolence.
As mentioned earlier these facets of Gandhi's actions and personality are recognized and appreciated now. But what is surprising to know is his interest in Astronomy — stars, the sun, the moon and the sun's planets. He was not a professional astronomer but an amateur one like many of us who gaze at the skies and feel a sense of awe and wonder. The sky is filled with billions of stars that are a joy to behold when the night is clear. Gandhi could recognize the various constellations — shapes or patterns that stars seemed to make – Aquarius, Cancer, Gemini, Leo, the Great Bear or Ursa Major. Then there is the pole star that appeared to remain stationary in the sky.
Apart from the constellations and individual stars, there was the moon and some planets that could be seen in the sky. The full moon night or poornima (as it is called in Hindi) that appears once in four weeks is a joy to behold. It casts it luminosity and beauty on the earth. Gandhi used to see the full moon not only in the sky but also its reflection in a pond or river. If the water flowed in the river, the moon also appeared to move. Gandhi loved to watch it with admiration and a sense of awe. In fact, he used to say that the stars, planets and the moon were a manifestation or leela of God. He used to say that stargazing depicted the divinity of God. He used to discuss with the Indian Nobel prize winning physicist C V Raman on this and related issues.
Gandhi was a deeply religious person and the various stars and constellations existing peacefully in the sky only reinforced his faith. He also believed that although there were several planets and stars, they only reflected the harmony and beauty of the night sky. In a similar vein he would say that there were multiple religions that added to the peace and harmony of mankind. He also compared the various branches of a tree as being different religious faiths but they were all grounded in a common tree and this could be compared to truth, harmony and peace that we all desire and promote.
It was not that Gandhi only marveled at the sky with his naked eyes. He also managed to see some of the phenomena of the sky with simple telescopes that some people shared with him. This reinforced his love for stargazing and his belief that the sky and its numerous entities were a manifestation of God's creation.
Of course, scientists and astronomers do not agree with this belief; but the joy, the beauty the peace that a night sky bestows is shared by millions of people including the scientists. They also feel that trying to understand the mysteries of the stars, the planets and our neighboring moon is a pleasant and joyful experience.
______________________________________________

Dr Ravi P Bhatia is a member of the TRANSCEND Network for Peace Development Environment, an educationist, Gandhian scholar and peace researcher. Retired professor, Delhi University. His new book, A Garland of Ideas—Gandhian, Religious, Educational, Environmental was published recently in Delhi. ravipbhatia@gmail.com
This article originally appeared on Transcend Media Service (TMS) on 26 Nov 2018.
Anticopyright: Editorials and articles originated on TMS may be freely reprinted, disseminated, translated and used as background material, provided an acknowledgement and link to the source, TMS: Mahatma Gandhi and His Interest in the Stars, is included. Thank you.
If you enjoyed this article, please donate to TMS to join the growing list of TMS Supporters.


This work is licensed under a CC BY-NC 4.0 License.