(Italiano) Frattanto, nel mondo
ORIGINAL LANGUAGES, 10 Jun 2019
Johan Galtung e Antonio C. S. Rosa | Centro Studi Sereno Regis – TRANSCEND Media Service
7 Giugno 2019 – Antonio: Ho una domanda, caro Johan. Vedo il mondo andare all'inferno, letteralmente e in senso figurato. Trump, Bolsonaro, Moreno, Orbán, Salvini, May, Macron, neo-Nazi, terrorismo buddhista (la novità più recente), l'ossessione dei super-molto-oscenamente ricchi d'aumentare la propria ricchezza, il potere, influenza determinante sopra tutti e tutto – pianeta compreso (la nuova gara fra ratti [rinnegati] è su chi sarà il prossimo trilionario), guerre, tortura (ricordo ancora la mia, non la dimenticherò mai…), e non ultimo l'evidente apatia specialmente da parte di una gioventù ipnotizzata e abbindolata, con la faccia cacciata nel cellulare/tablet/computer, dimentica della vita in corso attorno a sé. Non sorprende che i giapponesi stiano perdendo l'impulso sessuale: amore, contatto, non più. Il sesso è porno, solo genitali, come cani e gatti. Musica, letteratura, arti, poesia, amore, nobiltà, ideali, coscienza sociale, tutta roba da museo, memorabilia aggiornate, da secolo scorso. Eppure i più pensano che siamo al massimo dell'evoluzione.
Qualcuno non è d'accordo con me e pensa che ci sia speranza, l'umanità è rimbalzata via dalle calamità e la quasi estinzione del passato e ce la farà di nuovo. Sono dell'opinione che siamo in un piatto di Petri, la terra, e siamo tutti condannati da quel che facciamo noi stessi. La prima tua classe che ho frequentato da laureando all'Università delle Hawaii oltre 30 anni fa riguardava la contrazione/espansione delle civiltà. Sta succedendo qualcosa del genere proprio adesso con la fine dell'impero americano delle basi militari? O si tratta davvero di qualcos'altro?
Johan:  Penso che sia tutto quello, e altro, e di meno.
L'umanità è rimbalzata indietro, come dici, come dalla Morte Nera, la peste della metà del 1300. Qualcuno dice che siamo sul Pianeta Terra da 100 milioni di anni, quindi forse ci resteremo per un altro po'.
Io ho una sorta di tendenza innata a cercare risposte, non solo domande, soluzioni, non solo problemi. Troppa gente sembra starsene contenta di domande e problemi, particolarmente domande cui pensano nessuno sappia rispondere e problemi senza soluzioni.  Molti di loro, forse i più, sono accademici, che fanno di "conquiste" intellettuali del genere un marchio commerciale del mestiere accademico.
Siamo i nostri peggiori nemici. La natura può essere sgradevole. Ma sappiamo identificare, e lo facciamo, come stare alla larga dalle zone telluriche, di eruzioni vulcaniche e di maree alluvionali. Abbiamo imparato–ma c'è volute un po'–a usare abbigliamento e abitazione come protezione dal clima. Siamo bravi nell'estrarre abbastanza alimenti per il nostro sostentamento ma inetti nella distribuzione e nel trattamento dei rifiuti. Entrambi potrebbero arrivare, e presto.
In effetti, sembriamo essere giunti al punto di essere noi stessi i nostri peggiori nemici, come maggior causa di morte e di ferimento da violenza e guerra. Eppure ci riferiamo a noi stessi come "intelligenti", in cerca ovunque di qualcosa altrettanto "intelligente".
Immaginiamo di aver trovato una vita così intelligente da fare cose buone vicendevoli anziché cattive o mescolandole come facciamo noi? Cooperare, per un beneficio reciproco e ragionevol-mente uguale? Kropotkin, non Darwin? O almeno Imanishi, il ricercatore giapponese mirante all'esplorazione di nuove zone di vita, come proviamo certamente, esplorando il cosmo? Impareremmo?
Oppure, siamo così innamorati di noi stessi per come siamo, che migliorare non è un tema? è sorprendente come alcuni negli US fanno come indichi tu, riempiendo l'affascinante cosmo cui stiamo affacciandoci di immagini di ancor più violenza che sulla terra – seppur con qualche eccezione.
Il rimedio? Fare il contrario. Inventare nuovi modi di essere reciprocamente buoni. Come fai notare, non solo i genitali ma anche quello: starsene dentro, a lungo, senza muoversi. Potrebbe darsi che anche per il sesso in cui pensiamo spesso di essere così bravi, siamo appena all'inizio di un viaggio affascinante dei sempre nuovi modi di essere buoni gli uni verso gli altri?
E in quanto all'essere reciprocamente buoni con le parole? Potrebbe darsi che siamo appena all'inizio anche con le parole? Quanto sforzo dedichiamo a una buona conversazione? Quanto ne dedichiamo a un buon accoppiamento? Eppure esplorare qualcosa insieme è un'esperienza talmente meravigliosa, dalla banalità del tempo che fa alla profondità filosofica del senso della nostra esistenza. Usando questi attrezzi meravigliosi che chiamiamo parole, colllegandole in frasi, pronunciandole, ascoltandole.
E quella gioia è potenzialmente disponibile ovunque due o più siano riuniti. Perfino uno solo, sé stesso, con sé stessi. Godetevi!
_______________________________________________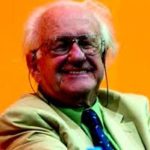 Johan Galtung, professore di studi sulla pace, pluri-dott. honoris causa, è fondatore di TRANSCEND International e rettore della TRANSCEND Peace University. Gli è stato conferito fra l'altro il Premio 1987 per un Giusto Sostentamento, noto anche come Premio Nobel Alternativo per la Pace. Galtung ha agito da mediatore in oltre 150 conflitti in oltre 150 paesi, e ha scritto più di 170 libri sulla pace e temi correlate, 96 fra cui come autore unico; oltre 40 fra cui tradotti in alter lingue. Fra questi, 50 Years-100 Peace and Conflict Perspectives pubblicato dalla TRANSCEND University Press. Il suo libro Transcend and Transform è stato tradotto in 25 lingue. Ha pubblicato più di 1700 articoli e capitol di libri e oltre 500 Editoriali per TRANSCEND Media Service. Altre informazioni sul prof. Galtung e tutte le sue pubblicazioni si possono trovare presso transcend.org/galtung.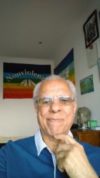 Antonio Carlos da Silva Rosa, nato nel 1946, è fondatore-redattore del sito web pioniere Peace Journalism, di TRANSCEND Media Service-TMS (dal 2008), assistente del prof. Johan Galtung, Segretario del Consiglio Internazionale d'amministrazione della TRANSCEND Network for Peace Development Environment, e detentore del premio 2017 per la Psicologia di Pace e Giustizia Sociale Psicologi per la Responsabilità Sociale Anthony J. Marsella. Ha completato la documentazione didattica richiesta al dottorato in Politologia-Studi di Pace (1994), ha un master in Politologia-Rapporti Internazionli (1990), e un baccelierato in lettere in Comunicazione (1988) dell'University of Hawai'i. Originario del Brasile, vive attualmente a Porto, Portogallo. Antonio è stato formato negli USA dove ha vissuto 20 anni; in Europa-India dal 1994. Libri: Transcender e Transformar: Uma Introdução ao Trabalho de Conflitos (traduzione in portoghese di Johan Galtung, 2004); Peace Journalism: 80 Galtung Editorials on War and Peace Johan Galtung (2010, redattore); Cobertura de Conflitos: Jornalismo para a Paz (traduzione in portoghese di Johan Galtung, Jake Lynch & Annabel McGoldrick, 2010). Articoli TMS di Antonio QUI.Video QUI e QUI
Titolo originale: Meanwhile, Around the World – TRANSCEND Media Service
Traduzione di Miki Lanza per il Centro Studi Sereno Regis
Go to Original – serenoregis.org
Tags:
Conflict
,
Culture
,
Human Rights
,
Nonviolence
,
Peace
,
Politics
,
Social justice
,
Solutions
,
World
DISCLAIMER: The statements, views and opinions expressed in pieces republished here are solely those of the authors and do not necessarily represent those of TMS. In accordance with title 17 U.S.C. section 107, this material is distributed without profit to those who have expressed a prior interest in receiving the included information for research and educational purposes. TMS has no affiliation whatsoever with the originator of this article nor is TMS endorsed or sponsored by the originator. "GO TO ORIGINAL" links are provided as a convenience to our readers and allow for verification of authenticity. However, as originating pages are often updated by their originating host sites, the versions posted may not match the versions our readers view when clicking the "GO TO ORIGINAL" links. This site contains copyrighted material the use of which has not always been specifically authorized by the copyright owner. We are making such material available in our efforts to advance understanding of environmental, political, human rights, economic, democracy, scientific, and social justice issues, etc. We believe this constitutes a 'fair use' of any such copyrighted material as provided for in section 107 of the US Copyright Law. In accordance with Title 17 U.S.C. Section 107, the material on this site is distributed without profit to those who have expressed a prior interest in receiving the included information for research and educational purposes. For more information go to: http://www.law.cornell.edu/uscode/17/107.shtml. If you wish to use copyrighted material from this site for purposes of your own that go beyond 'fair use', you must obtain permission from the copyright owner.