(Italiano) Per Ilaria Alpi e Miran Hrovatin Noi Ricorderemo. 25 anni (dopo l'esecuzione dei due reporter) senza VERITA'
ORIGINAL LANGUAGES, 23 Sep 2019
Silvia Berruto – TRANSCEND Media Service
21 Set 2019 – Dedicato alle lettrici e ai lettori di Trascend Media Service
Per non dimenticare Ilaria
Festivaletteratura,
Mantova 4 settembre 2019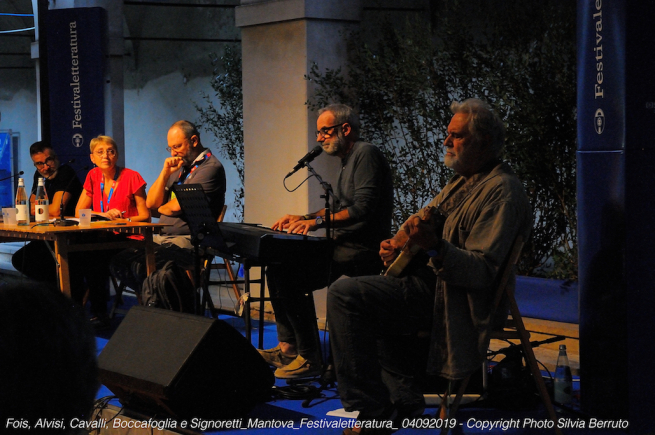 NOI RICORDEREMO, anche se, di tanto in tanto, qualcuno preferisce che noi dimentichiamo … NOI RICORDEREMO.
Queste le parole con cui Marcello Fois, scrittore e sceneggiatore del film Ilaria Alpi, il più crudele dei giorni (2003), per la regia di Ferdinando Vicentini Orgnani, ha chiuso il suo contributo-ricordo-attio e impegno civile permanente per la ricerca della verità sulla morte della giornalista Ilaria Alpi e dell'operatore Miran Hrovatin.
A 25 anni dal loro omicidio – un'esecuzione – avvenuto a Mogadiscio (Somalia) il 20 marzo 1994 ancora non c'è la verità giudiziaria. Venerdì 20 settembre 2019 c'è stata una nuova richiesta di archiviazione.
 Questa è la storia di due giornalisti che amavano il loro mestiere e sapevano farlo bene e che volevano farlo fino in fondo: per la gente, per la verità e per la giustizia e che nel fare questo sono morti. ( Carlo Lucarelli )
Così si è aperto l'omaggio a Ilaria e Miran nella serata di storia, memoria e di impegno civile proposta dal Festivaletteratura di Mantova.
E' seguita la proiezione del video della parte iniziale della notizia della loro morte data in diretta da Flavio Fusi in un'edizione straordinaria del Tg3 del 20 marzo 1994 il cui testo apre anche il volume La strada di Ilaria di Francesco Cavalli che, insieme a Gigliola Alvisi, a Marcello Fois, a Stefano Boccafoglia e a Giorgio Signoretti hanno fatto storia e memoria, mercoledì 4 settembre presso il Museo Diocesano, per non dimenticare Ilaria.
La strada di Ilaria svela la direzione da prendere. Racconta che solo col cammino si raggiunge, non solo la meta, ma la verità. Passo dopo passo. La strada può' occultare. Ma non nascondere.
[…]
Una strada, 400 chilometri dritti dritti che solcano il deserto somalo. Non c'è nulla. Eppure si cerca. Ilaria ci è andata, ha percorso quei 400 chilometri con un'intuizione in testa.
[…]
Vorrebbero farci dimenticare quella Strada. Ci raccontano che quel 20 marzo 1994 non è successo niente. E' stato un semplice incidente. Lei poi era andata a fare una vacanza al mare, sull'Oceano. Quale verità, quale strada. Non c'è nulla da raccontare. Smetterla.

(Estratti. Dall'introduzione di Angelo Ferrari)
Il contributo di Gigliola Alvisi alla serata si sviluppa nel resoconto sintetico di alcuni interventi effettuati nelle scuole oltre che nella narrazione della storia della giornalista raccontata in Ilaria Alpi. La ragazza che voleva raccontare l'inferno.
Alle pagine 129-132 si trova il testo integrale della notizia data in diretta da Flavio Fusi che è assolutamente da rileggere.
Alle immagini video proiettate è seguita la giustapposizione di Mal d'Africa (Ilaria, Miran e i sentieri delle banane), la canzone scritta da Stefano Boccafoglia di Scraps Orchestra per Ilaria e Miran nel 2003.
La musica si è inserita in progress sino a diventare protagonista di una riflessione altra. Scandisce il ritmo serrato della narrazione in continuità con lo stile della narrazione precedente, senza soluzione di continuità, a prolungarne la tensione e il pathos, in una nuova narrazione ancor più straziante e commovente.
Ho pianto.
NON TACERE – inchiesta scritta in forma di orazione civile, da Mariangela Gritta Grainer, presidente dell'associazione Ilaria Alpi, e componente della Commissione bicamerale di inchiesta sulla cooperazione con i paesi in via di sviluppo – definita l'archivio vivente della vita di Ilaria impossibilitata ad essere presente a Mantova – è stato poi citato e sintetizzato a più riprese dai relatori.
Contiene 139 volte l'espressione, in grassetto, Si sa.
Sintesi dell'iter giudiziario comprensivo delle informazioni, dei documenti, delle fonti che smontano le ipotesi di un tentativo di sequestro o di rapina finiti male.
Con i depistaggi, le contraddizioni e le connivenze che hanno costellato il caso è un documento imperdibile, è assolutamente da leggere.
Due giorni fa è stato conferito alla Fondazione Murialdi Roma l'ARCHIVIO della giornalista di RAI 3.
Una nuova richiesta di archiviazione da parte della Procura di Roma è arriva in aula ieri mattina.
Contro la richiesta di archiviazione ieri è stato organizzato un presidio a Piazzale Clodio (Roma) davanti al Tribunale alla presenza di FNSI (Federazione nazionale stampa italiana), l'USIGRai (Unione Sindacale Giornalisti Rai), il Comitato di redazione del Tg3, Articolo 21, Libera, Libera Informazione, Amnesty International Italia, Ordine dei giornalisti del Lazio, la Rete NoBavaglio.
Per dire #NoiNonArchiviamo.
Non archiviare, è un dovere e anche un diritto per tutti i cittadini.
[ … ]
"La verità è l'unica forma di giustizia possibile. E' la verità che fa giustizia."
#NoiNonArchiviamo
 NOI NON ARCHIVIAMO ILARIA ALPI E MIRAN HROVATIN
RADIORADICALE
 PRESIDIO GIORNALISTI DAVANTI AL TRIBUNALE    RAINEWS
A VENTICINQUE ANNI DALL'ASSASSINIO DI ILARIA ALPI E MIRAN HROVATIN: #NoiNonArchiviamo
________________________________________________

Silvia Berruto è membro della rete TRANSCEND per la Pace, Sviluppo e Ambiente, giornalista contro il razzismo, antifascista, amica e persuasa della nonviolenza.
® Riproduzione riservata
Go to Original – silviaberruto.wordpress.com
Tags:
Activism
,
History
,
Italia
,
Journalism
,
Justice
,
Media
,
Power
,
Violence
DISCLAIMER: The statements, views and opinions expressed in pieces republished here are solely those of the authors and do not necessarily represent those of TMS. In accordance with title 17 U.S.C. section 107, this material is distributed without profit to those who have expressed a prior interest in receiving the included information for research and educational purposes. TMS has no affiliation whatsoever with the originator of this article nor is TMS endorsed or sponsored by the originator. "GO TO ORIGINAL" links are provided as a convenience to our readers and allow for verification of authenticity. However, as originating pages are often updated by their originating host sites, the versions posted may not match the versions our readers view when clicking the "GO TO ORIGINAL" links. This site contains copyrighted material the use of which has not always been specifically authorized by the copyright owner. We are making such material available in our efforts to advance understanding of environmental, political, human rights, economic, democracy, scientific, and social justice issues, etc. We believe this constitutes a 'fair use' of any such copyrighted material as provided for in section 107 of the US Copyright Law. In accordance with Title 17 U.S.C. Section 107, the material on this site is distributed without profit to those who have expressed a prior interest in receiving the included information for research and educational purposes. For more information go to: http://www.law.cornell.edu/uscode/17/107.shtml. If you wish to use copyrighted material from this site for purposes of your own that go beyond 'fair use', you must obtain permission from the copyright owner.