The Olive Tree–Not Just an Ordinary Tree
TRANSCEND MEMBERS, 28 Oct 2019
Mazin Qumsiyeh | DesertPeace – TRANSCEND Media Service
21 Oct 2019 – My mother says I should have worn long sleeves for the Palestinian olive trees sometimes do not want to part with their fruits without a bit of resistance.  But somehow I feel the few minor scratches are a badge of honor and the least I owe our beloved trees. The whole year, we look forward to these days. My sister, wife, mother, and I harvested the olive trees sometimes silently, sometimes talking about mundane things, and rarely speaking of things of consequence.  But thoughts are another story.
My thoughts wonder to the Palestinians who lost their olive groves to the colonial settlement activity (over 1 million trees have been uprooted).  The picture of the old women hugging her tree that was being cut by the Israeli occupiers flashes through my mind (see photo below*).  I am reminded of my deceased father during such time. I feel at peace with the sorrow and anger overwhelmed by emotions of gratitude and serenity under the old olive trees. The olive harvest is after all a ritual that borders on an act of worship (and maybe it is).  The stimulation of our senses during the harvest is hard to describe.  It is not just the invigorating smells of the olive leaves and whiffs of olive oil but the shape and feel of each olive as our hands comb the tree like a mother combing her daughter's hair, the sight of beloved ones tending the same tree before moving to the next.
We smile and greet neighbors who stop by to say hello or comment on the production this year (it is actually a poor year since last year was really good and these things alternate).  The mechanics of the harvest and the post-harvest work become routine for anyone who has done it once.  Old carpets or sheets are spread under the tree.  Olives are dropped onto those (never by hitting the tree!). The gathered olives are separated from leaves and any remaining stems removed (on a "sidr"/tray that is inclined).  They are kept aired out on mats in a dry place while big healthy olives are picked for pickling.
The pickling involves cracking the olives and submerging them in water containing salt, lemon juice, pieces f lemons, and some lemon leaves.  The remaining olives are taken to the press where olive oil is produced.  In the old days, we had a stone press with an animal (donkey or mule) rotating two large circular stones placed in a hollowed stone shaped like a cake pan.  Now the modern presses (made in Turkey) do the operation in no time at all.
It is hard to describe to non-Palestinians what the olive tree means to us.  We could tell of the practical things but that would be like saying our spouses mean a lot to us because of … (and then list all the things they do).  Of course these things are important but not the whole picture and we could never do justice that way to people or other living things we love.  But just like listing what people do help others visualize their character, so it is with the beloved olive tree.  Palestinians over the past 5000 years have cultivated olive trees and derived great benefit from these wonderful hardy trees:
The olive (Zeitoon) was pickled (rsees) and eaten and perhaps it is the only food that is found in all three meals: breakfast, lunch, and dinner. Its nutritional value is credited with significant health benefits.
The olive oil (Zeit) is THE oil in Palestine.  It is highly nutritious and used in dozens of recipes.  The main and most common folkloric recipe going back over 3000 years is Zeit u Zaatar (also sometimes called Zeit u Dukka); the bread is dipped in olive oil then in a thyme based powder (that includes sesame seeds and spices).  Thyme and Sesame and many other plans were of course first domesticated and used right here in Palestine (the left wing of the Fertile Crescent).  Olive oil was used in Palestine more extensively in the past in oil lamps, in protection of hair and skin, as a lubricant, as an insecticide, and much more.
The olive pits (and less so olive wood pieces) are used to make "prayer beads" that were used by both Palestinian Christians and Muslims for hundreds of years.  The simple act of running fingers through these beads sometimes meditating in the process while concentrating on that feeling gives us a sense of tranquility and peace (much needed considering the circumstances of Palestine over the ages).
The olive wood is used to make artifacts that locals sell to pilgrims as souvenirs from the Holy Land or keep at their homes.  This is true for all monotheistic traditions. Here in Bethlehem, our ancestors made a living of this as artisans for generations (my own family relied on this and agriculture as far back as we can trace to the 16th century).
The herds of sheep and goats rely on olive leaves and branches trimmed during this season for a significant part of their annual diet.
The wood was used (less so recently) as firewood.  It is a hardy wood that generates much heat per unit kilogram than any other wood I know.  The glass smelters in Hebron (famous for its stained glass artistry) used olive wood derived coals as a main energy source.
The olive trees gave our people shelter from the strong sun and inspired poets, lovers, painters, and prophets across the ages.
Even the left over material after the production of oil is recycled for energy source.
Here are a few pictures taken by my wife of our harvest, pickling and squeezing of olives to get our yearly supply of these trees:
http://picasaweb.google.com/jchangcpa/2009OliveHarvest?authkey=Gv1sRgCLvr8Mf57Ya5Zg&feat=directlink#
Olive production is always high in one year low in the next**. Last year was high, this year was low and next year (Inshallah) it will be higher barring further destruction by Israel as happened in Gaza recently. In the meantime, we still enjoy our olives and hope that you will come visit us in Palestine so that we can serve you some of the fantastic dishes that include olives or their products and we can do it under the olive trees.  I also noted this interesting story of a Palestinian in China proving again that you can take Palestinians outside of Palestine but you cannot take Palestine outside of Palestinians:
China's first olive harvest strikes oil
http://www.olives101.com/2006/05/24/chinas-first-olive-harvest-strikes-oil/
The Olive tree: a folkloric briefing from Bethlehem University
** Olive Oil production in West Bank and Gaza in tons showing yearly cyclical change with higher production in even years:
1988       31100
1989       1690
1990       27500
1991       570
1992       33700
1993       525
1994       18000
1995       8628
1996       24953
1997       5500
1998       22000
1999       3800
2000       30000
2001       6686
2002       31784
2003       11300
2004       30232
____________________________________________
Related: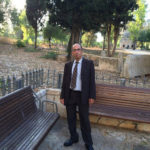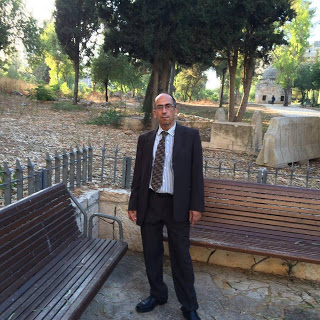 Mazin Qumsiyeh, associate professor of genetics and director of cytogenetic services at Yale University School of Medicine, is founder and president of the Holy Land Conservation Foundation and ex-president of the Middle East Genetics Association. He won the Raymond Jallow Activism Award from the national Arab American Anti-Discrimination Committee in 1998. He is co-founder and national treasurer of Al-Awda, the Palestine Right to Return Coalition, and has written extensively about the Middle East. Qumsiyeh is a member of the TRANSCEND Network for Peace Development Environment, author of Sharing the Land of Canaan and Popular Resistance in Palestine, a professor at Bethlehem University and director of the Palestine Museum of Natural History in Bethlehem. http://palestinenature.org
Go to Original – desertpeace.wordpress.com
Join the BDS-BOYCOTT, DIVESTMENT, SANCTIONS campaign to protest the Israeli barbaric siege of Gaza, illegal occupation of the Palestine nation's territory, the apartheid wall, its inhuman and degrading treatment of the Palestinian people, and the more than 7,000 Palestinian men, women, elderly and children arbitrarily locked up in Israeli prisons.
DON'T BUY PRODUCTS WHOSE BARCODE STARTS WITH 729, which indicates that it is produced in Israel.    DO YOUR PART! MAKE A DIFFERENCE!
7 2 9: BOYCOTT FOR JUSTICE!
Tags:
Conflict
,
Fatah
,
Gaza
,
Geopolitics
,
Hamas
,
History
,
Human Rights
,
Indigenous Rights
,
International Relations
,
Israel
,
MATW
,
MENA
,
Media
,
Military
,
Nakba
,
Nonviolence
,
Occupation
,
Oslo Accords
,
Palestine
,
Palestine/Israel
,
Politics
,
Power
,
Racism
,
Religion
,
Social justice
,
Torture
,
UN
,
Violence
,
Wall
,
War
,
West
,
West Bank
,
World
,
Zionism
DISCLAIMER: The statements, views and opinions expressed in pieces republished here are solely those of the authors and do not necessarily represent those of TMS. In accordance with title 17 U.S.C. section 107, this material is distributed without profit to those who have expressed a prior interest in receiving the included information for research and educational purposes. TMS has no affiliation whatsoever with the originator of this article nor is TMS endorsed or sponsored by the originator. "GO TO ORIGINAL" links are provided as a convenience to our readers and allow for verification of authenticity. However, as originating pages are often updated by their originating host sites, the versions posted may not match the versions our readers view when clicking the "GO TO ORIGINAL" links. This site contains copyrighted material the use of which has not always been specifically authorized by the copyright owner. We are making such material available in our efforts to advance understanding of environmental, political, human rights, economic, democracy, scientific, and social justice issues, etc. We believe this constitutes a 'fair use' of any such copyrighted material as provided for in section 107 of the US Copyright Law. In accordance with Title 17 U.S.C. Section 107, the material on this site is distributed without profit to those who have expressed a prior interest in receiving the included information for research and educational purposes. For more information go to: http://www.law.cornell.edu/uscode/17/107.shtml. If you wish to use copyrighted material from this site for purposes of your own that go beyond 'fair use', you must obtain permission from the copyright owner.