Earth Day Communiqué
TRANSCEND MEMBERS, 27 Apr 2020
Prof. Vandana Shiva | Navdanya International – TRANSCEND Media Service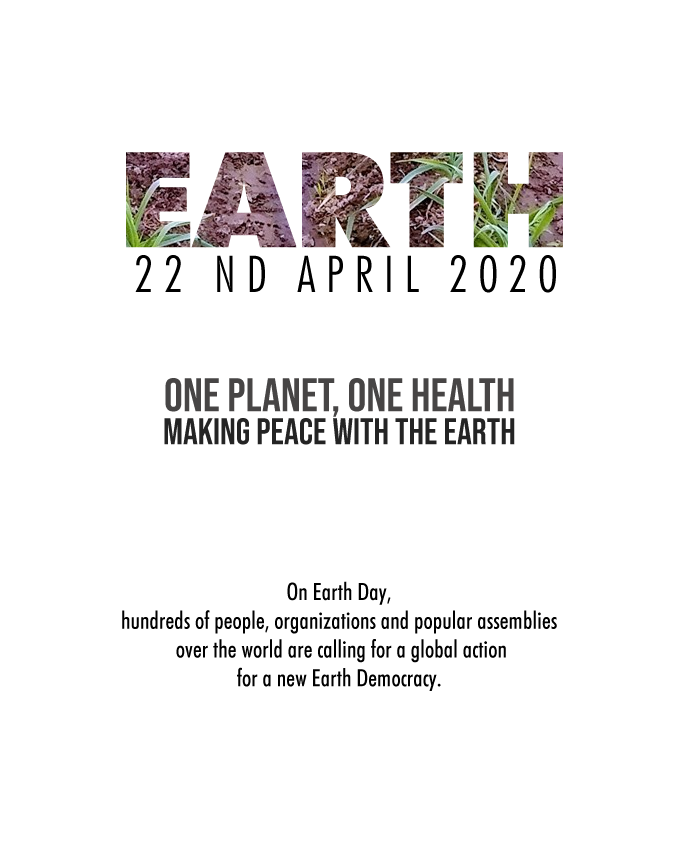 21 April 2020 – The health emergency we face as a global community is strictly connected to the health emergency the Earth is facing: its steady degradation, the extinction and disappearance of species and the climate emergency.  This Corona virus pandemic and consequent global economic collapse, and rupture of lives and livelihoods of millions calls us to urgent action.
This Earth Day over 500 organisations, movements and leaders from over 50 countries call for integrated action putting the health and wellbeing of all peoples and the planet at the centre of government and institutional policy, community building and civic action.
The planetary coalition includes, among others, Navdanya International, Naturaleza de Derecho, Health of Mother Earth Foundation, Ifoam, Regeneration International, Third World Network, International Forum on Globalization, Biovision, Sarvodaya Movement, SAM-Sahabat Alam Malaysia and CAP-Consumers Association of Penang, Council of Canadians, Initiative for Health and Equity, Diverse Women for Diversity, ISDE-International Society of Doctors for the Environment, and TRANSCEND Media Service-TMS. Also joining the call are  renowned leaders, scientists and environmentalists including, Vandana Shiva, Nnimmo Bassey, Fernando Cabaleiro, Jerry Mander, Adolfo Perez Esquivel, Maude Barlow, André Leu, Hans R Herren, Satish Kumar, Antonio C. S. Rosa.
The pandemic reminds us that we violate the rights of the Earth and all her species at our own peril. Scientific predictions indicate that if we do not stop this anthropogenic war against the Earth and her species, we will soon destroy the very conditions that allowed humans to evolve and survive.
As we invade forest ecosystems, destroy the homes of species and manipulate plants and animals for profits, we create conditions for new disease epidemics.
Industrial agriculture and intensive livestock farming are contributing to the health crisis and to the debilitation of our immune systems, leaving us more exposed to new diseases.
"Over the past 50 years, up to 300 new pathogens have emerged. It is well documented that around 70 percent of the human pathogens, including HIV, Ebola, Influenza, MERS and SARS emerged when the forest ecosystems were invaded, and viruses jumped from animals to humans. When animals are cramped in factory farms, new diseases like swine flu and bird flu spring up and spread."
While claiming to feed the world, globalised industrial food systems have pushed a billion humans to hunger and this number is growing with the world-wide lockdown and the destruction of livelihoods.
As the Pandemic shows, it is local food communities who are able to regularly provide and distribute food while globalised food chains, in some parts of the world, collapsed and even speculated with rising food prices. Future food systems must be based on seed sovereignty and food sovereignty, on local circular economies which give back to the earth, and ensure fair prices to producers.
The holistic and integrated response to the health emergency is to transition from the fossil fuel intensive, chemical intensive paradigm of agriculture and globalised trade, to local, biodiverse, ecological systems of producing and distributing food.  Our health and the health of the planet is one health.  Respecting planetary boundaries, ecosystem boundaries and species integrity is vital to protecting the planet and our health.
"We must shift from the economics of greed and limitless growth, of competition and violence, which have pushed us to an existential crisis, and move to an 'Economy of Care' – care of the Earth, of people and of all living species".
The signatories of the Planetary Communiqué call on authorities and government representatives in their countries, cities and communities to shift towards a paradigm in which ecological responsibility and economic justice are the foundation for the creation of a healthy and prosperous future for humanity.
To facilitate the transition, the signatories call for a series of actions, including the protection of biodiversity, the promotion of agroecology and local production, stop public subsidies to industrial agriculture, an end to chemical intensive monocultures, genetic manipulation and intensive animal farming and halt subsidies and further investments in the fossil fuels sector, including fossil fuel based agricultural inputs, as real climate action.
Quotes:
Vandana Shiva, Navdanya International: "A systems approach to healthcare in times of the Covid-19 crisis would address not just the virus, but also how new epidemics are spreading as we invade into the homes of other beings. It also needs to address the comorbidity conditions related to noncommunicable chronic diseases which are spreading due to a non-sustainable, anti-nature, and unhealthy industrial food systems. Globalised, industrialised food systems spread disease. Monocultures spread disease. Deforestation is spreading disease. The health emergency is forcing us to get back to the local dimension. We can do it when there is a political will. Let us make this transition to localization permanent."
Nnimmo Bassey, Health of Mother Earth Foundation (Homef): "The world is at a crossroads right now.  This is the time to turn away from burning the Planet by urgently transiting from dependence on fossil fuels, recognising the rights of Mother Earth and punishing ecocide in all its manifestations."
Fernando Cabaleiro, Naturaleza de Derechos: "This pandemic of Covid-19 is telling us that the system of mass accumulation that rules the world's economies, and thus the life and health of the earth, its people and biodiversity has reached its tipping point. Its high vulnerability is now well exposed, showing that it is time for the political powers to listen to all the organisations, assemblies, people, farmers and indigenous peoples that from every corner of the planet already called out and warned that such a collapse could happen. The whole universe of globalized civil society, on this Earth Day, with all of humanity in captivity, rises in spite of this, in a single cry of hope."
Antonio C. S. Rosa, TRANSCEND Media Service-TMS: "State sovereignty is a goner. Bankism and Military Capitalism rule the world in all respects now. Militaries are the ultimate manifestation of direct, structural and cultural violence—a cancer, Coronavirus if you will, that must be extirpated from humanity. Never too soon!"
_______________________________________________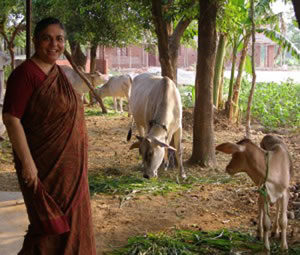 TRANSCEND Member Prof. Vandana Shiva is a physicist, ecofeminist, philosopher, activist, and author of more than 20 books and 500 papers. She is the founder of the Research Foundation for Science, Technology and Ecology, and has campaigned for biodiversity, conservation and farmers' rights, winning the Right Livelihood Award [Alternative Nobel Prize] in 1993. She is executive director of the Navdanya Trust.

Navdanya and the Navdanya movement were created by Dr. Vandana Shiva 30 years ago in India to defend Seed and Food sovereignty and small farmers around the world. Navdanya pioneered the movement of seed saving and seed freedom, which began in response to the crisis of erosion of agricultural biodiversity and introduction of GMOs and patents on seeds through intellectual property rights (IPRs) and so-called 'free trade' agreements. It has long fought against biopiracy, the patenting of indigenous knowledge by self-interested multinational corporations and won cases related to Neem, basmati rice and wheat in India. Navdanya promotes a new agricultural and economic paradigm, a culture of food for health, where ecological responsibility and economic justice replace the present greed, consumerism and competition which have become dominant in society. It aims at regaining the common good as a foundation for a renewed sense of community, solidarity and culture of peace. We strive to achieve these goals through the conservation, renewal and rejuvenation of the gifts of biodiversity we have received from nature and our ancestors, and to defend these gifts as commons. More…
Go to Original – navdanyainternational.org
Tags:
COVID-19
,
Coronavirus
,
Earth
,
Earth Day
,
Environment
,
Fauna
,
Flora
,
Human Needs
,
Human Rights
,
Nature
,
Nature's Rights
,
Pandemic
,
Vandana Shiva
DISCLAIMER: The statements, views and opinions expressed in pieces republished here are solely those of the authors and do not necessarily represent those of TMS. In accordance with title 17 U.S.C. section 107, this material is distributed without profit to those who have expressed a prior interest in receiving the included information for research and educational purposes. TMS has no affiliation whatsoever with the originator of this article nor is TMS endorsed or sponsored by the originator. "GO TO ORIGINAL" links are provided as a convenience to our readers and allow for verification of authenticity. However, as originating pages are often updated by their originating host sites, the versions posted may not match the versions our readers view when clicking the "GO TO ORIGINAL" links. This site contains copyrighted material the use of which has not always been specifically authorized by the copyright owner. We are making such material available in our efforts to advance understanding of environmental, political, human rights, economic, democracy, scientific, and social justice issues, etc. We believe this constitutes a 'fair use' of any such copyrighted material as provided for in section 107 of the US Copyright Law. In accordance with Title 17 U.S.C. Section 107, the material on this site is distributed without profit to those who have expressed a prior interest in receiving the included information for research and educational purposes. For more information go to: http://www.law.cornell.edu/uscode/17/107.shtml. If you wish to use copyrighted material from this site for purposes of your own that go beyond 'fair use', you must obtain permission from the copyright owner.
One Response to "Earth Day Communiqué"