Peace Mask Project
INTERVIEW, 10 Aug 2020
Robert Kowalczyk interviews Myong Hee Kim – TRANSCEND Media Service
An Interview with Myong Hee Kim, Founding Artist of Peace Mask Project
8 Aug 2020 – The following interview was held at "Kanjian," (meaning "looking inside one's self") Myong Hee Kim's studio in the small rural village of Takano, Fukui Prefecture, Japan. Myong Hee is the Founding Artist of the Kyoto-based international NPO, Peace Mask Project, currently celebrating its 20th year of workshops, talks, discussions, performances and exhibitions.
******************
Peace Mask Project started 20 years ago with the concept of making Life Masks of Japanese and Korean citizens to celebrate the sharing of the World Cup games in 2002. Would you please explain that initial program?
In the year 2000, I had spent 25 years living in Japan, nearly half my life, so personally it was a very meaningful year. Beyond that was the well-known fact that Japan and Korea have had a lengthy history of conflict. Having come to understand and appreciate the Japanese and their culture, I thought it would be appropriate to use art to express the commonality between my home country and the country that had warmly welcomed me. Also, Japan and Korea would co-host the World Cup soccer games in 2002. Having worked in making what I called "Life Masks" for several years, I thought it might be wonderful to make 1,001 Korean and 1,001 Japanese Life Masks to help celebrate the shared World Cup events.
Why did you use the term "Life Masks"?
The facial impressions were of living individuals, many of whom were young with a long life ahead of them. They were "Masks of Life" with all the positive aspects of what the future might bring. So I wanted to make these "Life Masks" of both Japanese and Koreans while working towards an exhibition where the similarities of each society and culture could transcend all past and existing conflicts. By my association with hundreds of Japanese and Koreans, I also hoped to attain a deeper understanding of each of these countries. This is how it started, as a one-artist project.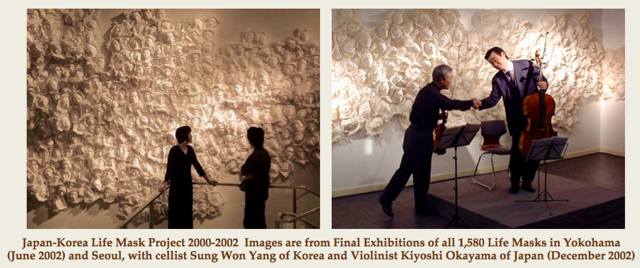 And in looking back, how did it go?
Well, we could start in Kyoto in January 2000, and finish in December 2002 in Seoul. During those three years, we created 1,001 Japanese Life Masks, but only 579 Korean masks. Since we ran out of time, we decided the numbers were less important than the overall effort and its effect. Therefore, the total was 1,580 Japanese and Korean masks, which seemed to be sufficient to express our mission for the exhibitions. Along the way, I had countless wonderful experiences in the workshops and events that took place in each country. I now feel quite satisfied and well rewarded by that three-year effort.
Where and when did the final exhibitions take place?
There were several smaller exhibitions during and after the workshops held at 27 locations in Korea and Japan. However, the final complete exhibitions with all the Life Masks on display were held in 2002 for one week each. The first was in June in Yokohama, which coincided with the final games of the World Cup, and the second was in December in Seoul. Along with each of those two exhibits, we also had performances of both traditional dance and classical music and talks by the Project Directors of each country, Professor Ikuro Anzai, Director of the Kyoto Museum for World Peace, in Yokohama and Mr. Kang Jun Hyuk, of Daum Academy, in Seoul. There was considerable media coverage in each country and so a large number of participants could enjoy the final exhibitions. I'm truly thankful for such a meaningful and rewarding experience.
Meaningful in what sense?
I started out thinking the project was my own expression through art, but as I moved through the 36 months I realized it was much more than a personal project. So many people gave their time and effort in helping to achieve the key goals that it gradually became obvious that I was becoming involved in a community project shared with countless others. That made it most meaningful and lasting for me and perhaps for many of the thousands of individuals, families and groups that took part. Moment to moment and day by day, I and others realized the importance of community sharing for a mutual purpose, the completion of an exhibition that expressed both diversity and harmony between the two cultures.

It's important to point out that the making of each mask takes about 30 minutes for the plaster mold and then an hour for the multi-layered paper mask making. This slow pace enables those who are working together the time to share the work and to talk with each other. We found this to be a most significant phase of the process for community building and mutual understanding. While focusing collectively on the culminating exhibitions, the participants no longer think about past or current conflicts, no longer think about differences between Japanese and Koreans. We forget all of that through our shared work. One can say that a certain palpable transformation takes place through the collective spirit of the challenge.
When did you first use the title of Peace Mask Project?
As we neared the end of the Japan-Korea Life Mask Project, those who had contributed their efforts realized that the making of these masks could foster peace between and among individuals, groups and countries in conflict. Because of this insight, we began calling our work Peace Mask Project. Since then, we have had workshops, exhibitions, talks, discussions and events in a wide variety of local and international settings, while using sharing, mutual understanding, and peace as our background themes.

Another important element that emphasizes the word "peace" is that the act of making the mask requires a significant amount of trust and inner calm. This factor has become even more apparent in recent years where human interaction is no longer running at a normal, healthy human speed.
The making of each of the Peace Masks takes time, human-paced time, and it is best done in a peaceful atmosphere. This calm space is also essential for the benefit of the model who is offering their face for peace. We focus all attention on the model as the most important person in the room and everyone in attendance feels this necessary atmosphere together. What results is a very close connection for all those who are present. The model also feels this tranquility and respect as we apply the plaster to the entire face. For the model, it is a moment of vulnerability, which becomes a moment of trust.
Although making the plaster mask takes only 30 minutes, the model deeply experiences those minutes, along with others in the room. One might view the process as an act of patience and trust while offering one's most intimate identity for a higher aspiration of mutual understanding and peace.
Following the making of the mold, we then try to make the Washi mask as beautiful as possible. They sometimes came out nearly flawless and sometimes less so, but the work itself takes concentration and a serious intent to create an attractive and impressive Peace Mask. From beginning to completion, there is a need for a professional attitude and the skills needed to accomplish the work.
Finally, when the model can see their own face as a Peace Mask, they find they are meeting themselves in this unique manner for the first time. For many, it is a moving and memorable experience, a moment of self-realization, wonder, and perhaps a bit of humility. Our face is the most personal aspect of our being, and yet it is only one face among the many others with whom we share our lives. Words cannot adequately express the feelings that seem to pass through the model's mind. However, it is often a moving experience to watch them looking at their own face as a Peace Mask. It's almost as if it were the face of a second-self.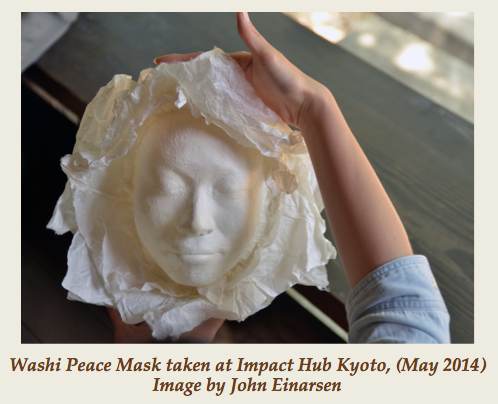 Would you kindly explain a bit more about Washi?
Japanese Washi is a traditional handmade paper, made with fibers from mulberry, that has been in use for centuries, with UNESCO designating it as an Intangible Cultural Heritage. Each Peace Mask uses five sheets of Washi made at a traditional mill in Fukui Prefecture, Japan. We use this material for both its ephemeral and translucent appearance and also for its lasting durability. These features best express the contradictory nature of the fragility and strength of human existence and add to the impression we hope to convey.
Please express some thoughts concerning the exhibitions.
At the end of certain workshops, we conduct small exhibitions of ten to thirty masks. At other times, the exhibition can be of many more Peace Masks, as with the 1,580 in the Korea-Japan 2002 project and the 100 masks made during the Hiroshima-Nagasaki (Hibakusha) project. We often combine these exhibits with events such as talks, discussions and concerts, where the Peace Mask artists and staff, models, local assistants and participants all come together to celebrate the project's completion.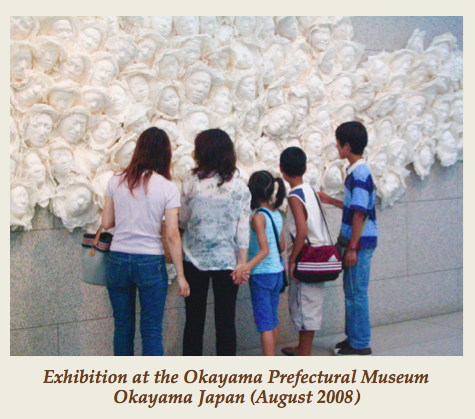 Along with the making of the individual Peace Mask, the exhibition is the second focus of our stated mission. Although each of the models is essential to the project, we also stress that each of them is but a part of a greater, more inclusive whole. Humanity must be able to see and accept the truth of its high diversity. However, unless harmony exists throughout and within that diversity, the human evolution will no longer be sustainable. It is now becoming clear that no individual can exist without respect for the many others that share their world. This is the core of our mission during these visibly diverse and challenging times in which we live. It seems to be especially true since the start of this year, as the Covid-19 pandemic sweeps across the globe with social distancing becoming a new way of life.
__________________________________________________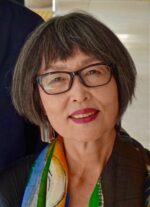 Myong Hee Kim was born in Seoul, Korea. Her father was born in Pyongyang and her mother in Seoul. At the age of six months, during the Korean War the family escaped from Seoul to take refuge in Pusan where they lived for the next eight years. Myong Hee believes this tragic early period may have been the seed for her creation of symbols of harmony rather than division, Peace Masks. In addition, her life of living in Japan, visiting other cultures and dealing with three languages on a daily basis (Korean, Japanese and English) has contributed to her understanding of "diversity within harmony" one of Peace Mask Project's intended imprints. Myong Hee came to Kyoto, Japan in 1975 and began to study painting under Japanese masters. This study led to her first solo exhibition at Sanjo Gallery in Kyoto in 1985, which developed into an international career in painting and eventually resulted in Peace Mask Project, a Kyoto City based NPO. In addition to Japan and Korea, Myong Hee has had solo and group exhibitions in China, Canada, Germany, Poland, the United States and Russia along with Peace Mask Workshops, exhibitions and presentations in Spain, India, Finland, Canada and Cambodia (Asia Pacific Peace Research Association Conference, Siem Reap, 2003). Currently Myong Hee Kim is working and living in Imadera, Fukui Prefecture, a small village located high on the slopes of Mount Aoba. Myong Hee also is the Director of Kanjian Project, an NPO established for the revitalization of local communities through international art exhibitions and other activities. Her studio, Kanjian, has been recognized as a Fukui Prefecture Traditional Farm House.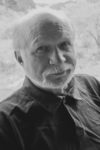 Robert Kowalczyk is a member of the TRANSCEND Network for Peace Development Environment. He is former Professor and Department Chair of the Department of Intercultural Studies in the School of Art, Literature and Cultural Studies of Kindai University, Osaka, Japan. Robert has coordinated a wide variety of projects in the intercultural field, and is currently the International Coordinator of Peace Mask Project. He has also worked in cultural documentary photography and has portfolios of images from Korea, Japan, China, Russia and other countries. He has been a frequent contributor to Kyoto Journal. Contact can be made through his website portfolio: robertkowalczyk.zenfolio.com.
Tags:
Culture of Peace
,
Peace Building
,
Peace art
This article originally appeared on Transcend Media Service (TMS) on 10 Aug 2020.
Anticopyright: Editorials and articles originated on TMS may be freely reprinted, disseminated, translated and used as background material, provided an acknowledgement and link to the source, TMS: Peace Mask Project, is included. Thank you.
If you enjoyed this article, please donate to TMS to join the growing list of TMS Supporters.


This work is licensed under a CC BY-NC 4.0 License.
6 Responses to "Peace Mask Project"