Humanity, Compassion, Bravery
TRANSCEND MEMBERS, 19 Oct 2020
Dr. Ravi P. Bhatia – TRANSCEND Media Service
13 Oct 2020 – Many countries in parts of Asia, Africa and Latin America are facing violence and brutality in one form or the other. There are murders, kidnappings, rapes, road accidents, flooding, falls of dilapidated buildings resulting in some inhabitants losing their lives. The reasons of manmade violence may be economic, religious, social or political. We hear from our neighbours or read about them in newspapers or in the vast social media that focuses heavily on events of violence or cruelty.
Adding to this dismal situation, the world has been engulfed by the COVID 19 pandemic which has affected more than thirty seven million people and resulted in huge number of fatalities. The largest number of cases has been reported from the USA. Even if people are not affected directly by the infection, it has resulted in loss of livelihood, poverty and isolation. Closure of academic institutions has affected teaching and learning and research, and an overall feeling of depression and loneliness in large sections of society, has occurred.
However, on an optimistic and humane note, a few events are regularly taking place that dispel this negativity along with the abysmal social and psychological conditions we see around us.
One such action by a Silicon Valley economist and founder of a booming enterprise has given us hope about what some individuals can do in times of distress. This person decided to come, a few months back, to his native place in the southern Indian state of Tamil Nadu and started teaching to deprived village children. Initially, this was part time activity for him in addition to the running of his business, but soon he felt that the part time activity needed to be boosted.
He thought of starting a full time village school by inviting a few teachers and providing basic infrastructure for the school to function well. The students are being provided free education and meals now. The paper work for being recognised as a proper school is in process, but the teaching and some sports activities are continuing even now despite the challenge of the pandemic. Already the number of students has increased and the Silicon entrepreneur is hopeful that despite the various difficulties being faced his start-up in the Tamil Nadu village will fulfill the needs of the local community and be a success.
Schooling involves examinations in the school itself at the end of the academic year but for Secondary and Senior Secondary (Classes 10 and 12 respectively) the examinations are held by some recognised institutions such as Central Board of Secondary Examination (CBSE), and other Boards. Students are required to pay examination fees to these Boards. Although these fees are moderate, for poor families, the fees may appear exorbitant. Consequently they face extreme pressure to pay.
An interesting fact has emerged by the precocity displayed by a teacher's teenage son.  Overhearing what his mother, who was a school teacher talking about the problems being faced by poor children to pay these fees, the boy took out his box of savings that had accumulated over the years by money given to him on his birthday or other occasions. He gave the box to his mother and asked her to pay for the exam fees. It is reported that his savings were sufficient to pay fees for five students. Incredible but true.
I have earlier recounted the case of a teenage girl named Jyoti whose father lost his job in the factory that closed because of the pandemic. She cycled all the way about 1600 km from a place near Delhi to her village in Bihar with her ill father sitting behind her on the bicycle. Her photo and her grit were heralded by the social media and newspapers. Some well meaning persons gave them food and some truck drivers gave the father-daughter duo lifts for part of the week-long journey.
There are other instances of some well meaning people coming together and making simple nutritious meals available to labourers in some towns, either completely free or at very low prices.
A unique instance of an eatery (Dhaba) in south Delhi has been widely circulated in the social media and newspapers. The eatery was named Baba ka Dhaba. Baba meaning an old man in Hindi, was running his Dhaba at very reasonable prices. Unfortunately, because of the pandemic, customers stopped coming to his Dhaba. Poor man, what should he do? Fortunately a person took a photo of the 80-year-old toothless man and his wife in the Dhaba and circulated the photo  on the social media. Lo and behold, people saw the photo and started thronging the Dhaba and bringing a smile on the old Baba's face. Wonders never cease to happen in the world.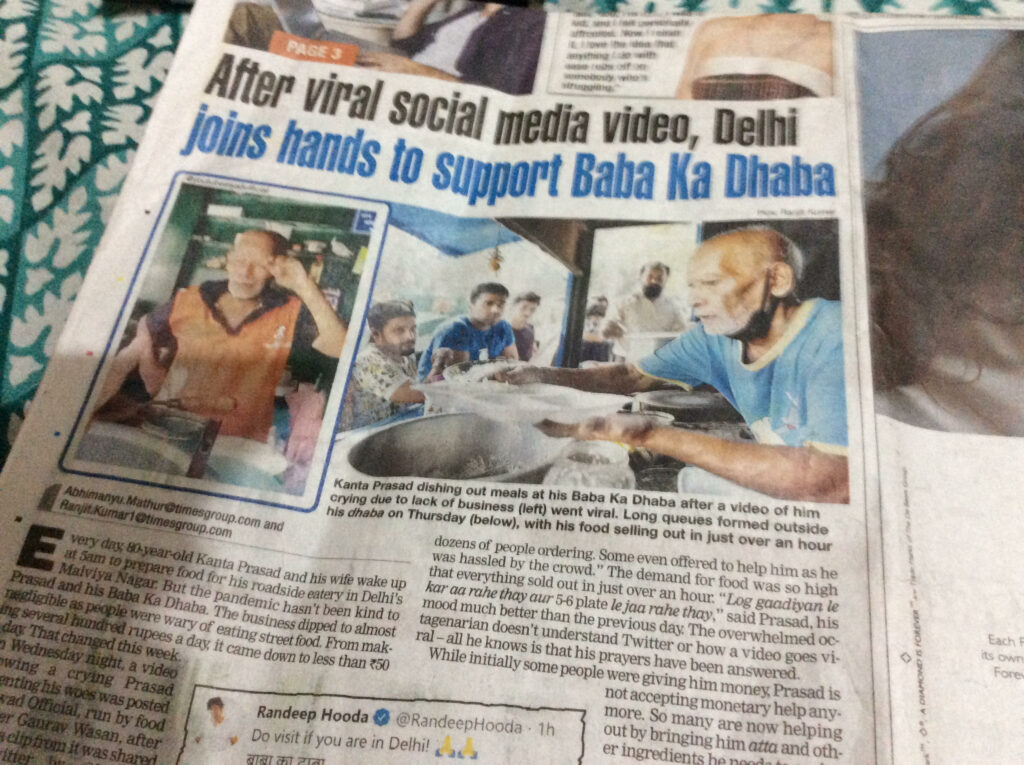 Hunger is a tragic reality among the poor children of many countries of Asia and Africa, including India. The World Food Programme (WFP)  won the 2020 Nobel Peace Prize for its efforts to  combat hunger all over the world by bringing food to millions of people who go to bed hungry and miserable. WFP has been in India since 1963 for reducing hunger and these efforts have been recognised by the UN and the Nobel Peace Committee in Oslo.
The pandemic has been a social and economic tragedy the world has perhaps not seen before. Fortunately, from what has been referred to above, it appears that instances of humanity, compassion and bravery have also occurred, bringing some solace and hope to the affected sections of the society.
______________________________________________

Dr Ravi P Bhatia is a member of the TRANSCEND Network for Peace Development Environment, an educationist, Gandhian scholar and peace researcher. Retired professor, Delhi University. His new book, A Garland of Ideas—Gandhian, Religious, Educational, Environmental was published recently in Delhi. ravipbhatia@gmail.com
This article originally appeared on Transcend Media Service (TMS) on 19 Oct 2020.
Anticopyright: Editorials and articles originated on TMS may be freely reprinted, disseminated, translated and used as background material, provided an acknowledgement and link to the source, TMS: Humanity, Compassion, Bravery, is included. Thank you.
If you enjoyed this article, please donate to TMS to join the growing list of TMS Supporters.


This work is licensed under a CC BY-NC 4.0 License.