Should Iran Be Concerned about the U.S. Elections?
TRANSCEND MEMBERS, 5 Oct 2020
Richard Falk | Global Justice in the 21st Century – TRANSCEND Media Service
30 Sep 2020 – This interview was published by Mehr News Agency on 27 Sept 2020 in Tehran. It addresses questions that arise for foreign societies seeking to comprehend the spectacle of the 2020 US national elections. The outcome of the Trump/Biden struggle is, of course, of particular concern to Iran.

****************
Q1: Can the US election be considered a fully democratic election?
No, the American elections as currently administered on  national level are not fully democratic for three principal reasons:
Most obviously, due to various forms of voter suppression and distortion encroaching especially on the rights of persons of color and the impoverished to cast their votes either as a result of difficult registration rules or by making polling sites feel hostile or requiring especially long waits in neighborhoods where minorities and the poor live;
by presidential opposition to voting by mail and by alleging fraud and rigging without any evidence imperiling his willing to transfer political power if he loses, undermining confidence in the integrity of elections and causing the public great anxiety;
by not acknowledging and challenging 'systemic racism' inherent in American society that produces discrimination against African-Americans, Muslims, and other victimized minorities.
Q2: How do money, power and media affect the presidential election?
The electoral process in the United States is dominated by money, power, and mainstream media boundaries on 'responsible' discourse. This domination is expressed in different ways. The influence of large donors is felt in shaping party platforms and the positions of candidates, perhaps most obviously in securing pledges from candidates of unconditional support for Israel, and by refraining from any fundamental criticism of the military budget or the workings of contemporary neoliberal capitalism. Both political parties are subject to the priorities, interests, and beliefs of political and economic elites that often ignore the wishes of the citizenry as expressed through public opinion polls. Mainstream media, and its editorial pages and TV anchors, generally reflect and respect this bipartisan consensus that has set boundaries on political discourse that are rarely violated, and create a media bias supportive of things as they are, especially with respect to fundamental issues.
These tendencies are most pronounced and evident in relation to foreign policy where progressive critics are rarely access so as to participate in public debates. Media and Congressional views are shaped by a consensus that is managed by 'deep state' forces inhabiting the U.S. bureaucracies in the intelligence, defense, and diplomatic sectors, and reflect deference to money, power, and media. The working of this anti-democratic, choiceless political process is evident in recent treatments of Iran and China, and to a lesser extent, Venezuela and Turkey. There is no consideration of policy alternatives that would lead to greater peace, justice, and respect for different governing styles and development approaches.
This foreclosure of alternative ways of relating to the world are recently most evident in the U.S. approach to Iran and China. Relations with Iran are unnecessarily provocative, and might moderate somewhat if Biden defeats Trump, but not fundamentally. With China, a slide toward geopolitical confrontation is favored by both political parties as reflected in the presidential campaigns, and might be more aggressively pursued if Biden wins, assuming that Trump does not effectively obstruct the transfer of political power.
A second cold war would be costly for humanity and disastrous for the United States, at a time when national policies, resources, and diplomatic efforts should be seeking global cooperation, global solutions to global problems, and attend to serious deficiencies in domestic infrastructure. The COVID crisis highlighted the shortcomings of national antagonisms in the face of a global health challenge that could have been greatly mitigated by a more cooperative international approach based on the recognition that 'we are all in this together.'
Q3: Why do minor political parties have such little success competing in US elections?
Given the 50 separate federalist units that constitute the United States, there was an understandable concern during its entire history about political fragmentation, which led to making it burdensome procedurally and economically to organize political parties. The two-party framework is further reinforced by the media tendency to exclude third party voices and positions such as the Green Party from national debates. Also, even legislative participation is almost impossible as the minority party candidate must win by a majority in any electoral district unlike other countries where a 5% or 10% of the vote qualifies the party for representation, and greater diversity in the annals of government, but in some circumstances great confusion. Perhaps, most important of all, is the widely felt sense that a vote for a third party candidate is a wasted vote as the only meaningful candidacy is that of one of the two dominant parties.
In recent decades, the bipartisan consensus is served well by keeping minor parties at the outer margins of policy debate. It makes the consensus appear to be the only reasonable political option. This is misleading and discourages citizen participation by those who dissent. In reality, there is more questioning of American priorities with respect both to global militarism and predatory capitalism than is apparent, but such questioning only gets broader attention at some progressive online publications and websites. It will take a movement rather than electoral outcomes to challenge these structural characteristics of the American political system, which must culminate in the revamping of both political parties and the shattering of the bipartisan consensus, whose origins are rooted in the World II struggle against fascism and the Cold War confrontation with the Soviet Union. The consensus lingers in the 21st century after the Soviet collapse, taking the form of launching 'the war on terror,' responding to 'the clash of civilizations,' and now supporting the prospect of a new cold war or a regime-changing approach to Iran.
Q4: Why is turnout so low in US elections?
Electoral turnout has been low in recent years because the perceptions of living in a 'choiceless' democracy give many U.S. citizens the impression that it does not matter who wins as either way the problems of their lives will not be solved. Perhaps, more than choiceless, a better existential explanation of this disvaluing of the right to vote is the sense of what I would call irrelevant democracy. This means that political outcomes of elections are felt to be irrelevant to conditions of poverty or discrimination, or economic unfairness, an interpretation that gains credibility that it is 'the losers' in American society that make up the bulk of those who fail to vote, sometimes out of principled rejection of both candidates being put forward. It reflects deep alienation in middle class and underclass America, which has been somewhat lessened at this time due to a fear that Trump's reelection could produce a fascist America. This fear will undoubtedly increase voter turnout in November, but not necessarily in a post-Trump future.
Although it is the disadvantaged who disproportionately refrain from voting (and partly also for reasons connected with voter suppression discussed in response to Q1), there are sophisticated citizens who refuse to vote on principle or vote under the banner of 'the lesser of evils.' Progressive anti-Trumpists are faced with this dilemma in the forthcoming elections. Biden's record, especially on international issues and the Middle East, is of a consistently war-mongering character that includes strong support for the disastrous 2003 war and subsequent occupation of Iraq and mindless indifference to Israel's criminal disregard of Palestinian rights. Besides, as suggested, Biden seems as readier for a new cold war than Trump. His version of the foreign policy bipartisan consensus is more coherent and deferential to the considered views of the political elite and militarized American bureaucracy while Trump is an impulsive leader that thinks he can by himself engineer a revival of American preeminence by bullying, bluster, and bluff.
My own reluctant support of Biden is rooted in my greater apprehensions about Trump, which also explains why I equally reluctantly supported Hillary Clinton in 2016 when she opposed Trump. I regard his demagogic style, racist affinities, ultra-nationalism, ecological denialism as a vehicle for a fascist future for the United States, which would mean the total abandonment of democratic procedures of governance, accompanied by repressive policies and practices. Such an abandonment would almost certainly produce harsh exclusionary hostility to immigration except from majority white countries, punishment of dissent and protest activity, and an economic and political order even more slanted in favor of the most wealthy. My reluctance about the electoral choice posed by Biden or Trump is also colored by uncertainty in the form of an obscure future. I fear a belligerent future in which Biden's approach leads to interventions and even war, whereas I grant the possibility that a reelected Trump could opt for isolationism, which resulted in more moderation in the Middle East and elsewhere.
Q5: What role does AIPAC play in US elections?
AIPAC is a strong lobbying group that is perceived by the political parties to exert great influence on large Jewish donors and Jewish voters generally. The leaderships of both parties compete for AIPAC approval, although as an organization it refrains from political endorsements at national levels. It does have a record of opposing Congressional candidates deemed critical of Israel, making inflammatory accusations that candidates critical of Israel are by that fact alone anti-Semitic. Such a campaign has been launched with at least implicit AIPAC support to defeat the candidacy of Ilhan Omar who is running for reelection in urban Minneapolis.
Part of the effectiveness of AIPAC is due to money and tight organizational discipline, and part of its influence is due to the absence of countervailing Jewish organizations that speak for liberal Zionism and progressive Jews. J-Street has attempted to provide a voice for liberal Zionism in Washington, and has limited success at legislative levels, but not in relation to party platforms or the selection of national candidates. Jewish Voice for Peace is an admirably balanced NGO, but its influence is mainly felt in civil society, where it has created growing support for a just outcome of this struggle that has gone on for a century, which includes supported the realization of the Palestinian right of self-determination whether in the form of a viable separate sovereign state or a single state whose foundational principle is ethnic equality.
Throughout its existence AIPAC has been and remains subservient to the priorities of Israeli leadership and consistently supportive of maximal Zionist goals, and hence an adherent of antagonistic attitudes on international law, the UN, and international morality. In my judgment, AIPAC has harmed the role of the U.S. in the Middle East and at the UN by pushing American foreign policy in belligerent and regime-changing directions, focusing on heightening the confrontation with Iran, and secondarily, with Turkey, which has intensified regional tensions and dangers of war. The recent sanctions debate in the UN Security Council manifested both U.S. belligerence and its defiance of the views of even its normally close European allies.
__________________________________________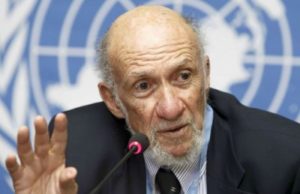 Richard Falk is a member of the TRANSCEND Network, an international relations scholar, professor emeritus of international law at Princeton University, Distinguished Research Fellow, Orfalea Center of Global Studies, UCSB, author, co-author or editor of 60 books, and a speaker and activist on world affairs. In 2008, the United Nations Human Rights Council (UNHRC) appointed Falk to two three-year terms as a United Nations Special Rapporteur on "the situation of human rights in the Palestinian territories occupied since 1967." Since 2002 he has lived in Santa Barbara, California, and associated with the local campus of the University of California, and for several years chaired the Board of the Nuclear Age Peace Foundation. His most recent book is On Nuclear Weapons, Denuclearization, Demilitarization, and Disarmament (2019).
Go to Original – richardfalk.wordpress.com
Tags:
Anglo America
,
Democracy
,
Elections
,
Geopolitics
,
Hegemony
,
Imperialism
,
International Relations
,
Iran
,
USA
DISCLAIMER: The statements, views and opinions expressed in pieces republished here are solely those of the authors and do not necessarily represent those of TMS. In accordance with title 17 U.S.C. section 107, this material is distributed without profit to those who have expressed a prior interest in receiving the included information for research and educational purposes. TMS has no affiliation whatsoever with the originator of this article nor is TMS endorsed or sponsored by the originator. "GO TO ORIGINAL" links are provided as a convenience to our readers and allow for verification of authenticity. However, as originating pages are often updated by their originating host sites, the versions posted may not match the versions our readers view when clicking the "GO TO ORIGINAL" links. This site contains copyrighted material the use of which has not always been specifically authorized by the copyright owner. We are making such material available in our efforts to advance understanding of environmental, political, human rights, economic, democracy, scientific, and social justice issues, etc. We believe this constitutes a 'fair use' of any such copyrighted material as provided for in section 107 of the US Copyright Law. In accordance with Title 17 U.S.C. Section 107, the material on this site is distributed without profit to those who have expressed a prior interest in receiving the included information for research and educational purposes. For more information go to: http://www.law.cornell.edu/uscode/17/107.shtml. If you wish to use copyrighted material from this site for purposes of your own that go beyond 'fair use', you must obtain permission from the copyright owner.
2 Responses to "Should Iran Be Concerned about the U.S. Elections?"