2 Companies Say Their Vaccines Are 95% Effective. What Does That Mean? + More
DEBATES ON COVID - VACCINES, 23 Nov 2020
Children's Health Defense Team | The Defender – TRANSCEND Media Service
20 Nov 2020 -The Defender's COVID Vaccine NewsWatch brings you the latest headlines on COVID-19 and vaccines.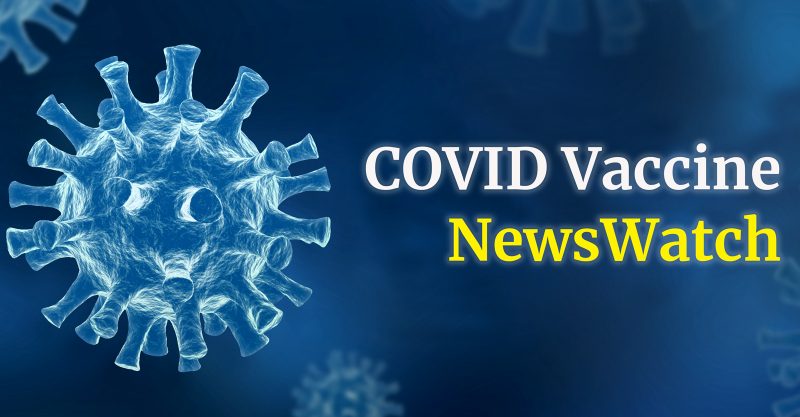 2 Companies Say Their Vaccines Are 95% Effective. What Does That Mean? New York Times reported:
"From the headlines, you might well assume that these vaccines — which some people may receive in a matter of weeks — will protect 95 out of 100 people who get them. But that's not actually what the trials have shown. Exactly how the vaccines perform out in the real world will depend on a lot of factors we just don't have answers to yet — such as whether vaccinated people can get asymptomatic infections and how many people will get vaccinated."
Over Half of Adults Over 50 Say They'll Get Vaccinated Against COVID-19, But Many Will Want to Wait, Poll Finds. Newswise reported:
"In all, 58% of adults aged 50 to 80 say they are somewhat or very likely to get vaccinated to prevent COVID-19, according to new results from the National Poll on Healthy Aging from the University of Michigan.
That number went up to 66% when the poll team asked the question a different way: 20% said they'd want to get vaccinated right away when vaccines become available, but 46% said they'd rather wait for others to get vaccinated first before doing it themselves."
Pfizer and BioNTech to Request Emergency Authorization From FDA for COVID vaccine. CNBC reported:
"If Pfizer's application is approved, the vaccine will likely be limited and rolled out in phases, with health-care workers, the elderly and people with underlying health conditions getting the first inoculations. Essential workers, teachers and people in homeless shelters and prisons would likely be next, followed by children and young adults.
"The FDA process is expected to take a few weeks, and an advisory committee meeting to review the vaccine has been tentatively scheduled for early December. Some Americans could get their first dose of the vaccine in about a month."
Doing the Touchy Math on Who Should Get a COVID Vaccine First. Scientific American reported:
"'But figuring out how to allocate vaccines — there are close to 50 in clinical trials on human — to the right groups at the right time is "a very complex problem,' says Eva Lee, director of the Center for Operations Research in Medicine and Health Care at the Georgia Institute of Technology. Lee has modeled dispensing strategies for vaccines and medical supplies for Zika, Ebola, and influenza, and is now working on COVID-19. The coronavirus is 'so infectious and so much more deadly than influenza,' she says. 'We have never been challenged like that by a virus.'"
When Will COVID-19 Vaccines Be Widely Available? Feds Lay out Ambitious Timeline. Fierce Pharma reported:
"High-priority populations such as healthcare workers and nursing home residents could obtain COVID-19 vaccines in December, Department of Health and Human Services Secretary Alex Azar said in a press conference. Anthony Fauci, M.D., director of the National Institute of Allergy and Infectious Diseases, predicted in a meeting with USA Today's editorial board that everyday Americans could be vaccinated as early as April."
COVID-19 Vaccines: No TIme for Complacency: The Lancet reported:
"Unfortunately, the trials' results were announced via press releases, leaving many scientific uncertainties that will dictate how the vaccines will affect the course of the pandemic. Little safety data are available. How well the vaccines work in older people or those with underlying conditions and their efficacy in preventing severe disease are still unclear. Peer-reviewed publication should resolve these issues, but other questions will not be answerable for some time. For one, the duration of protection is unknown and will have a huge bearing on the practicalities and logistics of immunisation (will boosters be needed? How often?)."
***
November 19, 2020
America's Doctors Say COVID-19 Vaccine Trials Must Start Including Kids — Now.  Huffington Post reported:
"'We eagerly anticipate seeing the safety and efficacy data in vaccine trials that are underway in adults, and urge pharmaceutical companies to rapidly expand their participant panels to include children and adolescents,'" Dr. Yvonne Maldonado, chair of the [American Academy of Pediatrics] Committee on Infectious Diseases, said in a press statement.
Once Approved, First COVID-19 Vaccine Doses Will Go Out in 24 Hours, Official Says. Spectrum News reported:
"'We will begin distribution of the vaccine within 24 hours after Emergency Use Authorization is approved,' Army Gen. Gustave Perna, who is leading Operation Warp Speed, said in a media briefing Wednesday. 'Then we will begin a weekly cadence of delivery of [the] vaccine.'"
As Vaccine Approvals Loom, U.S. Funds A Back-Up Plan For Delivery. NPR reported:
"As the nation gears up for a massive vaccination effort, the Trump administration is doubling down on a novel, unproven injection device by providing more than half a billion dollars in government financing for something that is still awaiting Food and Drug Administration approval."
Oxford-AstraZeneca COVID Vaccine Shows Robust Immune Response Among Older Adults. CNBC reported:
"The study of 560 healthy adults, including 240 over age 70, found the vaccine to be safe and produced a similar immune response among people age over 56 and those ages 18 to 55.
"Older people face a "significant risk" of developing severe illness on contracting COVID-19, the WHO has said, citing decreased immune function and potential underlying health conditions. People of all ages are at risk of contracting the virus, however."
Pfizer Declares Its Vaccine is 95% Effective. Bloomberg reported:
"Pfizer said a final analysis of its clinical-trial data showed its COVID-19 vaccine, developed with the help of the German government and Germany-based BioNTech, was 95% effective, which may pave the way for the company to obtain regulatory authorizations for its use. Scientists however are calling for the release of more data on the new medicine — which faces huge logistical hurdles when it comes to distribution — so it can be independently reviewed and analyzed. Rivals including Moderna, meanwhile, are close behind with their own drugs, which may be easier to ship. The Pfizer statement comes a week after the pharmaceutical giant said it had positive preliminary information on the potential vaccine. At the time, the company's stock soared, and Chief Executive Officer Albert Bourla made $5.6 million selling his shares."
Fauci Says the Average American Could Get Vaccinated Against COVID-19 as Soon as April: 'I Would Take the Vaccine.' USA Today reported:
"If most of the population is vaccinated by summer and fall, Fauci said, people can start looking forward to returning to pre-pandemic normalcy.
"'Then you can start talking about this umbrella or blanket of protection on society that would diminish dramatically the risk of a person being exposed or even being infected,' he said. 'When so many people are protected, that's when you get into the real herd immunity.'"
Trump Officials See Surge in Sign-Ups for Free CVS, Walgreens COVID Vaccine Program for Seniors. CNBC reported:
"The Trump administration said Wednesday that it is seeing 'tremendous uptake' of a program that will allow CVS Health and Walgreens to administer coronavirus vaccines to seniors in long-term care facilities.
"Health and Human Services Secretary Alex Azar said that 99% of skilled nursing facilities across the country have signed up for the program, which will give COVID-19 vaccines to seniors free of charge and will be available to residents in all long-term care settings, including skilled nursing facilities, assisted living facilities, residential care homes and adult family homes. He said 100% of facilities in 20 states are signed up."
Johnson & Johnson Expects Coronavirus Vaccine to Be Ready for Approval by February, Report Says. Fox News reported:
"Johnson & Johnson's lead scientist said the company expects to have all data needed to file for authorization for its single-shot coronavirus vaccine candidate by February, according to a report.
"Dr. Paul Stoffels, Johnson & Johnson's chief scientific officer, reportedly told Reuters that the company expects to have 60,000 people enrolled in a late-stage trial, dubbed ENSEMBLE, by year's end."
Inside Mexico's Quest for a Homemade Vaccine. CNN reported:
"These are the trial runs of a COVID-19 vaccine production line in Mexico City, to which CNN was recently given exclusive access. The ampoules we saw were only filled with water. But if all goes to plan, officials hope to be producing millions of vaccine doses this way by the end of 2021.
"For Mexico, the development of its own vaccine is not just a matter of public health. While the first vaccines will be produced much earlier by some of the world's richest countries, a nationally produced vaccine is Mexico's failsafe — its best bet to ensure that if vaccine supplies from other countries prove difficult to obtain, its roughly 130 million citizens will still be protected."
Nearly 1 Million Chinese People Have Received Drug Maker's COVID-19 Vaccines. Wall Street Journal reported:
"Chinese authorities have inoculated nearly one million Chinese people with a COVID-19 vaccine from Sinopharm, though the state company has yet to provide solid clinical evidence of efficacy."
COVID Vaccines Must Be 'a Global, Public Good,' WHO Says. CNBC reported:
"'In the last few days we have received good news with two particularly promising vaccines. However, this promise will never be realized unless we ensure that all countries have access to the vaccine market, that it is delivered equitably, that it is effectively deployed and that countries address pockets of vaccine hesitancy,' said Dr. Hans Kluge, WHO regional director for Europe."
***
November 18, 2020
Food Stamps, Rent Assistance May Be Withheld From Those Who Refuse COVID-19 Vaccinations. Sandra Rose reported:
"Americans who refuse to get mandated COVID-19 vaccinations may lose benefits such as food stamps (WIC) and rent assistance, according to a document from Johns Hopkins Bloomberg School of Public Health's Center for Health Security.
"According to the document, one of the top members of the "Working Group of Readying Populations for COVID-19 Vaccines" is Luciana Borio, MD, a prominent member of Joe Biden's COVID-19 taskforce."
Fauci Says 20 Million Americans Could Get Vaccinations Around the End of the Year. The Boston Globe reported:
"Dr. Anthony Fauci, the nation's top infectious disease expert, said Tuesday that as many as 20 million people could get coronavirus vaccinations around the end of the year.
He said by that time there could be as many as 25 million doses of vaccine available from Pfizer and 15 million doses available from Moderna. The vaccination takes two shots so that would mean 20 million people could get protection."
Pfizer's COVID-19 Vaccine Just Came a Little Closer to Emergency Approval. Vox reported:
"But there are concerns as well. Pfizer and BioNTech's latest announcement came, for the second time, in a press release instead of a peer-reviewed paper, although the companies revealed far more about the demographics of their clinical trial than in their first report. BNT162b2 also has some of the most stringent cold storage requirements, demanding temperatures of -70 degrees Celsius (-94 degrees Fahrenheit) or lower, which may make widespread distribution challenging. The vaccine is also administered in two doses spaced several weeks apart. That adds a huge logistical burden to rolling out the vaccine."
Israel Health Ministry May Recommend Mandatory Coronavirus Vaccine Law. The Jerusalem Post reported:
"The move is meant to overcome hesitations by parts of the public against vaccinating. Many Israelis may not want to take the vaccination when it is first released.
"The team has expressed concerns in the past about Israelis not being willing to vaccinate and has recommended a number of steps, including increasing public education on the matter."
Coronavirus Vaccine Shots Could Go to U.S. Health Workers in About a Month. CNBC reported:
"Health and Human Services Secretary Alex Azar told CNBC earlier this week that the FDA would move 'as quickly as possible' to clear both Pfizer and Moderna's vaccine. The FDA process is expected to take a few weeks, and an advisory committee meeting to review the vaccine has been tentatively scheduled for early December.
"'We will independently call those balls and strikes on the data and evidence, but we're going to do so as quickly as possible, consistent with just making sure the science, the evidence and the law support authorization,' Azar told CNBC's "Squawk Box" on Monday."
CureVac Deal Takes EU's COVID Vaccine Supplies Close to Two Billion. Reuters reported:
"The European Union has struck a deal for up 405 million doses of German biotech firm CureVac's 5CV.DE potential COVID-19 vaccine, the head of the EU executive said on Monday, taking total supplies secured by the bloc to nearly 2 billion doses.
"The deal with CureVac follows EU supply agreements with AstraZeneca AZN.L, Johnson & Johnson JNJ.N, Sanofi SASY.PA, and Pfizer PFE.N for a combined 1.4 billion doses of their potential vaccines."
***
November 17, 2020
Forced Vaccination Law in Denmark Abandoned After Public Protests.  Summit News reported:
"Last week we highlighted how both Ticketmaster and airline companies are considering barring people from entering venues and flying if they cannot prove they have taken the vaccine.
"So while public protests may be able to prevent authorities carrying out forced vaccinations, people who refuse to take the shot may find it virtually impossible to enjoy any kind of social life, use public transport, or even find employment."
How a COVID-19 Vaccine Could End Up Helping the Virus Spread. Bloomberg reported:
"It's also not yet clear how much protection the Pfizer-BioNTech vaccine and others would provide. The gold standard is to achieve sterilizing immunity, which is so strong that the virus can't get a grip in the body at all — meaning that vaccinated people are safe to others. The human papillomavirus vaccine provides sterilizing immunity, for example. But sterilizing immunity is hard to achieve with viruses such as SARS-CoV-2, which  enter through the respiratory system. The only sure way to know if the vaccine provides sterilizing immunity would be to check whether trial subjects who remain free of Covid-19 have been exposed to it, by tracing their contacts."
Pfizer to Start Pilot Delivery Program for Its COVID-19 Vaccine in Four States. Fox Business reported:
"'We are hopeful that results from this vaccine delivery pilot will serve as the model for other U.S. states and international governments, as they prepare to implement effective COVID-19 vaccine programs,' Pfizer said in a statement on Monday.
"It picked Rhode Island, Texas, New Mexico, and Tennessee for the program after taking into account their differences in overall size, diversity of populations, immunization infrastructure, and need to reach individuals in varied urban and rural settings."
Pfizer's COVID-19 Vaccine Distribution Will Be a 'Logistical Nightmare.' CBS News reported:
"Pfizer declined to offer specifics about the plan to distribute its vaccine. While the government is technically in charge of the overall vaccination effort, the company has opted to distribute its own vaccine. Pfizer has received $1.95 billion from the Operation Warp Speed to manufacture and distribute the first 100 million doses. The government will remain responsible for distributing syringes and other medical supplies needed for the vaccination effort."
Novavax Posts Coronavirus Vaccine Contract That Government Didn't Disclose. NPR reported:
"Notably, the Department of Health and Human Services told NPR in late August that it had "no records" of the Novavax contract in response to a public records request for it over the summer. The agency announced the deal July 7 to support development, manufacturing and the purchase of 100 million doses.
"Novavax released its federal contract in a quarterly financial filing with the Securities and Exchange Commission. HHS has yet to release this contract."
It's the 'Vaccine Hesitant,' Not Anti-Vaxxers, Who Are Troubling Public Health Experts. The Guardian reported:
"Only 7% would definitely refuse a COVID vaccine, according to a poll published last week by JL Partners. But around one in five are reluctant to some degree, with women more likely than men to believe it hasn't been tested thoroughly enough. It's these wobbling 'vaccine hesitants' who could most easily be swayed by something their friend puts on Facebook; who'd rather wait and see what happens when others have the jab."
Encouraging Data From COVID-19 Vaccines Won't Prevent a Dangerous Stretch of Rising Cases, Experts Warn. CNN reported:
"While the high efficacy rates coming out of the Moderna and the Pfizer/BioNTech vaccine trials are a good first step, a vaccine has yet to be approved and experts will also have to decide which groups should get vaccinated first.
An advisory committee to the U.S. Centers for Disease Control and Prevention is scheduled to meet next week to decided who will get the vaccine first, a longtime member of the committee said."
COVID: Chemicals Found in Everyday Products Could Hinder Vaccine. The Guardian reported:
"Small amounts of per- and polyfluoroalkyl (or PFAS) chemicals are commonly found in the bodies of people in the U.S., as well as several other countries. These man-made chemicals, used in everything from non-stick pans to waterproof clothes to pizza boxes, have been linked to an elevated risk of liver damage, decreased fertility and even cancer.
"But scientists warn some of these chemicals can also cause another little-known but potentially significant defect by reducing the effectiveness of certain administered vaccines. This impediment could cast a shadow over efforts to roll out a COVID-19 vaccine to enough people that restrictions on day-to-day life are eased."
What Does COVID-19 Vaccine Effectiveness Mean? Associated Press News reported:
"For both vaccines, the interim results were based on people who had COVID-19 symptoms that prompted a virus test. That means we don't know yet whether someone who's vaccinated might still get infected — even if they show no symptoms — and spread the virus.
"Also unknown is whether the shots will give lasting protection, or whether boosters will be required."
Could mRNA COVID-19 Vaccines Be Dangerous in the Long-Term? The Jerusalem Post reported:
"An article published by the National Center for Biotechnology Information, a division of the National Institutes of Health, said other risks include the bio-distribution and persistence of the induced immunogen expression; possible development of auto-reactive antibodies; and toxic effects of any non-native nucleotides and delivery system components."
***
November 13, 2020
States Ramping Up for Biggest Vaccination Effort in U.S. History. Associated Press reported:
"The push could begin as early as next month, when federal officials say the first vaccine may be authorized for emergency use and immediately deployed to high-risk groups, such as health care workers.
"'The calvary is coming,' Dr. Anthony Fauci said Thursday on ABC's 'Good Morning America." He said he hopes shots will be available to all Americans in April, May and June."
Bill And Melinda Gates Are Giving Another $70 Million For Covid Vaccines. Forbes reported:
"Of the newly promised $70 million, $50 million will go to the Covax Advance Market Committee of Gavi, the Vaccine Alliance; the committee is a financing mechanism through which Gavi works to secure equitable access to COVID-19 vaccines for 92 low- and middle-income countries. The donation will unlock an additional $16 million from the U.K. government, part of a commitment the country made to match some donations to the committee."
HHS announces COVID-19 vaccine agreement with drug stores. Modern Healthcare reported:
"The goal eventually is to make getting a COVID-19 vaccine like getting a flu shot.
"Thursday's agreement with major chain drug stores, grocery market pharmacies and other chains and networks covers about 3 in 5 pharmacies in all 50 states and U.S. territories such as Puerto Rico. It looks ahead to a time next spring when yet-to-be-approved vaccines will start to become available beyond priority groups such as health care workers and nursing home residents."
Infected Again or Endless COVID? How the 'Reinfection Phenomenon' Could Impact Vaccines, Herd Immunity and Human Behavior. USA Today reported:
"No one knows how long the immune system can keep someone safe from COVID-19 after infection.
"Some diseases like measles are one and done. Once infected or vaccinated and the immune system typically provides protection forever. With other viruses, like the common cold — some of which are closely related to the coronavirus that causes COVID-19 — protection might not last a year, or even a season."
How Pfizer Plans to Distribute Its Vaccine (It's Complicated): Success will hinge on an untested network of governments, companies and health workers. New York Times reported:
"'We have a lot of confusion at the state and the local health departments level, and a lot of concern about the nitty-gritty of deployment,' said Dr. Saad B. Omer, the director of the Yale Institute for Global Health. 'Which places, where to vaccinate, how to get the vaccine there, how to identify people in various risk groups, how to document, how to call back people for the second dose.'"
***
November 12, 2020
Boris Johnson to Meet Bill Gates to Plan National Vaccine Rollout With Pharma Giants. The Sun reported:
"A spokesperson for Downing Street said Mr. Gates, Mr. Johnson and bosses from pharmaceutical giants would discuss the [Prime Minister's] 'five point plan to stop future pandemics.'
"The plan was developed with the help of the Bill and Melinda Gates Foundation and the Trust, and aims to build a massive network of 'zoonotic hubs' to identify potentially dangerous viruses before they leap from animals to humans."
Biden Coronavirus Task Force Doctor Says 4 to 6 Week Lockdown Could Control the Pandemic. Yahoo Finance reported:
"As the U.S. continues to set new daily record highs of coronavirus cases, at least one doctor on President-elect Joe Biden's coronavirus task force is floating the idea of shutting down businesses in a lockdown that could last four to six weeks to control the spread of the pandemic."
China Is Inoculating Thousands With Unapproved COVID-19 Vaccines. Why? NPR reported:
"One early November morning, a Peking duck cook, several construction workers and a software engineer patiently lined up outside a Beijing vaccine facility, awaiting their turn to be injected with a coronavirus vaccine still awaiting regulatory approval."
Why COVID-19 Vaccine Policies Could Be Deadly for Older People, and the Age Discrimination Has Already Started. Marketwatch reported:
"'When I read about the proposed 'Fair Priority Model' for allocating COVID-19 vaccines in Science magazine recently — from University of Pennsylvania medical ethicist Ezekiel Emanuel and 18 others — I realized that ageist policies might just kill older people like me.'"
Live Music Stocks Soar on COVID-19 Vaccine Breakthrough. Billboard reported:
"Companies related to live entertainment, travel and tourism have been especially battered in 2020. News of the vaccine has helped push these companies' share prices multiples above their pandemic low marks: Live Nation now trades 212.4% above its 2020 low of $21.70; American Airlines share price is 55.4% above its 2020; and Hilton Worldwide is 132.4% above its pandemic low after a 11.1% bump on Monday morning."
Fauci: Coronavirus Won't Be a Pandemic For 'a Lot Longer' Thanks to Vaccines. The Hill reported:
"Anthony Fauci said Thursday the global coronavirus outbreak will not be a pandemic for 'a lot longer' because of the development of vaccines, striking a hopeful note even as the situation worsens in the short term.
"'Certainly it's not going to be pandemic for a lot longer because I believe the vaccines are going to turn that around,' Fauci said at an event hosted by the think tank Chatham House."
Brazil Health Regulator Allows Resumption of China COVID Vaccine Trials. The Guardian reported:
"Brazil's health regulator has allowed resumption of late-stage clinical trials for China's Sinovac COVID-19 vaccine, which had been suspended due to a study subject's death that was registered in Sao Paulo as a suicide."
Moderna Hits COVID-19 Case Goal for Vaccine Candidate, Results Imminent. Boston Herald reported:
"The surge in coronavirus cases across Moderna vaccine trial sites in the U.S. will now allow the Cambridge-based company to complete the analysis of its mRNA vaccine candidate.
Coronavirus Vaccine: Eu Seals Deal With Biontech, Pfizer to Secure Doses. EIN News reported:
"The European Commission approved a contract with German pharmaceutical firm BioNTech and their U.S. partner Pfizer on Wednesday, guaranteeing that the bloc will receive millions of doses of their experimental coronavirus vaccine.
"After locking down the details of the deal on Tuesday, Commission President Ursula von der Leyen said the bloc hopes to 'deploy it quickly, everywhere in Europe.'"
Who Will Make Coronavirus Vaccines for the Developing World? India Holds the Key. Washington Post reported:
"Wealthy countries have already grabbed a major chunk of the available supply. The U.S., the U.K., Japan and Canada have struck deals large enough to vaccinate their entire populations. By contrast, a pooled global effort to distribute vaccines equitably to more than 150 countries — including dozens of low-income nations — has secured only 700 million doses."
CDC Thanksgiving Recommendations: Eat Outdoors, Limit Guests, Don't Sing. CBS Boston reported:
The Centers for Disease Control and Prevention (CDC) points out celebrating virtually or keeping the meal to just members of your own household poses the lowest risk for spreading COVID-19.
***
November 11, 2020
Pfizer's CEO Sold $5.6 Million in Stock on Same Day of Vaccine News. Axios reported:
"Pfizer CEO Albert Bourla sold $5.6 million worth of stock on Monday — the same day it said its and BioNTech's coronavirus vaccine showed 90% effectiveness in preliminary results, which saw the company's stock soaring almost 8%.
"The stock sale is perfectly legal through a predetermined plan called Rule 10b5-1, but the optics aren't great. A Pfizer spokesperson did not add any new information in a statement [to Axios], saying the sale was part of a predetermined plan created in August."
How COVID-19 Vaccine Can Destroy Your Immune System. Mercola.com reported:
"According to a study that examined how informed consent is given to COVID-19 vaccine trial participants, disclosure forms fail to inform volunteers that the vaccine might make them susceptible to more severe disease if they're exposed to the virus."
Eli Lilly Wins FDA's Emergency Nod for COVID-19 Antibody — But, Thanks to Mixed Data, It's Limited. Fierce Pharma reported:
"The FDA authorized Eli Lilly's bamlanivimab for emergency use on Monday, making it the first antibody therapy to win that distinction. Dubbed LY-CoV555, it's an anti-SARS-CoV-2 antibody therapy the Indianapolis pharma is co-developing with AbCellera.
"The OK comes with some caveats: It's limited to patients 12 years and older who aren't hospitalized but who are at high risk of developing severe illness, including elderly people and those with certain underlying conditions. And Lilly is advising infusion within 10 days of symptom onset."
FDA requires Lilly to hire consultants to monitor quality control problems at plant making Covid-19 drug. Stat reported:
"The Food and Drug Administration is requiring Eli Lilly (LLY) to hire consultants to test batches and vet quality-testing data at a manufacturing plant where its COVID-19 antibody treatment is being made, a mandate that comes after the agency found quality control problems during two separate inspections over the past year."
Pfizer, BioNTech Set for Billions in Yearly Sales as Fast COVID-19 Vaccine Launch Looms: Analysts. Fierce Pharma reported:
"Pfizer's early COVID-19 vaccine data have spurred intense hope about quashing the pandemic and lifted expectations for other vaccine programs in the works. And for the drug giant specifically, some analysts are predicting billions in sales for the shot for years to come.
"In a note to clients Tuesday, SVB Leerink analyst Geoffrey Porges said the results should 'boost confidence of the general public in COVID vaccines, which should drive up the early adoption rate.' The analysts see Pfizer's vaccine snagging all of the early share of the market and generating $258 million in the fourth quarter of 2020."
What Medical Experts Think About Pfizer's New COVID-19 Vaccine. Huffington Post reported:
"Health experts agree these preliminary results are promising and exciting, but we still don't have the full picture. We need much more data to understand which participants got sick and how severe their illness was. Researchers will also need to track the study participants in the months ahead to determine how the vaccine holds up over time."
***
November 10, 2020
China Vaccine Trial Halted in Brazil After Serious Adverse Event. Bloomberg reported:
"The final-stage trial of a Chinese frontrunner vaccine candidate has been halted in Brazil due to a serious adverse event, the first time that any of the Asian nation's rapidly developed COVID-19 shots have met with such a setback.
"Testing of Sinovac Biotech Ltd.'s vaccine, called Coronavac, has been halted in Brazil after an event that occurred on Oct. 29, said the Brazil Health Agency on Tuesday, without giving any further detail on what happened. The study is interrupted in accordance with regulations while the agency analyzes if the study should continue, it said."
Pfizer Says Trials Show COVID Vaccine Is 90% Effective, But Questions Remain on Safety of Novel Technology. Children's Health Defense reported:
"Pfizer CEO Albert Bourla told CNN the vaccine is 'the greatest medical advance' in the world's last hundred years. He told ABC News that the drugmaker 'feels very good about the safety.'
"But the New York Times cautioned that Pfizer's data — delivered in a news release, not a peer-reviewed medical journal — 'is not conclusive evidence that the vaccine is safe and effective, and the initial finding of more than 90 percent efficacy could change as the trial goes on.'"
HHS Secretary: Coronavirus 'General Vaccination' Programs by Spring. NBC News reported:
"Secretary of Health and Human Services Alex Azar predicted Tuesday that there would be enough COVID-19 vaccine for general public vaccination campaigns by spring 2021."
U.S. Banks in Line for Windfall After COVID-19 Vaccine Progress. Financial Times reported:
"Stephen Scherr, Goldman Sachs' chief financial officer, told a conference on Monday that the vaccine news 'will be good for banks' by giving rise to 'reflationary outcomes' and 'more slope to the yield curve.'"
Oxford-Astrazeneca COVID-19 Vaccine Production Begins in Australia. Times Now News reported:
"Thirty million doses of the vaccine will enter manufacturing in Victoria on Monday, according to Sydney's 2GB radio.
"'[The vaccine] is going to be voluntary but we will encourage as many people as possible,' Health Minister Greg Hunt told 2GB on Monday. 'We are confident that we will have a very high take-up amongst the Australian population,'" he added."
Pfizer CEO Says He Would Take Coronavirus Vaccine First to Ease Public Concern. CNBC reported:
"Pfizer CEO Albert Bourla said Monday that he would like to be among the first to take a coronavirus vaccine to ease public concerns about vaccine safety.
"But there are ethical considerations for that, Bourla said during an interview on CNBC's 'Squawk Box.' 'If we have a limited number of doses, I'm not sure if people would recommend people of my age … or work capacity to be among the first to get a vaccine. So, I want to respect that.'"
Could a COVID Vaccine Bring Back Normality? The Guardian reported:
"England is back in lockdown. It happened not a moment too soon. As of 2 November almost three-quarters of a million new cases have been officially counted since 21 September, when the government's scientific advisory committee Sage advised lockdown. On that day, Britain had only had about 360,000 cases since COVID-19 arrived. Now the figure is three times that. So many more cases mean it will take longer, and possibly require tougher social restrictions, to get numbers down by imposing lockdown than it would have in September, says James Naismith, head of the Rosalind Franklin Institute in Oxford."
Pfizer Vaccine's Funding Came From Berlin, Not Washington. Bloomberg reported:
"BioNTech is credited for contributing the messenger RNA technology, which prompts the body to make a key protein from the virus, creating an immune response. The biotechnology company already had a history of working with Pfizer on influenza vaccines, and in March they clinched a deal to co-develop a shot to prevent against COVID-19 at research sites both in the U.S. and Germany. The two companies began human testing of the vaccine in April, before the existence of Operation Warp Speed was revealed publicly."
* * *
November 6, 2020
CDC Report: Officials Knew Coronavirus Test Was Flawed But Released It Anyway. NPR reported:
"One HHS official told NPR this shouldn't have been a tough call. 'The QC records showed that the test had a problem,' the official said. 'Lindstrom signed off on a quality control that was clearly flawed. He should not have released that kit.'"
CDC Seeks to Create a Centralized Reporting System for COVID-19 Test Results. Becker's Hospital Review reported:
"CDC would like to partner with one or more organizations that have the infrastructure, capability, scalability, and safeguards to enable centralized public health laboratory data reporting from testing entities to state and large local health departments, with a focus on multi-state, large regional, and state-wide reporting entities."
First COVID-19 Vaccine Doses to Go to Health Workers, Say CDC Advisers. NPR reported:
"Healthcare workers will almost certainly get the first doses of COVID-19 vaccine in the U.S. when one is approved, according to Dr. José Romero, head of the committee that develops evidence-based immunization guidelines for the Centers for Disease Control and Prevention."
* * * 
November 5, 2020
Cincinnati Children's Seeks Volunteers for COVID-19 Vaccine Trial. Local 12 reported:
"Cincinnati Children's is seeking volunteers for its AstraZeneca COVID-19 vaccine trial.
"The center is specifically reaching out to people who are black and Hispanic as well as seniors and first responders."
Gilead Won Valuable FDA Voucher With Its Veklury Approval, but Patient Advocates Are Urging Company to Give It Up. Fierce Pharma reported:
"Public Citizen's [Peter] Maybarduk called on Gilead to 'relinquish' the voucher, arguing that taxpayers have contributed more than $70 million toward Veklury's development. Plus, Gilead is already benefiting from Veklury sales, he argued. In the third quarter, the drug raked in $873 million, and analysts figure the medicine is on track to post another $650 million to $950 million during the fourth quarter."
COVID-19 Vaccine Rollout to Feature App Tracking, Monitoring of Vulnerable Groups. The Wall Street Journal reported:
"Government health officials and drugmakers plan to roll out extra tools to detect whether COVID-19 vaccines cause any serious side effects once the shots are cleared for widespread use, aiming to fill gaps in existing safeguards given the expected speed and scope of the rollout."
Pfizer Sidelines U.S. Government in COVID-19 Vaccine Distribution Strategy. Fierce Pharma reported:
"Pfizer is under pressure from all sides to make its COVID vaccine rollout a success. With interim data from a phase 3 trial yet to come, the company already has a $1.95 billion deal with the U.S. government to supply up to 100 million doses of its candidate vaccine, BNT162b2. Pfizer has vowed to distribute 40 million of those doses before the end of the year."
Brazil Allows Johnson & Johnson to Resume Trial of COVID-19 Vaccine. Reuters reported: 
"Brazilian health regulator Anvisa has authorized resumption of a clinical trial of Johnson & Johnson's experimental COVID-19 vaccine, according to a statement from the government agency on Tuesday.
"The J&J vaccine is one of four being tested in Brazil, which has the world's third worst outbreak behind the United States and India, and the second-highest COVID-19 death toll."
The FDA's Cutoff for COVID-19 Vaccine Effectiveness is 50 percent. What does that mean? NBC News reported:
"Over the summer, the Food and Drug Administration announced that in order for an experimental COVID-19 vaccine to get the green light, it would need to be safe and 'prevent disease or decrease its severity in at least 50 percent of people who are vaccinated.'"
Challenges in Creating Herd Immunity to Sars-cov-2 Infection by Mass Vaccination. The Lancet reported:
"Vaccines to protect against severe acute respiratory syndrome coronavirus 2 (SARS-CoV-2) have risen up the agenda of most policy makers and individuals as the second wave of COVID-19 in northern hemisphere countries grows and there is increasing pressure on health-care systems."
AstraZeneca Expects COVID-19 Vaccine Trial Results This Year. The Wall Street Journal reported:
"AstraZeneca PLC said late-stage trials for the COVID-19 vaccine it is developing with the University of Oxford are on track to produce results "later this year," with a potential rollout soon after, subject to regulatory approval."
England Puts Doctors on Alert for Covid Vaccine Before Christmas. Bloomberg reported:
"Simon Stevens, chief executive of the National Health Service in England, told the BBC on Wednesday that with more than 200 COVID-19 vaccines in development, one will "hopefully" be available in the first part of next year, but doctors will be "gearing up" in case it is ready sooner.
"The U.K.'s drug regulator has started accelerated reviews of vaccines under development by Pfizer Inc. and AstraZeneca Plc, as Britain gets ready to approve the first successful shot as quickly as possible."
***
November 3, 2020
3 Maine Students Given Flu Shots at School Without Parental Consent. USA Today reported:
"Three students received flu shots at school, even though their parents had not consented to the vaccinations, a spokesperson for the healthcare organization that administered the shots confirmed."
FDA Whitewashes Warnings About Coronavirus Vaccine Trials. Project on Government Oversight reported:
"During the meeting, members of the committee explained several reasons to worry about the clinical trials now underway to test potential coronavirus vaccines and how the FDA review process could unfold.
"Some of the concerns related to the potential for the FDA to issue emergency use authorizations for experimental vaccines. Such orders would allow distribution of vaccines before they qualify for formal approval."
Cuomo Questions CDC Plan to Require ID for COVID-19 Vaccination. The Buffalo News Reported:
"The governor said the agency would require states to provide to the CDC personal information about each person who gets vaccinated — including an ID number."
The FDA's Cutoff for COVID-19 Vaccine Effectiveness is 50 percent. What Does That Mean? NBC News reported:
"Based on the effectiveness threshold the FDA has set for a COVID-19 vaccine to be approved or granted emergency use authorization, it's possible a vaccine becomes available that helps only half of people receiving it, while offering no benefit to the other half. It's also possible that a vaccine could have different effects in different people — helping to prevent disease in some people while reducing the severity of COVID-19 in others."
COVID-19 Vaccine Mandates at Work Promise Employer Headaches. Bloomberg reported:
"Employers that want their workers to take a COVID-19 vaccine once it's available would be better off encouraging and facilitating its use, rather than requiring it as a condition of employment, according to legal and public health observers."
Drug Company Insiders Are Profiting Handsomely from the World's Desperate Hope for a COVID-19 vaccine. The Boston Globe reported:
"'These drug companies have a great scheme going,' said Eli Zupnick, a spokesman for Accountable.US, a progressive group in Washington, D.C., that says it is committed to exposing corruption. 'Taxpayers cover the upfront investment costs and shoulder any downside, while their executives and shareholders can capture the upside if their drugs pan out and are shoveling obscene amounts of money into their pockets throughout the process.'"
In Boost to CVS and Walgreens, U.S. Expands COVID-19 Vaccination Powers to Pharmacy Techs. Forbes reported:
"Pharmacy technicians will join their pharmacist colleagues in the effort to quickly immunize Americans against the Coronavirus once a vaccine against COVID-19 is approved by the U.S. government, perhaps by the end of the year."
Protests in Brazil Support President in Anti-Vaccine Stance. The Star-Tribune reported:
"PoderData poll said this week the percentage of Brazilians who say they would take a coronavirus vaccine dropped to 63% in October from 85% four months earlier. The percentage rejecting the idea of taking a vaccine rose to 22% from 8% in July."
Scientists Warn Americans Are Expecting Too Much From a Vaccine. Connecticut Mirror reported:
"The White House and many Americans have pinned their hopes for defeating the COVID-19 pandemic on a vaccine being developed at "warp speed." But some scientific experts warn they're all expecting too much, too soon."
Britain Starts Accelerated Review for AstraZeneca's Potential COVID-19 Vaccine. Reuters reported:
"AstraZeneca and Pfizer are among the frontrunners in the race to develop a vaccine for the coronavirus, with the race also including Johnson & Johnson and Moderna Inc. Their vaccine candidates are in late-stage trials, interim data from which are expected in the coming weeks."
Government Minister Admits Vaccine That Crushes COVID 'May Never Materialize.' DevonLive reported:
"Business Secretary Alok Sharma promised a 'steady but significant' deployment of rapid coronavirus tests as he acknowledged a vaccine which can eradicate COVID-19 'may never materialize.'"
***
October 30, 2020
Professors Demand Transparency in COVID-19 Vaccine Trials. Yale Daily News reported:
"Five Yale law, medicine and public health professors, along with a national team of scientists, signed an open letter last week addressed to U.S. Secretary of Health and Human Services Alex Azar LAW '91 calling for greater transparency in COVID-19 vaccine clinical trials."
Black Americans Are the Most Hesitant to Get a COVID Vaccine. USA Today reported:
"Black Americans distrust the government so much they're not participating in large numbers in COVID-19 clinical trials, and many say they won't get a COVID-19 vaccine — at least not until many others get it.
States Say They Lack Federal Funds to Distribute Coronavirus Vaccine as CDC Tells Them to Be Ready by Nov. 15. The Washington Post reported:
"State health officials are expressing frustration about a lack of federal financial support as they face orders to prepare to receive and distribute the first doses of a coronavirus vaccine by Nov. 15, even though one is not likely to be approved until later this year. The officials say they don't have enough money to pay for the enormous and complicated undertaking."
Already, Pharmaceutical Companies' Predictions About COVID-19 Vaccines Haven't Come True. CNN reported:
"Dr. Paul Offit, a member of the U.S. Food and Drug Administration vaccine advisory committee, said pharmaceutical companies would be wise to stop making forecasts about their timelines.
"'Companies should stop making predictions, because nature is very humbling,' Offit said."
No-fault Compensation for Vaccine Injury — the Other Side of Equitable Access to COVID-19 Vaccines. The New England Journal of Medicine reported:
"Wealthy governments that have invested in vaccine candidates have made bilateral agreements with developers that could result in vaccine doses being reserved for the highest-income countries — a phenomenon known as 'vaccine nationalism' — potentially leaving people in poor countries vulnerable to COVID-19.
COVID-19 Vaccine Won't Be Available Until January, Fauci Says. Bloomberg reported:
"President Donald Trump, pharmaceutical industry leaders and some public-health officials had said previously that an immunization to prevent COVID-19 could be available before the Nov. 3 election. That date has been consistently pushed back, however, as clinical studies — which are running at unprecedented speed — started to hit a few hurdles.
Federal Government Says it Will Pay for Any Future Coronavirus Vaccine for All Americans. CNN reported: 
"The Centers for Medicare and Medicaid Services said it will pay for any COVID-19 vaccine that is authorized or approved by the U.S. Food and Drug Administration to allow for "broad vaccine access and coverage for all Americans.
"The agency also announced it will help cover a larger portion of the cost of new COVID-19 treatments that may be coming down the pipeline for Medicare recipients."
Meet the Youngest Participants in COVID-19 Vaccine Trials: Teens and Tweens. NBC reported:
"Earlier this month, Pfizer became the first pharmaceutical company in the United States to receive approval from the Food and Drug Administration to test its vaccine on children as young as 12."
Go to Original – childrenshealthdefense.org
Tags:
Airborne contagion
,
COVID-19
,
China
,
Community
,
Compassion
,
Coronavirus
,
Cuba
,
Economy
,
Empathy
,
Environment
,
Health
,
Lockdown
,
Orthomolecular Medicine
,
PCR Tests
,
Pandemic
,
Public Health
,
Research
,
Science
,
Science and Medicine
,
Swiss Policy Research
,
United Nations
,
WHO
DISCLAIMER: The statements, views and opinions expressed in pieces republished here are solely those of the authors and do not necessarily represent those of TMS. In accordance with title 17 U.S.C. section 107, this material is distributed without profit to those who have expressed a prior interest in receiving the included information for research and educational purposes. TMS has no affiliation whatsoever with the originator of this article nor is TMS endorsed or sponsored by the originator. "GO TO ORIGINAL" links are provided as a convenience to our readers and allow for verification of authenticity. However, as originating pages are often updated by their originating host sites, the versions posted may not match the versions our readers view when clicking the "GO TO ORIGINAL" links. This site contains copyrighted material the use of which has not always been specifically authorized by the copyright owner. We are making such material available in our efforts to advance understanding of environmental, political, human rights, economic, democracy, scientific, and social justice issues, etc. We believe this constitutes a 'fair use' of any such copyrighted material as provided for in section 107 of the US Copyright Law. In accordance with Title 17 U.S.C. Section 107, the material on this site is distributed without profit to those who have expressed a prior interest in receiving the included information for research and educational purposes. For more information go to: http://www.law.cornell.edu/uscode/17/107.shtml. If you wish to use copyrighted material from this site for purposes of your own that go beyond 'fair use', you must obtain permission from the copyright owner.
One Response to "2 Companies Say Their Vaccines Are 95% Effective. What Does That Mean? + More"