The UN Institute for Disarmament Research-UNIDIR Is 40 Years Old
TRANSCEND MEMBERS, 9 Nov 2020
Robin Edward Poulton, Ph.D. – TRANSCEND Media Service
Happy Birthday UNIDIR!
Yes, it is 40 years since French President Valéry Giscard d'Estaing created UNIDIR, United Nations Institute for Disarmament Research.
Giscard created the Institute inside the Palais de Nations in Geneva, because he did not want all the UN's disarmament work to be focused in New York where the Secretary General lives. The French president was standing up for French values: and quite right too!
I was a Senior Fellow of UNIDIR for 23 years, and as a forum to work for peace, I found UNIDIR to be a very congenial Geneva environment with positive ideas and friendly colleagues. Together with TRANSCEND, UNIDIR in Geneva is one of my favorite peace organisations.
Disarmament does not just happen!  It requires a great deal of hard work and patience as you persuade armed rebels or armed governments to give up their arms, to immobilize them or even destroy them.
During the 1990s, I became a Research Fellow (and later a Senior Fellow) of UNIDIR working for micro-disarmament in West Africa and publishing books about how it is done. One of the main foci of my work was educating, mobilizing and promoting West African civil society in support of the ECOWAS Moratorium on the Illegal Trafficking of Small Arms and Light Weapons (SALW). This was passed in 1998, and it later became a legally binding ECOWAS Convention. Then in 2011, NATO destroyed Libya and created a civil war. Millions of SALW flowed out of Libya and across the Sahara, rendering our earlier micro-disarmament work irrelevant. These days in North Mali, people say that the AK-47 is a woman's weapon. Men carry a rocket launcher, at least.
UNIDIR studies many different types of disarmament and offers new solutions. Nuclear, chemical and biological weapons are well-known weapons of mass-destruction regulated by international conventions; micro-disarmament concerns the small arms and light weapons that kill thousands of people every year, and which need a different type of regulation in each country; recently UNIDIR has been focused on new emerging issues like the Arms Trade, Swarm Robotic weapons, Ammunition, Cyber-Space and Weapons in Outer Space.
The whole range of UNIDIR's work makes fascinating reading, and in the 40th Anniversary Report you can discover the evolution of our research work over the decades. See:
One of my micro-disarmament successes, in which UNIDIR was also involved, was a European Union project EU-ASAC, disarming the Khmer Rouge after thirty years of war in Cambodia. One day I might write the whole book, but meanwhile I have written a short story:
Peace is Possible: Exchanging Weapons for Development and how we disarmed the Khmer Rouge with wit, bluff and balloons
This amazing short story is fun to read. Robin Poulton takes you into rural pagodas along the Ho Chi Minh Trail, along tracks threaded between fields of landmines and rice paddies. Here you can read peace journalism at its best, and peace anthropology at its most creative: an uplifting and amusing story proving that even after a civil war, Peace is Possible.  On amazon.com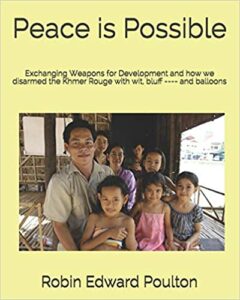 _____________________________________________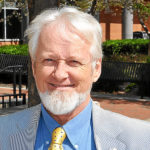 Robin Edward Poulton, Ph.D. is a member of the TRANSCEND Network for Peace, Development and Environment and an independent researcher associated with UNIDIR-UN Institute for Disarmament Research and with the education association Virginia Friends of Mali. Poulton is the founder of the EPES Mandala Peace Consultancy. He is a sometime faculty member of the European Peace University (Austria), an Affiliate Research Professor at Virginia Commonwealth University, and a consultant advisor on Africa to governments, the U.N. and the European Union. Poulton is a specialist in terrorism, disarmament, conflict transformation and peace building having 25 years of field experience with UNDP, EU, USAID and NGOs. He is the author of several books in French and English on development and disarmament. He received his Ph.D. from the Ecole des Hautes Etudes en Sciences Sociales in Paris, France. repoulton@epesmandala.com
Tags:
United Nations
This article originally appeared on Transcend Media Service (TMS) on 9 Nov 2020.
Anticopyright: Editorials and articles originated on TMS may be freely reprinted, disseminated, translated and used as background material, provided an acknowledgement and link to the source, TMS: The UN Institute for Disarmament Research-UNIDIR Is 40 Years Old, is included. Thank you.
If you enjoyed this article, please donate to TMS to join the growing list of TMS Supporters.


This work is licensed under a CC BY-NC 4.0 License.