(Italiano) Sfide per Joe Biden e Kamala Harris
ORIGINAL LANGUAGES, 1 Feb 2021
John Scales Avery | Centro Studi Sereno Regis – TRANSCEND Media Service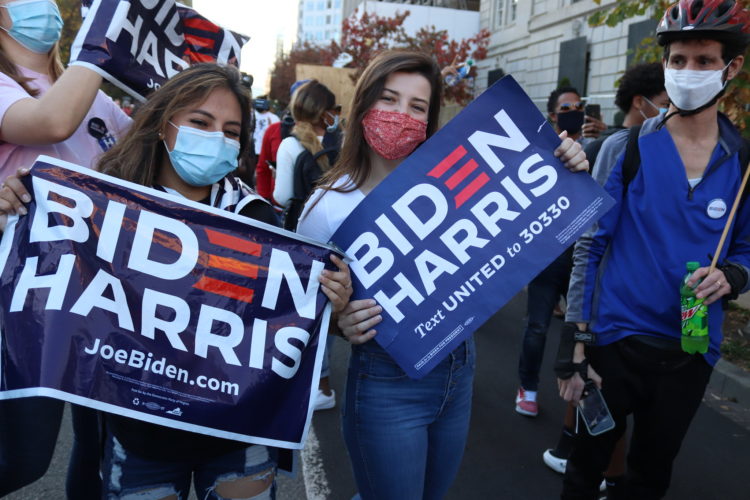 27 Gennaio 2021 – Sfide per Joe Biden e Kamala Harris, dopo che il mondo e gli USA si sono, finalmente liberati di Donald Trump
La maggioranza degli americani, e la vasta maggioranza della gente d'altri paesi di tutto il mondo, han tirato un sospiro di sollievo quando Joe Biden ha vinto l'elezione presidenziale USA 2020. Si sono levate speranza per il futuro, allorché il mondo sembrava essersi infine liberato di Trump!
C'è tanto di sbagliato con Donald Trump che non si sa quasi dove cominciare. È un bullo, smargiasso, narcisista, razzista, misogino, bugiardo abituale, ed evasore fiscale, oltre a essere dimostrabilmente ignorante. Ha disprezzo per il diritto nazionale come internazionale, nonché per la Costituzione USA. Come dice Michael Moore, è un «clown part-time e sociopatico a tempo pieno». Comunque sia, è la negazione di Trump del cambiamento climatico, il ritiro dall'accordo di Parigi e il suo sponsorizzare i combustibili fossili ad aver costituito la peggior minaccia al futuro della società umana e della biosfera.
Perché il prof. Noam Chomsky ha chiamato il partito Repubblicano USA «L'organizzazione più pericolosa nella storia del mondo»? Nell'elezione primaria precedente all'elezione presidenziale del 2016, ogni singolo candidato Repubblicano con una chance di nomina era un negazionista climatico. Tutti ricevettero generosi assegni dai giganti dei combustibili fossili. Una volta eletto, Donald Trump non solo ritirò gli Stati Uniti dall'accordo di Parigi, ma sabotò anche l'Agenzia di Protezione Ambientale [USA] a tal punto che i dati fattuali diligentemente raccolti sul cambiamento climatico che l'agenzia aveva accumulato dovettero essere salvati segretamente dagli scienziati per evitarne la distruzione da parte dell'amministrazione Trump. Per di più, Donald Trump non solo sovvenzionò i giganti del carbone, ma sabotò pure le iniziative di energia rinnovabile negli USA – crimine grave; contro l'umanità e contro la biosfera.
Altri crimini commessi da Donald Trump comprendono l'aver deliberatamene ignorato i pericoli del Covid-19, di cui era ben conscio, a beneficio dei profitti megaziendali. Almeno centomila americani sono morti evitabilmente per la sua deliberata soppressione dei dati fattuali: una strage collettiva di scala enorme.
Né si deve dimenticare la terribile crudeltà della separazione dei bambini dalle proprie famiglie al confine [sud] USA.
Durante il suo mandato, Trump ha mentito mediamente 15 volte al giorno, secondo la verifica specifica della Washington Post, coltivando così fra i suoi seguaci una cultura di nessun rispetto per la verità. Essi vivono in un mondo illusorio, credendo a qualunque cosa gli venga detto dai loro capi – comprese strane teorie propagate da QAnon fra cui che Trump abbia effettivamente vinto con gran margine l'elezione 2020.
Donald Trump è colpevole di evasione fiscale, abuso di fondi federali per guadagno personale. Ha violato la Costituzione USA, nonché il diritto internazionale. Ha incoraggiato il segretario di stato della Georgia Brad Raffensperger a commettere frode in una famosa conversazione telefonica registrata. E infine, il 6 gennaio 2021, Trump ha incitato una folla tumultuosa di suoi sostenitori a invadere la sede parlamentare della sua nazione in un'insurrezione e tentato color di stato tendente a rovesciare i chiari risultati dell'elezione presidenziale 2020. Che quella folla abbia avuto facile accesso al campidoglio pone questioni sulla complicità della polizia, dato che le intenzioni dei terroristi interni erano ben note in anticipo sugli avvenimenti.
Una Camera dei Rappresentanti indignata ha deciso l'impeachment di Trump per la seconda volta, conferendogli l'attestato di unico presidente della storia USA a esserlo due volte. Dieci Repubblicani hanno rotto i ranghi firmando il documento che accusa Trump d'incitamento a insurrezione. Resta a vedersi che cosa farà il Senato, ma se i 17 membri necessari alla mozione non l'approvano, nondimeno a Trump si può impedire un mandato futuro ai sensi del 14° emendamento [costituzionale], che richiede una maggioranza semplice nelle due Camere.
Si spera che le autorità competenti perseguano questo maluomo per i suoi molti gravi reati.
Congratulazioni per qualche buona decisione
A Joe Biden si devono congratulazioni per qualche buona decisione. Fra queste, la scelta di Kamala Harris come sua candidata in seconda. Per la sua età, c'è il rischio che Joe Biden possa morire nel corso del mandato. Speriamo ovviamente che ciò non avvenga, ma se così fosse, Kamala Harris sarebbe la prima donna a diventare Presidente degli Stati Uniti, per la qual funzione è ben attrezzata. Altre buone decisioni per cui a Joe Biden si devono congratulazioni riguardano la sua scelta di forti gruppi d'intervento sulla pandemia da Covid-19 e la crisi climatica.
"Di ritorno al normale" non basta
Dopo le lodi dobbiamo anche notare le sue cattive decisioni. Molte fra le persone scelte per il suo gabinetto o per altre alte funzioni hanno ricevuto gran somme di denaro da megaziende. Molti hanno sostenuto guerra e tortura. Gran parte delle scelte di gabinetto di Biden hanno avuto posti nell'amministrazione Obama: non va abbastanza bene! Gli Stati Uniti devono rinunciare alle proprie guerre esterne aggressive e ai tentativi di raggiungere l'egemonia globale col potere militare!
È tempo che gli Stati Uniti rinuncino all'eccezionalismo diventando partner uguali a tutte le altre nazioni del mondo. È tempo che l'immane fiume di denaro adesso sprecato, o peggio, in armamenti sia usato per scopi sociali costruttivi, come creare un'infrastruttura d'energia rinnovabile, alleviare/riscattare il debito studentesco, e istituire un'assistenza sanitaria universale.
Infine, la diseguaglianza economica scandalosamente eccessiva dell'America dev'essere ridotta. Il neoliberismo e il governo megaziendale non vanno davvero così bene. Si deve ascoltare la voce della gente anziché quella dell'avidità megaziendale.
L'inaugurazione Joe Biden – Kamala Harris
A causa delle minacce di altre violenze dell'estrema destra, si è completamente bloccata Washington D.C., si sono chiusi i ponti d'accesso e tutta l'area vicino a Capitol Hill si è resa inaccessibile da alte cinte sormontate da rotoli di filo spinato. E sorvegliata da oltre 20.000 agenti armati della Guardia Nazionale [federale, ndt] accuratamente selezionate dall'FBI per evitare infiltrazioni di terroristi interni di destra. Sul viale del campidoglio, dove ci sarebbero normalmente folle acclamanti, fluttuavano invece 200.000 bandiere USA. È stata una Giornata Inaugurale come nessun altra nella storia.
Il 20 gennaio era una giornata fredda ma soleggiata. Sulla piattaforma davanti al campidoglio era adunata una serie di ospiti illustri, con ex-presidenti e membri di ambo i partiti del senato e della camera dei rappresentanti. L'organizzazione ha attribuito ruoli prominenti nella cerimonia sia ai Repubblicani che ai Democratici. Un momento sostanziale c'è stato quando è stata ufficialmente insediata Kamala Harris come prima donna vice-presidente. Poi il momento che aspettavano tutti: Joseph R. Biden Jr. ha giurato per la sua funzione di 46° presidente degli Stati Uniti. E rivolto il suo discorso inaugurale con profonda sincerità e genuina emozione, dicendo fra l'altro:
Pochi periodi della storia della nostra nazione sono stati più irti di sfide o difficoltà di quello che stiamo vivendo. Un virus di quelli da una volta ogni secolo bracca silenziosamente il paese, e si è già preso in un anno altrettante vite che quelle prese dall'America in tutta la 2a guerra mondiale. Sono andati persi milioni di posti di lavoro. Hanno chiuso centinaia di migliaia di aziende.
Ci commuove un grido per una giustizia razziale in gestazione da circa 400 anni. Il sogno di giustizia per tutti non sarà rimandato oltre.
Dal pianeta stesso ci viene un grido per la sopravvivenza, che non potrebbe essere più disperato e chiaro.
E ora, un aumento di estremismo politico, supremazia bianca, terrorismo interno che dobbiamo affrontare e sconfiggeremo.
Superare queste sfide — ridare l'anima [a] e assicurare il futuro dell'America — richiede più che parole, richiede quella cosa fra le più elusive in una democrazia: Unità.
Auguriamo a Joe Biden e Kamala Harris di riuscire a vincere queste sfide.
________________________________________________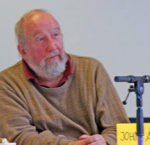 John Scales Avery, Ph.D., parte di un gruppo che condivise il Premio Nobel per la Pace 1995 per il proprio lavoro organizzativo della Conferenza Pugwash su Scienza e Affari Mondiali, è membro della Rete TRANSCEND e Professore Emerito Associato all'Istituto H.C.Ørsted dell'Università di Copenhagen, Danimarca. Presiede sia il Gruppo Pugwash Nazionale Danese sia l'Accademia Danese per la Pace; ha ricevuto la sua formazione in fisica teoretica e chimica teoretica al M.I.T., all'Università di Chicago e all' Università di Londra. E' authore di numerosi libri e articoli sia su argomenti scientifici sia su più ampie questioni sociali. I suoi libri più recenti sono Information Theory and Evolution and Civilization's Crisis in the 21st Century (pdf). Sito web: https://www.johnavery.info/
Original in English: Challenges for Joe Biden and Kamala Harris – TRANSCEND Media Service
Traduzione di Miki Lanza per il Centro Studi Sereno Regis
Go to Original – serenoregis.org
Tags:
Anglo America
,
Biden
,
Kamala Harris
,
USA
DISCLAIMER: The statements, views and opinions expressed in pieces republished here are solely those of the authors and do not necessarily represent those of TMS. In accordance with title 17 U.S.C. section 107, this material is distributed without profit to those who have expressed a prior interest in receiving the included information for research and educational purposes. TMS has no affiliation whatsoever with the originator of this article nor is TMS endorsed or sponsored by the originator. "GO TO ORIGINAL" links are provided as a convenience to our readers and allow for verification of authenticity. However, as originating pages are often updated by their originating host sites, the versions posted may not match the versions our readers view when clicking the "GO TO ORIGINAL" links. This site contains copyrighted material the use of which has not always been specifically authorized by the copyright owner. We are making such material available in our efforts to advance understanding of environmental, political, human rights, economic, democracy, scientific, and social justice issues, etc. We believe this constitutes a 'fair use' of any such copyrighted material as provided for in section 107 of the US Copyright Law. In accordance with Title 17 U.S.C. Section 107, the material on this site is distributed without profit to those who have expressed a prior interest in receiving the included information for research and educational purposes. For more information go to: http://www.law.cornell.edu/uscode/17/107.shtml. If you wish to use copyrighted material from this site for purposes of your own that go beyond 'fair use', you must obtain permission from the copyright owner.