(Italiano) La Norvegia e il Premio Nobel per la Pace: Fama o onta?
ORIGINAL LANGUAGES, 31 May 2021
Fredrik S. Heffermehl | Centro Studi Sereno Regis - TRANSCEND Media Service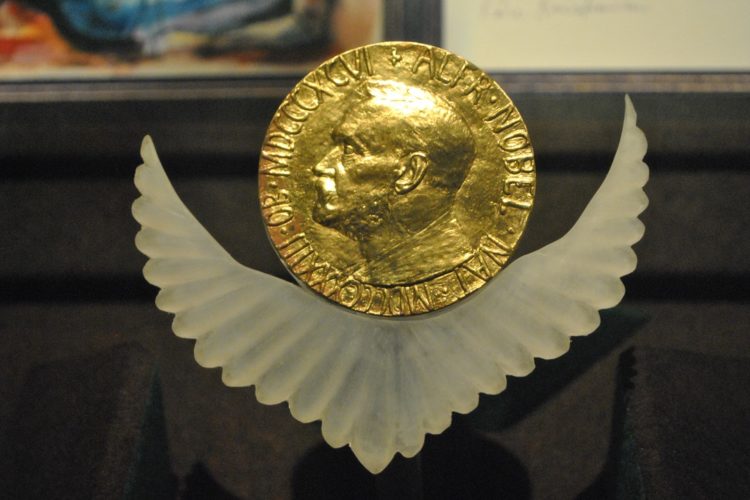 26 Maggio 2021 – Qualche anno addietro il ministro degli esteri norvegese Thorvald Stoltenberg intraprese dei passi saggi per ridurre il confronto con la Russia mediante un Barents Council per la cooperazione civile; misura che continuava una lunga tradizione laburista, iniziata con il leggendario primo ministro Einar Gerhardsen, che cominciò una politica di bassa tensione con la contigua Unione Sovietica: nessuna base militare straniera, restrizioni alle manovre militari nel Nord, nessuna arma nucleare in Norvegia e sue acque territoriali.
La settimana scorsa il figlio di Stoltenberg, Jens, attuale capo della NATO, ha disonorato un incontro ad alto livello per la [corporation>>] cooperazione civile nell'ambito dell'Arctic Council a Reykjavik tenendo grandi manovre navali NATO in quella zona dell'Atlantico, con la partecipazione di molti paesi a quella provocazione atta a suscitare tensione, diventata una politica standard norvegese negli anni recenti. Incredibilmente, il governo a guida conservatrice di Erna Solberg, ha mantenuto la RAND corporation quale consulente per i futuri sviluppi dell'apparato militare norvegese.
Ne vengono ora alla luce i prevedibili risultati. Il governo norvegese ha appena concluso trattati di genere del tutto nuovo con gli USA, che sanciscono il trasferimento del controllo su parti del nostro territorio agli USA come basi per attrezzatura militare USA e relativo personale provvisto d'impunità e posto sotto auto-giurisdizione USA, e col permesso di stazionamento di bombardieri a vasto raggio in Norvegia centrale, di estese manovre militari, d'attracco di sottomarini con armi nucleari nel nord del paese, nel bel mezzo del porto di Tromsø (USS "Stoltenberg" – Norvegia, ecco la più recente portaerei USA). Sull'aggiustato Newspeak i ministri degli affari esteri (Søreide) e degli affari militari (Bakke-Jensen) dichiarano che "La nostra politica sulle basi estere resta invariata". Un linguaggio che esibisce un tale sfacciato disprezzo per la verità fattuale, significa la fine della democrazia come eravamo soliti conoscerla.
Tutto ciò finge d'essere una serie di reazioni necessarie a una Russia sempre più aggressiva. Per ogni osservatore ragionevolmente equilibrato, tuttavia, si tratta di imperialismo occidentale nell'atto d'intensificare la tensione in un ennesimo capitolo dei confini. È pericoloso ed è stata una mossa a sorpresa, non preceduta da processi democratici aperti. I politici dietro tali politiche sono lungi dall'essere atti a gestire il Premio Nobel, istituito per promuovere il disarmo globale.
Desacralizzazione del Premio Nobel per la Pace
È una verità ovvia: le eterne gare per gli armamenti e relative guerre – a pensarci – costano somme astronomiche e ci minacciano d'estinzione. Allora perché non ci badiamo? Il mio Nuovo libro, Fama o Onta?, cerca di sollevare un dibattito d'urgente necessità sul militarismo in Norvegia e nel mondo:
L'obiettivo del Premio Nobel era liberare il mondo da armi, guerrieri e guerre. Le nazioni devono infrangere quel circolo vizioso in cui restano prigioniere. Evitare nuove guerre avrebbe potuto creare sicurezza e prosperità per tutti.  "Il premio più prestigioso del mondo" dovrebbe diventare davvero il suo premio più importante.
Con una ricerca unica negli archivi interni del comitato Nobel, il libro mostra che gli aggiudicanti, sempre riluttanti a sfidare l'ordine militare mondiale, hanno soppresso le idee stesse che erano legalmente obbligati a sostenere.
Presentando i 114 pacieri che avrebbero dovuto vincere – molto fra i quali del Sud globale – il libro presenta anche una storia poco nota in rivalsa di un'idea politica soppressa e insudiciata.
Un premio fedele a Nobel allevierebbe tutti i pressanti problemi che ha di fronte l'umanità, l'ambiente in degrado, i diritti umani, la povertà, le infrastrutture fatiscenti, la democrazia, le precarie condizioni di donne e bambini, la disponibilità d'acqua, d'abitazioni… ovunque, ogni anno.
L'originale norvegese è ora stato completamente rimaneggiato a beneficio del pubblico inter-nazionale e dell'editoria straniera, con tabelle di facile lettura. Questo studio innovativo richiede un approccio fondamentalmente differente onde permettere il disarmo e la pace mondiale, un pezzo accademico scritto per il lettore non specialista, e con il potenziale per raggiungere nuovi sostenitori di una cultura di pace che sostituisca l'attuale cultura di guerra.
P.S. 1:
Nel massiccio assortimento di politici stakhanovisti intenti al proprio meglio per aiutare gli USA a svilire la Russia, assecondati da accademici, giornalisti, e da gran parte della società civile, c'è qualche raggio di luce. Uno è l'esperta di Russia Julie Wilhelmsen del NUPI, un'altra rara voce di buonsenso è il tenente colonnello e professore al college norvegese della difesa, Tormod Heier. Secondo News in English ha recentemente ammonito la Norvegia dal diventare "un campo di battaglia in una rivalità sempre più intensa fra le superpotenze". Inoltre, ha ammonite contro la mancanza di dibattito pubblico o politico facendo notare che a prima pubblicità sui bombardieri USA nei campi volo norvegesi è arrivata solo due settimane prima che vi atterrassero i primi quattro: pericoloso. Ancora una volta il consiglio dei ministri ha colto di sorpresa la popolazione, evitando un aperto procedimento democratico.
P.S. 2:
Grazie ad Antonio C.S. Rosa – Finora il titolo era "I rovesci delle medaglie". Il titolo "Fama o Onta" trovato per questo articolo mi ha colpito d'improvviso come il migliore pensabile per il mio nuovo libro – vederne la presentazione su Books from Norway.
______________________________________________

Fredrik S. Heffermehl, giurista [LLM NYU], è membro della Rete TRANSCEND per Pace, Sviluppo e Ambiente ed ex-vicepresidente dell'International Peace Bureau. È autore di The Nobel Peace Prize, What Nobel Really Wanted [Il premio Nobel per la Pace. Quel che Nobel davvero voleva] (Praeger, 2010 – versioni espanse in cinese, svedese, finnico, spagnolo e [2014] russo). fredpax@online.no – http://www.nobelwill.org.
Tags:
NATO
,
Nobel Peace Prize
,
Nobel Peace Prize Watch
,
Norway
DISCLAIMER: The statements, views and opinions expressed in pieces republished here are solely those of the authors and do not necessarily represent those of TMS. In accordance with title 17 U.S.C. section 107, this material is distributed without profit to those who have expressed a prior interest in receiving the included information for research and educational purposes. TMS has no affiliation whatsoever with the originator of this article nor is TMS endorsed or sponsored by the originator. "GO TO ORIGINAL" links are provided as a convenience to our readers and allow for verification of authenticity. However, as originating pages are often updated by their originating host sites, the versions posted may not match the versions our readers view when clicking the "GO TO ORIGINAL" links. This site contains copyrighted material the use of which has not always been specifically authorized by the copyright owner. We are making such material available in our efforts to advance understanding of environmental, political, human rights, economic, democracy, scientific, and social justice issues, etc. We believe this constitutes a 'fair use' of any such copyrighted material as provided for in section 107 of the US Copyright Law. In accordance with Title 17 U.S.C. Section 107, the material on this site is distributed without profit to those who have expressed a prior interest in receiving the included information for research and educational purposes. For more information go to: http://www.law.cornell.edu/uscode/17/107.shtml. If you wish to use copyrighted material from this site for purposes of your own that go beyond 'fair use', you must obtain permission from the copyright owner.