Myanmar Anti-Coup Opposition's Happy Birthday Parties for Aung San Suu Kyi Do Not Augur Well for the Country's Future
TRANSCEND MEMBERS, 28 Jun 2021
Maung Zarni | FORSEA – TRANSCEND Media Service
The mass hysteria around Aung San Suu Kyi's birthday is the clearest indication of deeply entrenched cultist neo-totalitarian thoughts, mental habits and political behaviour among Ms Suu Kyi's populist base. It confirms how indifferent this base is to the democratic ethos, international law, and normative principles of human rights.
24 Jun 2021 – On 19 June Myanmar's ousted populist leader, Aung San Suu Kyi, turned 76.  Naturally, wishing someone, a public figure, a loved one, or even a Facebook friend, Happy Birthday, is a good and heart-warming thing.
However, the global public display among her millions of supporters (both Myanmar public and foreigners, including diplomats), of birthday wishes on social media, along with in real-time and real-space parties for Suu Kyi, is deeply troubling. For the widely popular act betrays both the pervasive public indifference to both the pain and suffering of the genocide victims – 2-million people.  Additionally, it signifies the absence of individual and collective responsibility and the shirking of national responsibility as Myanmar people in the face of international judicial and criminal proceedings at the International Court of Justice (ICJ) and International Criminal Court (ICC).
Without a doubt, the detained leader bears the charge of genocide complicity at best, and criminal responsibility at worst, for the country's national crime, namely the genocide and crimes against humanity regarding the Rohingya, a "protected group" (with its own distinct racial, ethnic, and religious identity) under the Genocide Convention as determined as such by the ICJ's preliminary, or provisional orders.
To me as a Burmese human rights activist, the mass hysteria of wishing 'Mother Suu', Happy Birthday speaks volumes about how little fundamental change there has been in Myanmar, despite the public outpouring, (especially among the country's Generation Z), of remorse and apologies directed at the victims of the genocide.
A decade ago, led by the acting Director of the London School of Economics and Political Science, I joined the packed audience inside the Peacock Theatre on campus in London in singing "Happy Birthday Daw Suu" at the end of the Rule of Law Roundtable which coincided with her 66th birthday.  She was the guest of honour on the Roundtable I helped organize with Professor Mary Kaldor, a close friend of her late husband Michael Aris and her contemporary at Oxford University.
The School's organisers asked me if it would be culturally appropriate to sing a Happy Birthday for the Burmese leader and how our world renowned guest would receive such public act of well-wishing.  I even helped pick LSE's birthday gift for her: a never-before-published black and white picture of her martyred father, Aung San, while he was in London in January 1947 for independence negotiations with the then-Labour Prime Minister, Clement Attlee.
Although my political activism had taken a different direction from her NLD policies, I had retained deep personal warmth towards the woman, the only daughter of Bogyoke Aung San whom the country's ethnic majority consider our slain national hero and father of the republic.  Besides, she was a major source of my activist aspirations who was an example of placing the country's interests above her family and own academic career.
At a more personal level, her late father and my great-uncle Zan Yin were young lads who hailed from the Burmese heartlands of Upper Burma to Rangoon where they lived as dorm neighbours for 4 years, became good friends and attended same classes as undergraduates in the old colonial-era Rangoon University, during the restive nationalist days of the 1930's.
Then I felt elated and honoured to share that panel and to sing Happy Birthday for the woman whom I called Aunty (and she addressed me as "son"), whom the world thought could walk on the water.
However, this past weekend's 76th birthday celebrations on social media, triggered in me nothing less than a very visceral reaction, for the reasons that I will spell out here.
I am not alone.
While the ethnic Burmese who found unconscionable the continued love fest around the detained National League for Democracy leader, make up only a minority, the rage against the unmistakable mass hysteria with hashtags – as evidenced in the #FlowerCampaign #HappyBirthdayMother – was palpable in the social media, particularly on Facebook.
Sir Geoffrey Nice, the prosecutor in the case against Slobodan Milosevic, the President of Serbia  indicted for genocide, in the Yugoslavia tribunal at the Hague, was one of the distinguished speakers on our panel who also joined in the singing. As more evidence of genocidal crime were reported 4 years since LSE's birthday party for Suu Kyi, Sir Geoffrey proceeded to co-author a Foreign Policy opinion editorial "Myanmar Genocide in the Making" – In the op-ed, the law professor and former prosecutor stressed that, as the sitting head of state, Aung San Suu Kyi was expected to know the international law and may even bear "criminal responsibility" for the crimes which were perpetrated under her watch.
After global happy birth day parties on 19 June, one Burmese social media activist – writing under the pseudonym, Vito Scarletta, –  went ballistic. He expressed his disbelief that the massive number of fellow Burmese people would continue to idolise and express deep love for the globally disgraced – nah, "condemned" is the word – politician who misled and misinformed the adoring crowds of supporters on the country's genocide and other crimes against non-majoritarian ethnic communities, as well as the Muslims.
For Suu Kyi's real crimes see "The real crimes of Myanmar's Suu Kyi and the farce of her trial".
Below: Suu Kye at London School of Economics. Recorded on 19 June 2012 in Peacock Theatre, Portugal Street. Irreversible change: from where she and Burma were in 2012 and today.
Vito pointed out that 19 June was designated as global day against sexual violence, and yet millions of Burmese people were pouring their hearts out, wishing Happy Birthday to the populist demagogue whose official Myanmar State Counsellor website brazenly mocked as "Fake Rape" all first-person victim tales of rape and gang rape of Rohingya girls and women between the ages of 12 and 70.
As early as February 2017, Aung San Suu Kyi dismissed the UN Office of the High Commission on Human Rights field reports documenting the use of sexual violence against Rohingyas in the genocidal purge, albeit on a small scaler, in the autumn of 2016. She did so in a phone conversation during which she was, in no uncertain terms, informed by the then UN Human Rights Chief Zeid Ra'ad Al Hussein about the widespread use of rape against Rohingya women. Zeid publicly expressed his indignation that Aung San Suu Kyi, the sitting de facto head of state, who not even once bothered to sit down and hear the horrific rape stories recounted by the Rohingya survivors of such heinous crimes, would question the "methodology" of the UN human rights documentation.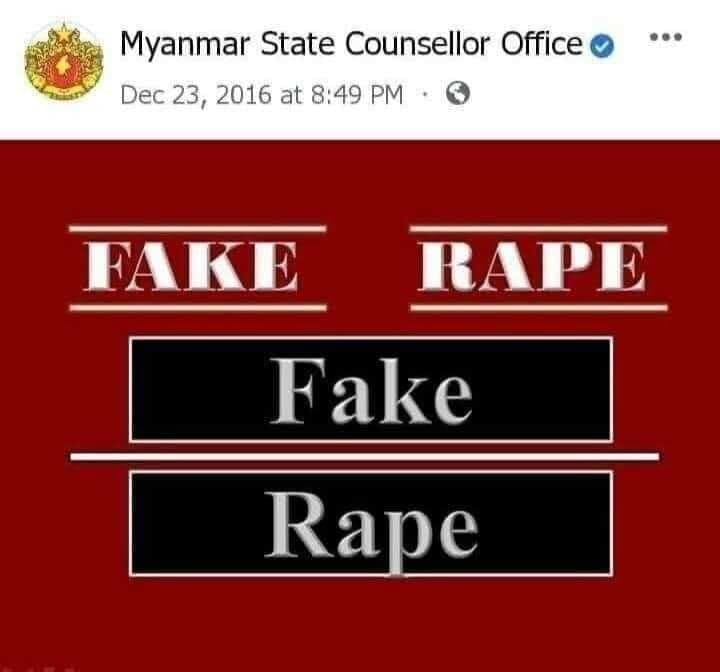 Both the military's genocidal purge, violence, deportation, rape, and physical destruction of nearly 400 villages and Suu Kyi's own categorical denial have been well-documented.
She did not stop at the crime denial. Amidst global condemnations of the Myanmar genocide and the UN's official findings, Suu Kyi closed ranks and stood with the perpetrators, while repeatedly expressing her "affection" for the perpetrating Burmese generals whom she called "my father's sons".   According to Professor Gayatri Chakravorty Spivak who was involved in hosting Aung San Suu Kyi at Columbia University in 2013, the Burmese leader was emphatic that her affection was "genuine".
In the BBC's flagship broadcast programme, Desert Island Discs, the host, Kirsty Young, emphatically asked the Myanmar leader if the latter still felt affectionate about the men who were credibly accused of raping and slaughtering Rohingyas and other national minorities such as Karen, Shan, Kachin and so on. Her shocking response was this "if you love someone you love them (unconditionally) – in spite of (who they are or what their behaviour)". [Listen here from: 34:20 in the recording: https://www.bbc.co.uk/sounds/play/b01q7gvl ]
Her unconscionable stance on Myanmar's international crimes against Rohingyas culminated in her appearing as the Agent of Myanmar defending the genocide allegations at the ICJ in December 2019.   Deservedly, she has been roundly and universally condemned by the very media that had a huge role in the manufacturing Suu Kyi as an inspiring global icon of human rights and humanity.
Below – 11 December 2019: Singapore CNA's reportage of Aung San Suu's dismissal of genocide allegations at ICJ
Below – 23 January 2020: Al Jazeera International, the ICJ delivered unanimous provisional orders to protect Rohingya from further prospects of genocide
Below – 24 December 2019: BBC News: Aung San Suu Kyi: How a peace icon ended up at a genocide trial
What remains to be understood and appreciated, however, is the social psychological root of Ms Suu Kyi's brand of right-wing (racist) populism. In my most recent FORSEA Dialogue on democratic struggles across Asia, Amitabh Pal, former Managing Editor of a leading progressive publication in the United States, The Progressive, and communications officer with the Freedom from Religion Foundation, made a rather incisive remark about the nature of relationship between Right-wing populist leaders such as India's Modi and his Hindu nationalist base.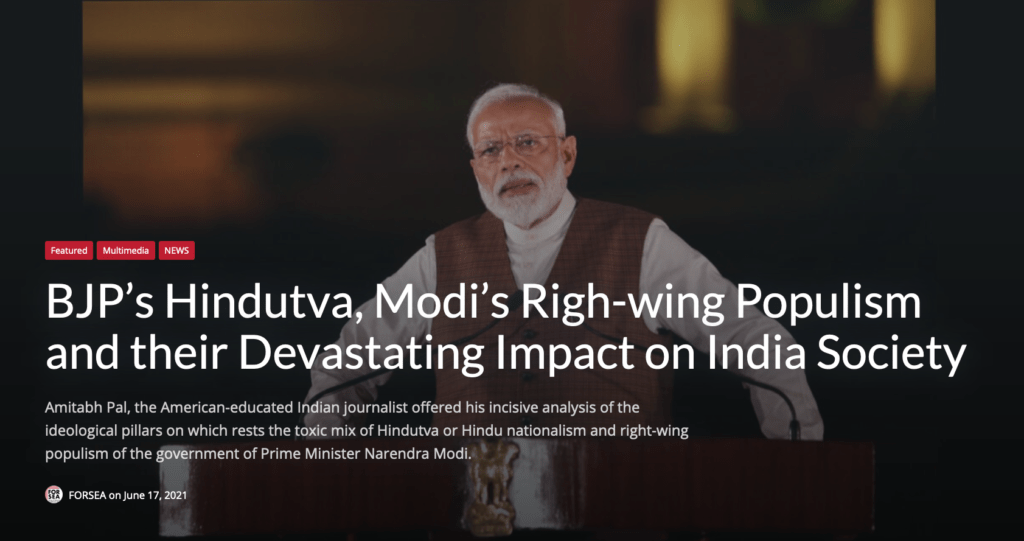 Specifically, Amitabh stressed that despite Modi's catastrophic leadership – as evidenced in his mishandling India's COVID-19 public health challenge and the alarming rise in violent Hindu Fundamentalism targeted against 500 million Indians of Islamic faith (and Indian Christians), as well as a miniscule refugee population of Rohingya – Modi's approval rating among his BJP electorate, has not dropped appreciably.
Populisms across the world – be they the Trumpian strain in the United States or Bolsonaro's brand in Brazil – share something profoundly troubling, namely the devotional nature of public support for one charismatic leader, a strongman, or in Ms Suu Kyi's case, Matriarch or Mother.
However one defines democracy – either as "a way of life" beyond the electorate holding the elected to account, as the leading pragmatic American philosopher John Dewey did a century ago, or more narrowly, as a mode of electing representative form of government or a governmental "machinery" – democratic politics requires exercise in individual reason and judgment, as well as debates pertaining to both public policies and the individual qualities – moral, intellectual, leadership –  of those who would represent and leader electorates.
Ms Suu Kyi started out as an Oxford-educated liberal democrat and became a global icon of liberalism. Over the past 30 years she has evolved into a populist, racist autocrat. She allows her adoring throngs of supporters – NLD's base – to be openly racist, nationalist, and chauvinist as the majoritarian Bama Buddhists.
Millions of Burmese well-wishers expressing their continued love and reverence for the genocide-complicit leader, does not augur well for the future of democratisation. And worse still, Aung Myo Min, Minister for Human Rights, in the parallel National Unity Government himself joined in the mass hysterical act of well-wishing the genocide defender, only 2-weeks after his parallel government's issuance of a pro-Rohingya policy, undoubtedly, out of political expediency.
This week Heather Cox Richardson and Joanne Freeman, the two noted historians of US history at Boston University and Yale University respectively, dissected the historical phenomena of cult politics with the focus on Q-Anon in the present-day USA. They also briefly touched on the rise of Fascist leaders such as Hitler and Mussolini in terms of cults and governments.
The Myanmar-relevant take-away from their deeply learned podcast discussion is a psychological symbiosis between "the disposed" who want salvation and cult leaders who are typically believed to have the necessary answers to their problems, or the salvation.
Millions of Burmese people inside Myanmar and around the world, including those with advanced western education such as doctors, engineers, academics, etc., have over the last three decades placed what clearly to me is a blind faith in Ms Suu Kyi's leadership, integrity and policies even when she has categorically failed morally, intellectually, politically and strategically.
The mass hysteria around Aung San Suu Kyi's birthday is the clearest indication of deeply entrenched cultist neo-totalitarian thoughts, mental habits and political behaviour among Ms Suu Kyi's populist base.  Additionally – and disturbingly, Happy Birthday hysteria only confirms how pervasively indifferent this base is to democratic ethos, international law, and normative principles of human rights.
In sharp contrast to the country's military, which by definition, is a command-totalitarian institution, like every military, a proper democratic political party, conservative or liberal or progressive, is expected to foster debate, dialogue, and deliberations within the party as well as in the political life of a nation at large. Over the last 3-decades, Myanmar has been cursed with two types of neo-totalitarian institutions – the murderous military under various dictators in general's uniforms and the National League for Democracy party of which Ms Suu Kyi ruled as the strong-woman for 30 years.
This is Ms Suu Kyi's lasting gift to Myanmar and her dark legacy from which the society will reel for decades, even in the unlikely event of the successful overthrow of the murderous military regime.
___________________________________________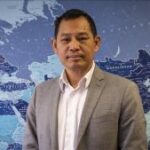 A Buddhist humanist from Burma, Maung Zarni is a member of the TRANSCEND Network for Peace Development Environment, former Visiting Lecturer with Harvard Medical School, specializing in racism and violence in Burma and Sri Lanka, and Non-resident Scholar in Genocide Studies with Documentation Center – Cambodia. Zarni s the co-founder of FORSEA, a grass-roots organization of Southeast Asian human rights defenders, coordinator for Strategic Affairs for Free Rohingya Coalition, and an adviser to the European Centre for the Study of Extremism, Cambridge. Zarni holds a PhD (U Wisconsin at Madison) and a MA (U California), and has held various teaching, research and visiting fellowships at the universities in Asia, Europe and USA including Oxford, LSE, UCL Institute of Education, National-Louis, Malaya, and Brunei. He is the recipient of the "Cultivation of Harmony" award from the Parliament of the World's Religions (2015). His analyses have appeared in leading newspapers including the New York Times, The Guardian and the Times. Among his academic publications on Rohingya genocide are The Slow-Burning Genocide of Myanmar's Rohingyas (Pacific Rim Law and Policy Journal), An Evolution of Rohingya Persecution in Myanmar: From Strategic Embrace to Genocide, (Middle East Institute, American University), and Myanmar's State-directed Persecution of Rohingyas and Other Muslims (Brown World Affairs Journal). He co-authored, with Natalie Brinham, Essays on Myanmar Genocide.
Tags:
Aung San Suu Kyi
,
Authoritarianism
,
Burma/Myanmar
,
Democracy
,
Totalitarianism
DISCLAIMER: The statements, views and opinions expressed in pieces republished here are solely those of the authors and do not necessarily represent those of TMS. In accordance with title 17 U.S.C. section 107, this material is distributed without profit to those who have expressed a prior interest in receiving the included information for research and educational purposes. TMS has no affiliation whatsoever with the originator of this article nor is TMS endorsed or sponsored by the originator. "GO TO ORIGINAL" links are provided as a convenience to our readers and allow for verification of authenticity. However, as originating pages are often updated by their originating host sites, the versions posted may not match the versions our readers view when clicking the "GO TO ORIGINAL" links. This site contains copyrighted material the use of which has not always been specifically authorized by the copyright owner. We are making such material available in our efforts to advance understanding of environmental, political, human rights, economic, democracy, scientific, and social justice issues, etc. We believe this constitutes a 'fair use' of any such copyrighted material as provided for in section 107 of the US Copyright Law. In accordance with Title 17 U.S.C. Section 107, the material on this site is distributed without profit to those who have expressed a prior interest in receiving the included information for research and educational purposes. For more information go to: http://www.law.cornell.edu/uscode/17/107.shtml. If you wish to use copyrighted material from this site for purposes of your own that go beyond 'fair use', you must obtain permission from the copyright owner.