GOA — Then and Now
TRANSCEND MEMBERS, 14 Feb 2022
Dr. Ravi P. Bhatia – TRANSCEND Media Service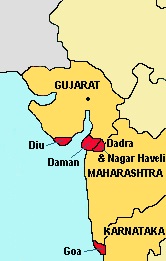 India used to be known as sone ki chidiya (golden bird) and was invaded by several foreign powers over the last more than a thousand years. Among the first European nations that invaded India was Portugal, a small country that had conquered the South American country Brazil earlier. Holland also tried but could not create any area for themselves in India. France did establish some small enclaves but the British were most successful colonising almost the whole country.
The conquest of the region of Goa, Daman and Diu on the western coast of India was achieved in 1510 against the Bijapur Sultanate with the Portuguese forces being under the command of Afonso de Alberquerque. Only about 200 soldiers died in this attack with an equal number of wounded on the Portuguese side. Earlier there were some Portuguese forces in Calicut and Cochin. This not only led to the victory of the Portuguese forces in Goa but also to the breakup of the Moslem supremacy in trade and commerce in the Indian Ocean.
After the Portuguese established their supremacy, they began to dominate culturally and religiously the region under their command. Many churches or chapels — big or small were built by them — some by breaking the Moslem religious masjids and forts, etc. Their domination architecturally, commercially, began to become visible after a few decades. Some forts also were constructed to survive any onslaught on land by hostile forces. On the river side or coastal region several ships could be seen and were depicted in 1558 paintings as those belonging to Vasco da Gama.
Soon some academic institutions of learning — schools and colleges with Portuguese language medium, began to be established in Goa and neighbourhood regions to help students with academic pursuits.
Although the main language of the region was Konkani and Marathi, the Portuguese language began to penetrate all sections of society. Like the British who spread their wings about two centuries later, the Portuguese dominated culturally, economically, educationally in Goa, Daman and Diu.
Although there was initial resistance by the local forces, the Portuguese leaders explained to locals the benefits of Portuguese rule by fewer taxes and greater freedom in matters of religion and social life to which they found large  support from the local people and institutions. Gradually the Portuguese gained not only politically but also social and cultural acceptance.
Over the years many housing projects, roads, churches, chapels were built by the Portuguese rulers. Some large churches, some very small almost invisible religious churches and chapels were constructed. The photos in this article show St Roque Chapel and a very small roadside church opposite the Chapel with an image of   Christ can be seen. Several of these religious places came to be constructed over the last four centuries. Some were fairly large, some so small that they appeared more as a place to capture on the roadside rather than anyone praying before it.
Today, Goa is a fascinating tourist place with its several attractive beaches which are popular not only with Indian tourists but surprisingly with Russian tourists. Many Russian language instructions can also be seen on the beaches. Several shops and roadside shacks (small eateries) that serve local fish products and beers,  have appeared next to the beaches by local business people. Hundreds of tourists both Indian and foreigners (mainly Russian) can be seen enjoying themselves on the beaches by swimming in the ocean tides or just wetting their feet. Some of the popular beaches are named Calangute, Vagator, Baga beaches.
Many of these shacks have been built locally with bamboo sticks and homemade techniques. A photo of the roof of one of these shacks displays the indigenous workmanship. It was exceedingly surprising to see the photo of a Hindu god  Shiva in one of these shacks next to a Coca-Cola picture.
A few days back I could see a young ten year old girl jumping around near the beach. Next to the child was probably her mother who was dressed in a revealing bikini, doing — you won't believe it — yogic exercises on a table and furniture provided by local business people. If tourists are present, one can also see women beggars dressed in colourful saris carrying on their business.
There is of course greenery and vegetation with high  coconut trees visible all around with ten or twenty coconuts  hanging precariously on them; however the coconuts although delicious to drink, are expensive by local standards.
A few years back one could find some elderly people of Portuguese descent speaking their own language in Goa. Today, they are not visible — either they have returned to Portugal or old age has led to their demise. Today the foreigners one sees are usually Russians who have learnt to speak Konkani language and Hindi.
As mentioned earlier, a few European nations — Dutch, French, Portuguese and of course British, had colonised parts of India. In 1947, India regained its freedom from the total British colonialism. The small French enclave in Pondicherry also became free but the Portuguese would not leave Goa and adjoining areas despite strong political pressure. Ultimately, only in 1961 after a brief gun battle over air and sea, the Portuguese were forced to leave for their home country. Goa became free of Portuguese rule after 450 long years.
Goodbye Portugal.
______________________________________________

Dr Ravi P Bhatia is a member of the TRANSCEND Network for Peace Development Environment, an educationist, Gandhian scholar and peace researcher. Retired professor, Delhi University. His new book, A Garland of Ideas—Gandhian, Religious, Educational, Environmental was published recently in Delhi. ravipbhatia@gmail.com
Tags:
Colonialism
,
Goa
,
India
,
Portugal
,
Portuguese empire
This article originally appeared on Transcend Media Service (TMS) on 14 Feb 2022.
Anticopyright: Editorials and articles originated on TMS may be freely reprinted, disseminated, translated and used as background material, provided an acknowledgement and link to the source, TMS: GOA — Then and Now, is included. Thank you.
If you enjoyed this article, please donate to TMS to join the growing list of TMS Supporters.


This work is licensed under a CC BY-NC 4.0 License.