Delhi — Old and New
TRANSCEND MEMBERS, 28 Mar 2022
Dr. Ravi P. Bhatia – TRANSCEND Media Service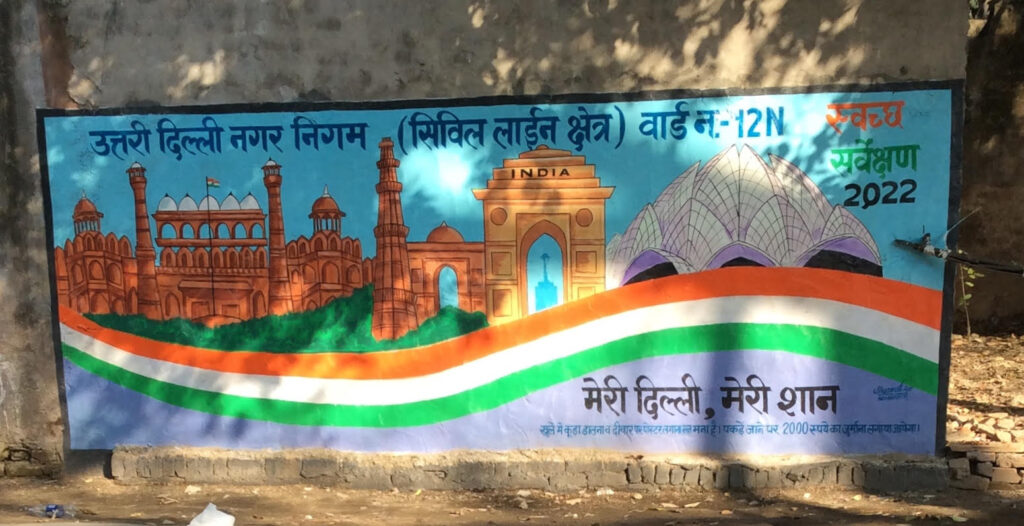 Delhi, the capital of modern India, has had a long chequered background. It has been plundered and rebuilt seven times over its long history.
The Moghul emperor Shah Jahan (1628 – 57) built many grand structures during his rule. These include the large Red Fort complex constructed next to the Yamuna River. The formal independence ceremony of India on 15 August is held in this Fort where the Indian Prime Minister arrives and addresses the nation by a forceful Independence Day speech.
Although Delhi has a long chequered history, it was not earlier the capital of British India. The British government decided to move its capital from Calcutta to Delhi only in 1911 since Delhi occupies a central region in the territory of India.
After making it the Capitol, several grand buildings were constructed including the building for the University of Delhi that was earlier the home of the Lieutenant Governor General of British India. Another grand structure came up subsequently for his official residence which now is the residence of the President of India. Delhi University comprises several institutions including the well known St Stephens College where one can see a small church built within its boundary.
The first significant city about a million years back in this region   was known as Indraprastha (IP) which had considerable historical and religious importance. It was located next to the river Yamuna and today is located near the Humayun tomb. This city had almost crumbled by the fourth century BC.
Incidentally, there is another college of Delhi University — IP College in the city.
The Rajput kings founded in 8th century AD a city near IP and named it Dhilika   from which the present name seems to have been derived. A large fort called Lal Kot was constructed during that period that displays the city's location today.  
Several important kingdoms including the Tughlaka and Lodi dynasties came up during the medieval period. They built some forts and palaces that showcase the architecture of that period.
During the 16th and 17th centuries, the Moghul dynasties of Akbar and Aurangzeb chose other cities as headquarters for their kingdoms. However, Shahjahan sanctified the importance of the present region of Delhi that came to be known after his name — Shahjahanabad. This region is sometimes today popularly known as Old Delhi.
An important landmark of Delhi even today is the Qutub Minar or victory tower whose height is about 73 m.  It is a UNESCO heritage building constructed mainly of red sandstone. It is located in south Delhi.  Its construction was started in 1198 by Kutubdin Aibak but completed in 1215 by his successor. Next to it is a mosque, the first to be built in Delhi.
The importance of the city gradually was curtailed by the plundering committed by different rulers both local and outsiders. This continued till 1803 when the British forces defeated the local rulers.
Today, Delhi is a city of several architectural beautiful buildings. These include the splendid Lotus Temple built by the people of Baha'i Faith as a place of worship in 1986. Its outside appearance is similar to a building in Australia. The   Baha'i Faith was propagated by Bahai-ullah when he had to flee his home in the face of Islamic movements. Another beautiful  modern building is the large Akshardham Temple  that is a vast religious cultural complex.
The British government in India built many structures  as indicated earlier. One of these is India Gate building with names of many Indian martyrs sculpted on it. The building resembles the Arc de Triomphe structure in Paris.
The photograph of Delhi accompanying this essay displays a few important buildings of the city.  These include the Red Fort, the Qutub Minar, the India Gate building, the Lotus Temple, etc. These and a few mosques and Churches were constructed by different rulers during the long history of Delhi city.
I welcome people of different countries or regions to visit the city and enjoy its various sites and structures including the Akshardham Temple  that opened its doors in 2005. It is one of the world's largest spiritual-cultural complex offering peace and joy to its visitors.
______________________________________________

Dr Ravi P Bhatia is a member of the TRANSCEND Network for Peace Development Environment, an educationist, Gandhian scholar and peace researcher. Retired professor, Delhi University. His new book, A Garland of Ideas—Gandhian, Religious, Educational, Environmental was published recently in Delhi. ravipbhatia@gmail.com
Tags:
Delhi
,
History
,
India
,
South Asia
This article originally appeared on Transcend Media Service (TMS) on 28 Mar 2022.
Anticopyright: Editorials and articles originated on TMS may be freely reprinted, disseminated, translated and used as background material, provided an acknowledgement and link to the source, TMS: Delhi — Old and New, is included. Thank you.
If you enjoyed this article, please donate to TMS to join the growing list of TMS Supporters.


This work is licensed under a CC BY-NC 4.0 License.
One Response to "Delhi — Old and New"