Swami Vivekananda and His Gospel
TRANSCEND MEMBERS, 7 Mar 2022
Dr. Ravi P. Bhatia – TRANSCEND Media Service
Narendranath Dutta who is now known to the world at large as Swami Vivekananda was born in an aristocratic family of Calcutta on 12 January 1863. He was a brilliant student with a spiritual bent of mind and yogic temperament. Through his intrinsic goodness and his initial association with a spiritual guru, Sri Ramakrishna, Swami Vivekananda acquired a transparent religious trait that is revered all over the world, especially in India.
Swami Vivekananda travelled all over India and met large number of people especially the poor marginalised sections of society and wondered if there was a God, how could people live in such pitiable conditions. In fact he asked this question about existence of God to several religious people and seers. When he put this question to Sri Ramakrishna, the latter vehemently affirmed God's existence.
Today, the Ramakrishna Mission that was founded in the spiritual Guru's name has opened a few free Clinic and Medical Centres in Calcutta, Delhi and other places. Other Centres catering to various needs have also been started.
After travelling to several parts of the country, Swamiji (Vivekananda) decided that he would live like a Monk and not acquire any material comforts or possessions. While he was in Gujarat on the western part of the country, he heard about the Parliament of Religions that was scheduled to be held in Chicago in September 1893. He felt he needed to attend this convention in order to spread the universal message of love, compassion, spirituality of Hinduism to the western world.
But how to travel to USA without any money? Fortunately, a rich nobleman and some devoted young men collected money for Swamiji's travel. With this financial help and his earnest desire, he was able to set sail on his long journey from Bombay in May 1893.
Vivekananda reached Chicago early in July 1893 about a month and a half before the Parliament was to begin. This offered him an opportunity to meet several people and he started understanding the western ethos to life and culture. With this background he felt that he could usefully participate with the delegates in the  Parliament of Religions. 
On the commencement of the Parliament on 11 September 1893, he was given time to address the convention in the afternoon. He started his address by the following words, 'Sisters and Brothers of America.' 
Talking in a joyful vein, he said, 'I thank you in the name of mother of all religions, I thank you in the name of millions of Hindu peoples of all classes and sects. … I am proud to tell you that we have gathered in our bosom the purest remnants of the Israelites. I am proud to belong to the religion which has sheltered the remnant of the grand Zoroastrian nation…'
He referred to how India welcomed religious leaders and people of other faiths.
Swamiji also said that the present convention vindicates the doctrine of the Gita to help anyone who needs help and to avoid attachment to materialism. He also spoke against all forms of fanaticism. His paper on Hinduism was a detailed one that he delivered  a week later on 19 September. He touched upon many of its aspects — he referred to the Vedas as being without a beginning or end, since they consisted of the accumulated treasury of spiritual laws…
Whatever he talked about, he spoke with sincerity and humility that touched the hearts and minds of the delegates.
His presence, his interaction with other delegates, his addresses at the Parliament were sincerely appreciated and applauded. Dr J H Barrows, the Chairman of the General Committee at the Parliament wrote:
'Swami Vivekananda exercised a wonderful influence on the audience.'
The New York Herald wrote:
"He is undoubtedly the greatest figure in the   Parliament of Religions. After   hearing him we feel how foolish it is to send missionaries to this learned nation."
There were similar laudatory comments on Swamiji by other newspapers.
Swamiji died in 1902 when he was not even forty years of age. His influence and respect for him has spread over the entire country of India and one can see his statues or other memorials in different regions including in Delhi where a large hall is dedicated in his name, as well as his statue erected in Delhi University.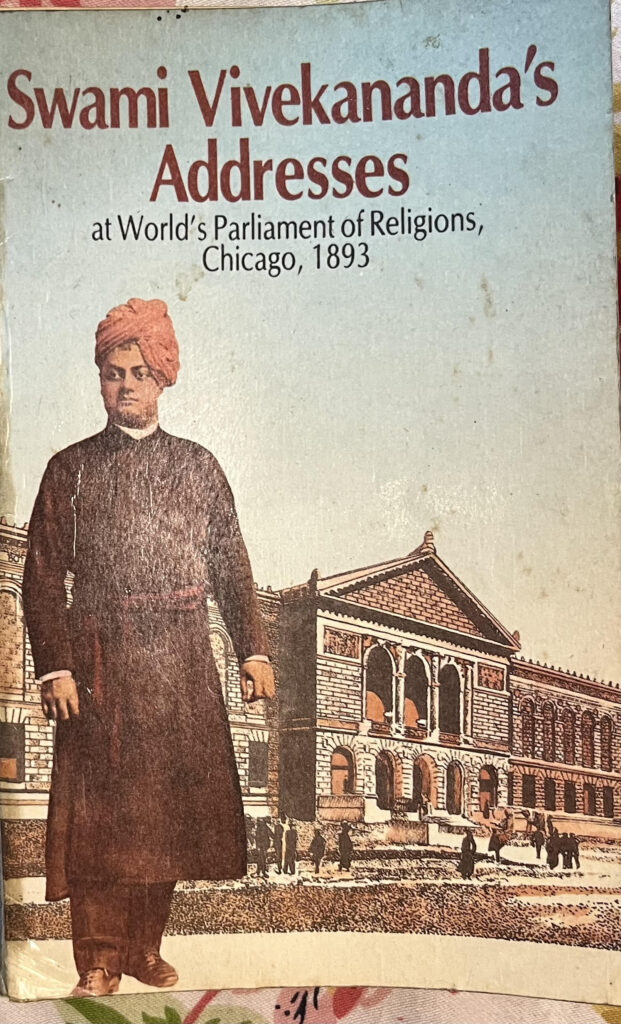 ______________________________________________

Dr Ravi P Bhatia is a member of the TRANSCEND Network for Peace Development Environment, an educationist, Gandhian scholar and peace researcher. Retired professor, Delhi University. His new book, A Garland of Ideas—Gandhian, Religious, Educational, Environmental was published recently in Delhi. ravipbhatia@gmail.com
Tags:
Hinduism
,
India
,
Religion
,
Spirituality
,
Swami Vivekananda
,
USA
,
Yoga
This article originally appeared on Transcend Media Service (TMS) on 7 Mar 2022.
Anticopyright: Editorials and articles originated on TMS may be freely reprinted, disseminated, translated and used as background material, provided an acknowledgement and link to the source, TMS: Swami Vivekananda and His Gospel, is included. Thank you.
If you enjoyed this article, please donate to TMS to join the growing list of TMS Supporters.


This work is licensed under a CC BY-NC 4.0 License.