A Panorama of Global Challenges ©
TRANSCEND MEMBERS, 9 May 2022
Anthony J. Marsella, Ph.D. – TRANSCEND Media Service
A Compilation of Situational, Acute, and Chronic Global Challenges
A Journey into Brain, Mind, Meaning, and Doubt
I. INTRODUCTION
Efforts after Meaning
There is an inherent human impulse to describe, understand, predict, and control the world about us through the ordering of stimuli into complex belief systems for guiding behavior. The human brain and CNS functions as an information processing agent, sensing, perceiving, organizing, and storing information, always within a unique cultural context. Pressing internal and external organism sources negotiate and assign "value" (i.e., worth, importance, merit, priority) to the "Efforts after Meaning" information process.
Pursuing "Efforts after Meaning" assumes goes beyond simple reflex responses, habits, and automatized behaviors. "Efforts after Meaning" represent attempts to organize, respond, and make sense of familiar and unfamiliar information. In this way "Efforts after Meaning" yield higher-order cognitive and emotional "perceptions," "insights," "awareness," "consciousness," and "intuition. These higher-order processes are critical for both basic survival and for personal stability (see Marsella, A.J. (1999). In search of meaning: Some thoughts on belief, doubt, and wellbeing. The International Journal of Transpersonal Studies, 18, 41-52. https://www.transcend.org/tms/2018/8/100-living-peace-and-justice-leaders-and-models-list-4/ 
Viktor Frankl (1973, The Doctor and the Soul), a Nazi Concentration Camp survivor and scholar/therapist, wrote on the importance of finding meaning. He concluded living without a sense of meaning, without meaningful values, and without spirituality and social responsibility, results in a "Noogenic Neurosis." For Frankl, and his ardent advocates and followers, Paul and Lillian Wong, this is a life characterized by aimlessness, purposelessness, and meaninglessness (see Wong & Fry, 1998).
For Frankl, human survival depends on finding and preserving "meaning" amidst the madness of our world, and on filling the "existential vacuum."  But, more importantly for Frankl, "meaning" is not something that occurs reflexively within the human mind, but rather something that demands an active pursuit — the "will to meaning" — in which we actively seek a meaning in life.
Amid our times, many discomforts, disorders, and diseases are related to an absence of meaning-seeking and meaning-making.  At an individual level, these include despair, angst, boredom, alienation, psychosis and suicide.  At a collective level these include cultural disintegration, societal decay, national collapse, vigilantism (see Table 2 at end of article).
At issue, is the constant, unending, inescapable information assault on humanity's capacity to absorb, process, and make sense of the diverse and varied daily information to which they are exposed via various media and communication sources. The list of topics is endless!
Meaning Making . . . Amid Information Excesses
Studies of the "Efforts after Meaning" are popular among experimental psychologists studying smaller units of word association and verbal learning,
(e.g. Henry Roediger, III, David Palermo [1929-2011), "Efforts after Meaning" are also relevant to questions of personal and collective purpose, identity, wellbeing. At issue is the onslaught of varied information from media, social sites, and professional listservs, may be exceeding the human capacity to "make meaning," which is essential for psychological and collective stability.
To achieve optimal health, however, meaning-making must also include a willingness to doubt.  It is the dialectical tension between belief and doubt that gives rise to a spiritual sense of being characterized by awe, reverence, harmony and unity.  This spiritual sense has salutary consequences.
II. DOUBT
Even as we seek to confirm and sustain core beliefs, there is, I believe, a simultaneous disposition to ponder, to question, and to doubt whether the "truths" we prize are in fact more relative than absolute, more questionable than certain, and more temporal than enduring.  Humans seek meaning, but dislike doubt.
The American philosopher Charles Peirce (1839-1914) noted that human beings will tolerate many things — but not doubt.  When faced with doubt, he claimed they will often resolve the tensions by deferring to authority or simply maintaining their beliefs with renewed tenacity.  Obviously, we must guard against this tendency. As Andre Gide reminds us: "Believe those who seek truth, doubt those who find it."
Contrasting World Views (Weltanschauung) are a major source of conflict all levels because they contain powerful, passionate, belief and value systems resisting doubt. There are integrated naturalistic, rationalistic, atomistic, deterministic, reductionistic, materialistic, mechanistic, positivistic, and empirical world views. This view was based on logical positivism which assumed there is an objective world which can be known through scientific research.
Post-modernism challenged this view and emphasizing subjectivity, denying we can know the world apart from personal meaning, challenging the certainty and absolutistic views of knowing the world. Critical Theory grew from this revolution in thought, becoming popular among the social sciences and humanities. Critical Theory accepted multiple ways for knowing the world (i.e., epistemology) including revelation, inspiration, enlightenment, and mystical experience.
Theistic views, and some philosophic views, and many indigenous views, agree humanity is not a biological machine, but rather has a spirit, soul, or vitalism. In contrast to the naturalistic forms, theistic forms are based on a supreme being, and intuitively validated and sustained by religious faiths (e.g., Christianity, Islam, Judaism) and great religious leaders (e.g., (e.g., Bahaullah, Buddha, Confucius, Jesus, Jina, Lao Tse, Moses, Muhammad, Nanak, Zoroaster).
World views, developed and maintained by long-standing belief and value systems, are accepted as absolutes, this testing the role and validity of Doubt. Unless doubt is considered, however, and the relativity of beliefs is acknowledged, humanity may remain in a static state, rather than a state of "becoming."  To have meaningful outcome in the "Efforts after Meaning" process, a continual dialect between "Belief" and Doubt must abide in an endless cycle of inquiry, reflection, and contemplation. Erich Fromm, a brilliant social psychoanalyst, (1947/1990) acknowledged the power and importance of doubt for meaning-making. He stated: "The quest for certainty blocks the search for meaning.  Uncertainty is the very condition to impel man to unfold his powers."
III. THE INFORMATION AGE: GLOBAL CHALLENGES ABOUND
Given the importance of "Doubt" in the "Efforts after Meaning" process, humanity must confront the consequences of seeking and accepting Information!  Information seeking is a natural human and life process. Issues arise however because of the extent and variability of information now required for functioning, and perhaps survival. Yet another issue is the accuracy of the information, based upon its sources and intentions. The World is now a global unit with few events and forces escaping consequences for daily life.
Across the world, voices can be heard saying: "I can't make sense of all of this!  It is too much! I am overwhelmed!"  There is information overload, and meaning-making tribulation. Frustration, anger, violence, despair, fear, isolation, alienation, and withdrawal, are commonplace. Holding on to beliefs, even as they are contested elicits distrust in self and society.
Information: Brain and Mind
Brain is not Mind! Brain is more than a simple sensate mechanism for reflexively recording external and internal stimulation in organized substrates. The undamaged human brain not only responds to stimuli, it also organizes, symbolizes, and connects stimuli, and in this process, it generates an emergent pattern of "meaning" facilitating our survival, growth, and development.  These higher-order functions of the brain push us toward the pursuit of "meaning," and with this, a felt sense of understanding, predictability, and transcendence.
It is estimated our Brain possesses more than 15 billion neurons working in organized units through trillions of complex vertical and horizontal connections.  The structure of these cells — the "cytoarchitectonics" — and their myriad connections, constitute an essential element of human psychology (See Damasio, 1994) https://academic.oup.com/cercor/article/10/3/295/449599
"Mind"
Mind is the simultaneous experience of the organism-situation unit. While there is much emphasis on causation within the organism's intrapsychic experiences, it is clear, however, nothing exists in isolation or a vacuum. There is no organism apart from a setting.
Mind, for me, is the emergent experience from this interaction. It is one plus one equals three, an experience which is not additive, but multiplicative. Mind is the capacity to use information from particular sources and to create, interpret, and generate more than the sum of its parts. It is more than brain!
This article represents my effort to pursue personal and collective meaning amidst mass exposure to varied information topics and sources.  
I have sought to explore the complex journey of information, meaning-making, and doubt in a global age filled with the challenges.  We live in an Information Age, but with little awareness of its imposing pressure, consequences, and issues for the future.
IV. THE STORY BEHIND THE ARTICLE
Problems Abound . . .  
There are days I feel overwhelmed with the problems facing Humanity and the World. I feel overloaded with information, unable to escape from the  burden of responsibility and my surviving amid the times, . . . helpless, confused, alone.
Personal dispositions toward empathy and compassion, add to my burden. I vow I will no longer watch TV, read Internet messages, nor communicate with friends, but this soon passes.  I suspect I am not alone in this regard. I published a paper on "A Great Loneliness Has Befallen the World" (Marsella, 2021, Dec 13: https://www.transcend.org/tms/2021/12/a-great-loneliness-has-befallen/), in which I concluded "loneliness" is a new global pandemic.
People, societies, nations, regions, are being driven apart by intent or circumstance. There is a broad sense of isolation, replete with fear vulnerability, and distrust. Unfolding events and forces in the world for the past few decades are shocking. The world is unprepared for massive global changes. There is little to bring comfort or hope, even as citizens mobilized NGO groups.
"The world is too much with us!" wrote the English romanticist poet, William Wordsworth, in 1809, as the world experienced the chaotic consequences of the First Industrial Revolution in England:
The world is too much with us,
Late and soon,
Getting and spending;
We lay waste our powers:
Little we see in Nature that is ours;
We have given our hearts away,
A sordid boon!

This Sea that bares her bosom to the moon,
The winds that will be howling at all hours,
And are up-gathered now like sleeping flowers,
For this, for everything, we are out of tune;
Wordsworth's words are relevant to our times. Amid the present chaos and uncertainty, there is much ". . .wasting of our powers!" We are "out of tune."
This much is certain, we are alive, and whether or not, we need respite from the din and clamor, meaning must be pursued and discovered in personal and social conscience and consciousness. The "privilege of life" must be grasped, even amidst daily traumas and horrors.
Despair is not a dysfunction, but rather a realistic response to a world gone "mad" with an onslaught of daily struggles. No pills can change nor mollify reality. There is no escape, from "living life," there are only the choices to be made regarding why, how, and where.
A Chance Decision. . . A List!
Let us suppose for some brief moment in life, unhampered by the demands of life needs, following the nightly TV news, replete with its formulaic coverage of local crimes and corruption, local weather conditions, international crises, typically Russia-Ukraine War destruction, and an inconsequential glimpse of President Biden, your mind remains alert. This was my experience!
For no apparent reason, I took up pen and yellow-lined pad, and decided to create, off the top of my head, a List of problems facing the world. I never expected to become obsessed with the task. Lists are compressed ways to order problems.  Articles appear daily with numerical titles: "Ten Ways to Make Money," "Five Ways to Lose Weight," "A Dozen Ways to Cook Pasta." I would make a list of "Global Challenges." I had published articles on the topic a few year ago, and updating them appeared reasonable pastime.
From the earliest days of my youth, I created "Lists" of everything.  I was desperate for acquiring information and learning, but my youth was filled with many deprivations: parental divorce, homelessness, life in a basement, eventually finding a place in a Sicilian immigrant household, no books, no conversations beyond sports, family relatives, and work. I would ask questions, often to be told to "Eat and be quiet!"
I organized my life around creating systematic "Lists" of fruits, vegetables, sports teams, famous people, and world events, relying on the Cleveland Plain Dealer and Cleveland News to furnish material. It was an uncommon inclination, but served me well; I would turn to one of my lists to answer questions in class, as teachers asked: "How do you know that Anthony?" I will end this journey here, and share it elsewhere; for now, know the habit of my creating "Lists" was an early temperament inclination and essential act.
The seeds of this article were born and nurtured in this list-related process/product; it was a compilation task. Compile a List of "Global Challenges?" Surely, the contents must be finite, and my memory sufficient!  Ahh, "The best laid plans of mice and men often go awry!" (Borrowed from Robert Burns' "To A Mouse!").  I had little awareness of the scope of the task, nor its consequences for me and others.
A List of Global Challenges
I had no grand purpose in mind when I began the task, only a momentary obsessive-compulsive impulse to bring order and meaning to the still unprocessed nightly world TV news. With pen in my hand, I began to list numerically the remnants of the news still occupying my mind, adding to them email and internet bites, for a sense of completion.  It was both effortless and effortful as the "demon" of completion seized my mind. I had become preoccupied with an impossibility: "Comprehensiveness."
Nevertheless, after initially listing 20 problems the first night, I was satisfied with my efforts, and felt I proceed with nightly rituals, brushing teeth, preparing for bed, making sure all was secure, wondering about family and friends. The impulse, however, was unfinished; the List was incomplete! I brought pen and tablet to bed. Hours passed until at last some sense of satisfaction was experienced pre-dawn hours.  I was pleased with my efforts, and decided the next morning to continue writing, excited by the possibility of comprehensively listing the "Global Challenges" of our times.
Buoyed now by the possibilities of completing the task, I sat t back with a cup of decaf coffee and caffeinated tea. At this point, however, I asked myself question? What had I done? Did I create a monster? Was a comprehensive List of "Global Challenges" too much for humanity to bear? Is there comfort in repression?  My mind turned to Mary Shelley's novel, Frankenstein, whose overt theme of creation of a monster, raised more profound issues about the creation of life. Her volume cascaded across the world, raising issues about the nature of life, and could it be created by human?
What had I done? Clearly, creating a list of "Global Challenges" was a miniscule act, especially amid the many others writing about "extinction," climate change, societal collapse, political corruption, war, military dominance, and "end times." Would the compilation serve any purpose?
In the early morning, I opened my computer to type and save my paper.  I changes the word "Problem" to Global "Challenges;" "problems" seemed insufficient. At this point, a computer replaced the yellow writing pad and my ink scribbles; a new reality emerged: black printed words on a white screen, were no longer random thoughts. An internet search engine could assist in adding to the List.
This is the story of my inchoate compilation of "Global Challenges!" It is a compilation, a collection, of the onslaught of events, forces, and consequences facing humanity and the world. Much of what we are exposed to by daily media is brought to us in bits and pieces.  Isolated newsworthy challenges deceive us from grasping the sheer magnitude of the existing "Global Challenges," surrounding us, burdening us, eluding understanding, bringing cries of "despair!" I wondered, however, whether there are redeeming outcomes in the process.
Ahhh! Consequences . . .
As I share this compilation, I continued to ask myself the consequences. It is accurate to say I experienced a mixture of resignation, desperation, demoralization, despair as I compiled a "List" of "Global Challenges." Yet, painful feelings were coupled with amazement, and awe-filled experiences of Life. Bewildering! Amid the resignation were insights about the nature of human life. Each challenge elicited an insight.
I had become more aware of Life's nature: the complex intertwining of events and forces eluding immediate meaning. It was a process and product!  I had a thought: Life is a privilege!
I felt a sense of soaring personal meaning. I was a small insignificant part of a huge global, cosmic, drama being played out before me; yet, it was I who compiled the challenges. I was a miniscule part, but I existed, and served a small purpose on the global cosmic stage. Did I feel "hope?" I recalled the poignant words of Bishop Tutu, who concluded: "We are all prisoners of hope!"
No, I did not feel hope! I felt a sense of "mastery!" I had asserted myself! I would not be a passive figure in an unfolding, uncertain, destiny. I was no longer comforted by Buddhist sayings about life's meaning, I had long turned to in crisis: "Chop wood and carry water!" This phrase still had appeal, but I was now caught in an expanding consciousness of "Self." I was "One!"
Then my reflexive tendency "to doubt" emerged. As an academic, immersed in the creation and sharing of knowledge, I witnessed colleagues and students believing their work was indisputable. Truth!  It was non-negotiable! The opposite, of course, is the truth. "Doubt" is the spur of creation.
As I negotiated the context, I understood there are many paths to "oneness," including "chop wood and carry water. With "oneness" comes a simultaneous sense of transcendence, humility, connection. There is exhilaration and modesty. Moments passed!  I could never be the same: I was "Becoming!"  I was exhilarated – I was "fulfilling" my distinct Life potential.  What was ahead?
A process and product emerge! I wanted to understand more! Listed items were no longer easily separated into familiar and unfamiliar topics. The "composite," the entire collection had its own meaning and consequence.
V. DEFINING CHARACTERISTICS OF LIST CONTENTS
Among criteria I chose for including an item/topic in a compilation of global challenges are characteristics differentiating it from a local situational problem. There is controversy here, however, as many local problems are traceable to Global Challenges, and then may even proliferate to become Global Challenges. It became for me a matter of choice. I considered Global Challenges to be characterized by the following dimensions:
Global Implications (Proportion, Scope): Does the challenge involve world-wide (international) causes, manifestations, consequences, and solutions.
Interactive Consequences: Is each Global Challenge recognized to be a part (embedded) of in a complex ecology of interactive causes, manifestation, and consequences.
Risks of Extinction of Life:  While some Global Challenges do not have immediate consequences for the extinction of Life. The interaction process is multiplicative not additive.
Hierarchical Systems: Global Challenges exist at different conceptual levels from the sub-microscopic to the highest levels of human purpose and existence. Each level has become a specialty for different disciplines.
Figure 1 displays a rendition of hierarchical systems model addressing normal and disordered outcomes. General Systems Theory, developed by Ludwig von Bertalanffy, George Miller, and others. Figure 1 is located at the end of the article.
Cooperative, Collaborative, Mutual Responses: Global Challenges require "global" cooperation in addressing their presence. The challenges cannot be understood nor resolved by isolated groups or nations.  The idea of a world body such as the United Nations and its predecessor acknowledges the planetary nature of survival, but tragically not the political nuances of sovereign nations favoring their specific agendas.
Western, Eurocentric, Cultural Influences: Because of economic, political, social, military dominance, virtually all of the Global Challenges have Western Cultural roots and exacerbated   consequences. Acculturation to Western values, products, and structures have produced a dominating homogeneous world, while Life requires diversity and a heterogeneous world. "Life is diversity, death is uniformity," stated Octavio Paz, Mexico's Nobel Prize winner. In addition, it must be pointed the domination of Corporate Capitalism has placed greed and wealth accumulation, power as priorities, destroying indigenous tribal wisdom.
Nature:
Military:
Technology:
I will take up these criteria in greater depth in a follow-up article to this article I am preparing. Suffice to say, all are critical determinants and contexts.
VI. DECISIONS FOR INCLUSION IN LIST
This article presents a "List is of GLOBAL CHALLENGES" in alphabetical order. Some challenges to human survival demand immediate attention. All challenges are interactive. Each can literally be traced to others in a causal matrix representing formative, precipitate, exacerbate, and maintenance dimensions. Inadequate, inappropriate, and passive responses have created a global (worldwide) list of challenges.
I began to list problems as I read, listened, or viewed various media. At first it seemed like an easy task as certain global challenges dominated attention. They required an urgent response. But this was true for only a brief period of time as others came to demand attention (newsworthy?). Media attention and preference, biased as it is, is based on identifying and maintaining audience interest for advertising money.
To counter this process, many citizens with different values and information preferences have turned to specific Websites run by specific individuals and groups using blogs, editorials, brief documentary videos, and interviews with eminent people.  Each say: "There it is folks, you have just heard it from the horse's mouth, in plain English, unadulterated insights into the problem and its consequences."
The following "List of Global Challenges" reveals variations in substantive, tangible, concrete realities, as well as abstractions, symbolic levels, and mutual interactions. While global problem descriptions are useful and needed, subsequent efforts to solve them are typically inadequate because they fail to grasp the interactive complexity required in causal analysis.
Consider this example: Climate Change and Global Warming are linked to increasing concentrations of CO2, Methane, chlorofluorocarbons and other substances in warming the world's atmosphere, especially by burning fossil fuels (i.e., coal, oil, gas). This results in heat-trapping atmospheric gases producing massive increases in temperatures and associated problems, including heat waves, droughts, fires, flooding, severe wind storms, and food production.
At this point, we enter the complex realm of historic, political, economic, financial, situational, racial/cultural, and moral issues. These issues increase awareness, and lead to protests, insurrections, and civil wars. This represents a challenge for addressing the topics for even the most astute scholars, scientists, and policy makers.
In this article, I offer a comprehensive, still incomplete, list of "Global Challenges," identify their defining dimensions for inclusion. I acknowledge their interactional complexity, priorities, and pray for the future of all forms of life on Earth.
Less this latter remark be understood as "whimsical," I wish to point out I am seriously concerned about the mass "Extinction" of life. Extinction is now considered a "critical;" indeed, a better word would be "disastrous." Creating this compilation added to my concerns, and offered me far-reaching insights.
VII. GLOBAL CHALLENGES LIST (Alphabetical Order)
ABORTION RIGHTS (NATION VARIATION IN USE, ACCEPTABLE GESTATION TIMES, MORALITY ISSUES, RIGHT-TO-LIFE, ROE VS WADE, SUPREME COURT)
ACRONYMS OMNIPRESENT (USA, NATO, UN, FBI, MI5, MI6, CIA, KGB, WB, IMF, NSA, SCOTUS, WEF, UK, IRS, SOCSEC, NGO)
AGING (AGEING) (WORLD POPULATIONS ARE AGEING PRESENTING NUMEROUS PROBLEMS REGARDING CARE AND COSTS. CULTURE CHANGES HAVE RESULTED IN LESS FAMILY CARE GIVERS
AIRLINE TRAVEL (STAFF SHORTAGES, PASSENGER ABUSES, FUEL POLLUTION, LOST LUGGAGE, SAFETY, CRASHES, STEWARD PAY)
ATHLETIC PREOCCUPATION AND ADDICTION (SOCCER, FOOTBALL, BASKETBALL, BASEBALL, TENNIS, GOLF, BADMINTON, PING-PONG, BOWLING, OLYMPICS)
CAPITALISM (PREDATORY, EXPLOITATIVE, CORPORATE, CORRUPT, PHILANTHROPIC, CORPORATION RIGHTS,  CITIZENS UNITED, CORPORATION RIGHTS)
CELEBRITIES (PERSONAL IDENTIFICATION WITH POLITICIANS, ATHLETES, MOVIE STARS, SINGERS)
CHILD MENTAL AND PHYSICAL HEALTH (GROWING ATTENTION AND CONCERN FOR CHILD ABUSE, VIOLENCE, AND PERMANENT DISABILITIES, ORPHANS FROM COVID DEATHS, HEPATITIS C DEATHS)
CHINA (LEADING COMPETITOR TO USA MONOLITHIC STATUS. YEN COMPETITOR FOR DOLLAR AS UNIT OF INTERNATIONAL CURRENCY. ABUSES OF MUSLIM POPULATIONS. HONG KONG RESISTANCE)
CIVIL DISORDER, REBELLIONS, WAR (PALESTINE, ETHIOPIA, RUSSIA, AFGHANISTAN, SOMALIA, MYANMAR, HAITI, COLOMBIA)
CLIMATE CHANGE DEADLINES (CO2, METHANE, GLOBAL IMPLICATIONS FOR EVERYTHING ESSENTIAL TO SURVIVAL)
COLONIALISM (LAND, SEA, SKY OWNERSHIP) (E.G., BALKANS, TAIWAN, AFRICA, ISRAEL-PALESTINE)
COMMODIFICATION (ASSIGNING MONETARY AND FINANCIAL VALUE    AND COSTS TO ALL PRODUCTS AND PEOPLE)
CONSUMERISM (BUY, BUY, BUY! ADVERTISING, TRANSFERRING, SELLING SITE VISITS, ESSENCE OF ECONOMIES AT ALL LEVELS: LOCAL, NATIONAL, INTERNATIONAL)
CORPORATIONS (CITIZENS UNITED, EQUAL RIGHTS WITH INDIVIDUALS, CONTROL OF TECHNOLOGIES, COPORATION-TECHNOLOGY PARTNERSHIPS – WEF)
COVID (RECOGNITION OF ALTERNATIVE SOURCES, MUTATIONS, VARIANTS [OMICRON]). ISSUE OF DURATION [LONG, SHORT], SYMPTOMATOLOGY DISPLAYS AND TESTS. UNCERTAINTY ABOUT FREQUENCY, SEVERITY, TREATMENT, AND PREVENTION. AUTHORITIES DISTRUSTED?], CONSPIRACIES, FINANCIAL PROFIT, LOCKDOWN CONSEQUENCES. ESTIMATED 5 MILLION DEATHS, SIDE EFFECTS OF VACCINATION)
CRIME/VIOLENCE/CARTELS/SYNDICATES/GANGS/NATIONS (MEXICO, COLOMBIA, EL SALVADOR, USA, HAITI, ITALY, INTERNATIONAL SOVEREIGN NATIONS, GOVERNMENTS, INTERPOL COOPERATION)
DISEASE EPIDEMICS AND PANDEMICS (COVID VARIANTS, FLU, BIRD FLU FEVER, TUBERCULOSIS, OBESITY, DIABETES II, EBOLA, MALARIA)
DISPROPORTIONATE MONOPOLISTIC CONTROL (BIG AG, BIG PHARM, BIG MEDIA, BIG ED, BIG FINANCE, BIG GOV)
EDUCATION AT ALL LEVELS (PURPOSES, PROCESS, PROBLEMS – BULLYING, VIOLENCE, RACISM, DROPOUTS, CURRICULUM, TEACHER COMPETENCY, MASS SHOOTINGS)
EXTINCTION OF LIFE FORMS (MICRO-MACRO) (ACUTE & CHRONIC, ENDURING, PERMANENT. INSECTS, BEES, BUTTERFLIES, SEED BANKS. TOXIC SPRAYS)
EXTRA-TERRESTIALS (TIME TRAVEL, SOURCE, CONTROVERSY, CONSPIRACY, SECRECY, EARLY PRESENCE IN ARCHEOLOGY)
FOOD INSUFFICIENCY (WEATHER, WAR, POLITICS, TRANSPORTATION,   SUPPLY CHAIN, COSTS, CLIMATE CHANGE IMPLICATIONS)
FOREIGN AID (SELF-SERVING, INADEQUATE, BIASED, WEAPONIZED, REGIME CHANGE)
FINANCIAL PROBLEMS (SUPPLY CHAIN, IMBALANCE, INTEREST RATES, INFLATION, STAGFLATION)
FRACTIONATION OF POPULATIONS (ALONG RACIAL, GENDER, ETHNIC, AGE, CULTURAL DIVISIONS. INEQUALITIES AND BIASES, PERSECUTIONS, INJUSTICES, HATREDS ABOUND)
GERRYMANDERING (UNETHICAL & ILLEGAL POLITICAL VOTING BOUNDARIES BASED ON RACE, POLITICAL PARTIES)
GUNS (AVAILABILITY, DISTRIBUTION, USE, MASS MURDER)
HOUSING & HOMELESSNESS (MILLIONS HOMELESS, LACKING PROTECTION FROM ELEMENTS, REFUGEE CAMP INADEQUACIES, BLUE TENTS)
HUMAN RIGHTS (UDHR. NATION CONSTITUTIONS UNENFORCED)
HYPOCRISY (ACCUSATIONS OF OTHERS FOR DOING SAME THING. USA IS PARTICULAR EXAMPLE OF ACCUSING OTHERS OF ACTIONS. HYPOCRACY/DEMOCRACY, MANY)
IDEOLOGICAL COMPETITION, ANGER, HATRED, VIOLENCE, ISMS. (ANARCHISM, NEOLIBERALISM, RACISM, CAPITALISM, CONSERVATIONISM, FEMINISM, AGEISM, PATRIOTISM, NATIONALISM, REGIONALISM)
INSTITUTIONAL CORRUPTION (GOVERNMENT, MILITARY, CORPORATE, RELIGIOUS, LEGAL)
INSTITUTIONAL FAILURES (UNITED NATIONS, NATO, WORLD BANK, FOREIGN AID, MILITARY, CRIMINAL COURTS)
INTERNATIONAL NUCLEAR WAR (AT PRESENT, SEVEN NATIONS KNOWN TO POSSESS NUCLEAR WEAPONRY; MORE NATIONS SEEKING)  
INTERNET SEARCH ENGINE PROFILES MARKETING (PRIVATE, PUBLIC, SECRET, PRIVATE EYES)
JUSTICE/INJUSTICE (GLOBALLY, LOCALLY, VISIBLE CORRUPTION, NEPOTISM          MINORITIES)
LONGEVITY (STEM CELLS, CRISPR SEQUENCING, RNA, VACCINES, GENE THERAPY, TRANSPLANTS, PLASTIC SURGERY, CLONING)
MASS SHOOTINGS (WORLDWIDE, NATIONWIDE, USA, LOCAL)
MASS SOCIAL AND POLITICAL PROCESSES (GLOBALIZATION, DIGITIZATION, URBANIZATION, WESTERNIZATION, REGIME CHANGE, INSURRECTIONS, POPULATION GROWTH, DEMOGRAPHICS, AND DISTRIBUTION)
MEDICAL AND HEALTH CARE (COSTS, AVAILABILITY, ACCESSIBILITY, ACCEPTABILITY, ROBOTIC PROCEDURES, QUALITY, EFFECTIVENESS, MEDICAL MALPRACTICE, FRAUD, PRIVATE, SOCIALIZED,    GOVERNMENT ALTERNATIVES, DOMINANCE BY CERTAIN        ETHNOCULTURAL AND NATIONAL GROUPS)
MEMBERSHIP GROUPS (ORGANIZATIONS SERVING WEALTHY AND PRIVILEGED INDIVIDUALS AND GROUPS WORLD ECONOMIC FORUM [WEF], DAVOS FACTION,           WORLD BANK, INTERNATIONAL MONETARY FUND, CENTRAL BANKING  GROUPS, SECRET, QUASI-SECRET SOCIETIES, BILDERBERG GROUP, BOHEMIAN GROVE, FREE-MASONRY, KNIGHTS OF MALTA, ROSICRUCIAN'S, ROYALTY)
"MENTAL HEALTH" AND WELL-BEING: THE REALITY AND SYMBOLIC BURDEN OF GLOBAL CHALLENGES HAS GIVEN RISE TO MANY INDIVIDUALS, SOCIETAL, AND NATIONAL PROBLEMS, WITH CALLING FOR INTERVENTION.
TRAGICALLY, INTERVENTIONS LOCATE THE PROBLEM IN THE HUMAN PSYCHE WITHOUT SERIOUSLY CHANGING EXTERNAL CONDITIONS. THIS MAY DO LITTLE TO RESOLVE PRESSING CHALLENGES. PROFESSIONALS MAY LACK EFFECTIVE PERSONAL, PROFESSIONAL, AND TECHNICAL SKILL SETS, AND TREATMENT OPTIONS.
MOVEMENT LABELS & TERMS (GREAT RESET, BUILD BACK BETTER, FOURTH INDUSTRIAL REVOLUTION, NEW NORMAL, GREEN NEW DEAL, TECHNO-STATE, MAKE AMERICA GREAT AGAIN)
MIGRATION, IMMIGRATION, ACCULTURATION, ASSIMILATION (LOCAL, NATIONAL, INTERNATIONAL, PLANETARY)
MIND & BEHAVIOR CONTROL (MICROWAVE, LASERS, INTERNET, INSERTS,           NATIONAL POLICY, GOVERNMENTS, PRIVATE CORPORATIONS, MANCHURIAN CANDIDATE)
NATO (NORTH ATLANTIC TREATY ORGANIZATION) (MILITARY FORCE FOR USA POLICY. 30 MEMBER STATES, 28 IN EUROPE AND 2 IN NORTH AMERICA, ISSUE OF NEED, PAYMENTS)
NATURAL (NATURE) DISASTERS (EARTHQUAKES, TEMPERATURES, TORNADOES, FLOODS, VOLCANOES, FIRES, INSECTS)
NURSE, HEALTH CARE WORKER SHORTAGES (NUMBER, TRAINING, COMPETENCIES,  PLACEMENTS, ROLES)
OLIGARCHIES, PLUTOCRACIES, POLITICAL PARTY, DICTATOR, MILITARY CONTROL           
ORGANIZED CRIME (SYNDICATES, CARTELS, GANGS, DRUGS, PROSTITUTION, KIDNAPPING, GAMBLING, PORNOGRAPHY)
PARTISAN (PARTY) POLITICS (EXTREMISM, BLOCKING VOTES, THREATENING VOTERS, FILIBUSTER, VOTER IDENTIFICATION)
PERSONALITIES (TOO NUMEROUS TO MENTION. SITUATIONAL. MEDIA CREATES AND FLOOD THE WORLD WITH PERSONALITIES, INCLUDING ONEROUS DETAILS OF THEIR LIVES, MAGAZINES, FAN CLUBS)
PLASTICS (PRESENCE AND PENETRATION OF ALL ASPECTS OF LIFE. INCREASING PATHOGENIC CONSEQUENCES; CANNOT AVOID)
POLLUTION (AIR, WATER, EARTH, ATMOSPHERE, SPACE, HOUSE)
POPULATION GROWTH (7.5B – 9B 2040)
POPULISM GLOBAL AND NATIONAL (RESENTMENT, RESISTANCE, REBELLION OF     "ORDINARY" PEOPLE AGAINST ELITE IMPOSITIONS OF VALUES, CONTROL, GOVERNMENT)
POVERTY, MALNUTRITION, FAMINE, STARVATION, DEATH
(DEPRIVATIONS, KWASHIORKOR, PERMANENT DISABILITY, COSTS, RESPONSIBILITY, MARASMUS, DEATH, DEHUMANIZATION)
PRIVACY/PRIVATE (VIOLATIONS AND ABUSES OF INDIVIDUAL, ORGANIZATION, NATION, REGIONS PRIVACY)
PROPAGANDA (TRUTH, ACCURACY MANAGEMENT, SOURCE, METHODS)
RACIAL, ETHNIC, CULTURAL, AGE, GENERATION, RELIGIOUS, GENDER, TRIBAL, DISABILITY, HOMELESS, VETERANS, DISCORD
REFUGEES & INTERNALLY-DISPLACED PEOPLE, ENVIRONMENTAL REFUGEES (NUMEROUS AND WIDESPREAD REFUGEE CAMPS. SOME CAMPS HAVE EXISTED FOR TWENTY-FIVE YEARS, E.G., KENYA REFUGEE CAMP FOR SOMALIS, ETHIOPIANS)
REGIME CHANGE (USA HAS BEEN SOURCE OF SCORES OF REGIME CHANGES)
RENEWAL TERMS (4TH INDUSTRIAL REVOLUTION, GREAT RESET, GREAT NARRATIVE, GREAT TRANSFORMATION, DAVOS AGENDA, GREEN REVOLUTION)
RUSSIA/CHINA/EUROPE, USA, NATO ALLIANCES(STRIFE, RISK, VIOLENCE, WEST-EAST, NORTH-SOUTH
SANCTIONS (SOURCES [GOVERNMENT, ORGANIZATIONS, NGOS], VARIATIONS, FOOD, MEDICAL SUPPLIES, CONSEQUENCES, WEAPONIZATION, MORALITY)
SPACE OUTER (COLONIZATION OF MOON, PLANETS, INDUSTRY, COMMERCIALIZATION, OWNERSHIP, WEAPONRY, SATELLITES)
STATEHOOD FOR WASHINGTON, DC (CONSEQUENCES FOR VOTING RIGHTS, DEMOGRAPHICS, RACISM, PARTISAN CONTROL, COSTS
STATE TERRORISM (ISRAEL-PALESTINE, INDIA-PAKISTAN, USA POLICY           PREFERENCES, MYANMAR-ROHINGYA, NORTH KOREA, CHINA VS ISLAMIC GROUPS, NATO, SAUDI ARABIA VS YEMEN, RUSSIA- UKRAINE, USA-CUBA, USA VENEZUELA)
SUBSTANCE ABUSE (ALCOHOLISM, BEER, PAINKILLER, FENTANYL, COCAINE, HEROIN, ECSTASY, MARIJUANA)
SURVEILLANCE (GOVERNMENTS & PRIVATE GROUPS GATHERING TOTAL INDIVIDUAL, GROUP, AND NATION INFO FOR STORAGE  AND RETRIEVAL)
TECHNOLOGIES (A.I., ROBOTICS, GENETIC INTERVENTION, INFORMATION PROCESSING AMOUNTS, SPEEDS, STORAGE, WAR WEAPONRY, DARPA)
TERRORISM (TYPES [E.G., INDIVIDUAL, GROUP, NATION], METHODS, LOCATIONS, TARGETS, DEFINITION, CONTROVERSY)
UKRAINE/RUSSIA RISKS OF NUCLEAR WAR AND WAR CRIMES
UNIONS LABOR & PROFESSIONAL (INCREASE IN UNION FORMATION AND MEMBERSHIP)
VETERANS MILITARY (PTSD, POOR CARE, HOMELESSNESS, SUICIDES, FAMILY VIOLENCE, FORGOTTEN)
VILIFIED GROUPS PREJUDICES (TRANSGENDER, GAY, LBTGQ, MUSLIM, JEWS)
VIOLENCE (OMNIPRESENT AT ALL LEVELS, ISSUE OF INDIVIDUAL, GROUP, NATIONS. TYPES OF VIOLENCE)
WARS (LOCAL, CIVIL, INTERNATIONAL: PALESTINE-ISRAEL; INDIA-PAKISTAN; INDIA-CHINA)
WEALTH DISPARITIES & DISTRIBUTION (1% VS 99%; .01% VS HUMANITY
READERS ARE INVITED TO ADD TO LIST.
VIII. AND SO. . .  CONSEQUENCES
In the span of a few weeks of habitually accessing and absorbing various media and news sources (e.g., TV News, Internet searches, professional group communication memberships) and normal reading, I generated the previous compilation. The sheer volume, frequency, duration, and critical severity of the global proportion of events and forces information challenged my mind and "brain's" (i.e., CNS) information capacity. I tried to make meaning of the forces and events. I came to see individual and collective (societal) parallel levels. Table 2 displays some parallel consequences.
Obviously, there is considerable variation in the consequences of Global Challenges across individuals, organizations, nations, and regions. There is, however, a growing uniformity in the perceptions these Global Challenges are having upon individuals and societies, especially increases in fear and anger. There is a sense of collapse and breakdown. This sense is precipitated, and augmented, by inadequate efforts after resolution by trusted traditional authorities and institutions. Corruption, collusion, greed, nepotism, is fostering a self-preservation orientation.
We remain "victims of hope," and simultaneously, living organisms driven by life impulses to survive! The word "Eschatology" becomes relevant here. It refers to alternative "end time" predictions, prophecies, and realities. (e.g., cyclical, linear, messianic). BEHOLD an unfolding future!
*****
***
FIGURE 2: A MEANING-MAKING CYCLE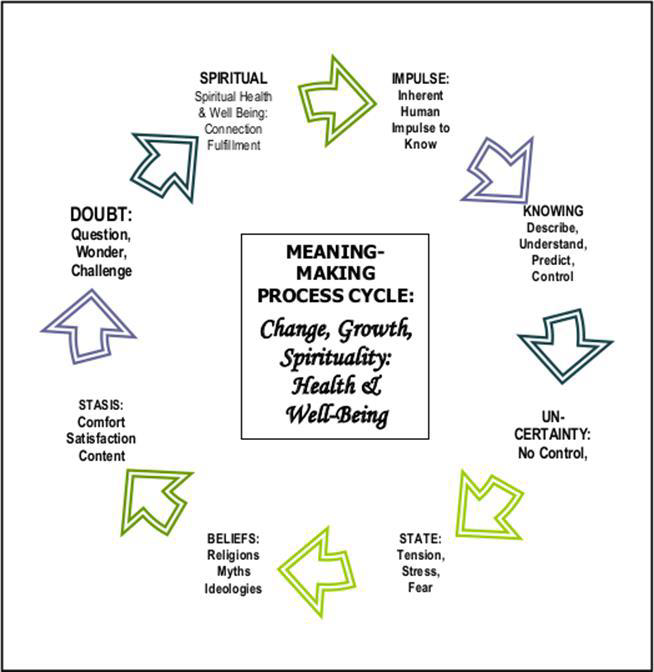 ___________________________________________

Anthony J. Marsella, Ph.D., a member of the TRANSCEND Network for Peace Development Environment, is a past president of Psychologists for Social Responsibility, Emeritus Professor of psychology at the University of Hawaii's Manoa Campus in Honolulu, Hawaii, and past director of the World Health Organization Psychiatric Research Center in Honolulu.  He is known internationally as a pioneer figure in the study of culture and psychopathology who challenged the ethnocentrism and racial biases of many assumptions, theories, and practices in psychology and psychiatry. In more recent years, he has been writing and lecturing on peace and social justice. He has published 21 books and more than 300 articles, tech reports, and popular commentaries. His TMS articles may be accessed HERE and he can be reached at marsella@hawaii.edu.
Tags:
Conflict Analysis
,
World
This article originally appeared on Transcend Media Service (TMS) on 9 May 2022.
Anticopyright: Editorials and articles originated on TMS may be freely reprinted, disseminated, translated and used as background material, provided an acknowledgement and link to the source, TMS: A Panorama of Global Challenges ©, is included. Thank you.
If you enjoyed this article, please donate to TMS to join the growing list of TMS Supporters.


This work is licensed under a CC BY-NC 4.0 License.